Powering up a transit nightmare scenario
May 5, 2010
By Anthony Campisi
For PlanPhilly
Gov. Rendell and Mayor Nutter sketched out a regional transportation disaster Wednesday: What would happen if the Wayne Junction power substation fails?
The station provides power to the old Reading railroad lines, and without it the R1 Glenside, R2 Warminster, R3 West Trenton, R5 Doylestown, R6 Norristown, R7 Chestnut Hill East and R8 Fox Chase lines would be out of commission, ending about 17.6 million annual regional rail trips and pushing riders onto already congested roads for their daily commutes.
Rendell hopes that nightmare will focus the minds of state lawmakers as they contemplate ways of filling a $500 million annual transportation funding gap caused by a federal rejection of the state's proposal to toll Interstate 80.
The governor called a special session of the legislature Tuesday in order to come up with funding solutions to provide enough money for crucial infrastructure maintenance — like that of the Wayne Junction substation, which was constructed in 1930.
At a press conference outside the North Philadelphia facility Wednesday, SEPTA engineers pointed out circuit breakers and switches that date back to the 1920s and were manufactured by companies like Westinghouse Electric, an iconic American power company that no longer exists.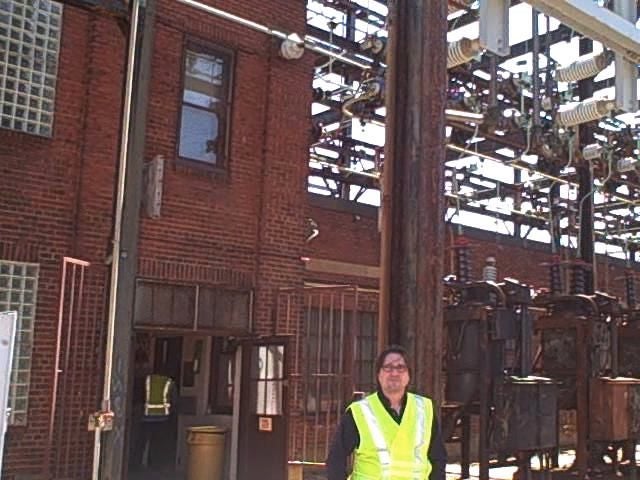 Spare parts are in such scarce supply for the substation that SEPTA is forced to manufacture them in house.
Rendell and SEPTA officials said the failure of such a critical piece of SEPTA's infrastructure was possible — especially without the maintenance at the substation that was scheduled for fiscal year 2012 — and is contingent on fully funding Act 44.
And in a swipe at Senate Majority Leader Dominic Pileggi, who has questioned the existence of an infrastructure emergency in the state, Rendell offered to take Pileggi on a personal tour of the substation or the Crum Creek Bridge. The bridge, located in Pileggi's district, was built in 1895, and 10,000 riders a day pass over it.
The average SEPTA bridges is 81 years, and 14 percent of its 341 bridges are in "poor condition," according to SEPTA chief engineer Jeff Knueppel.
Nutter, for his part, noted that other regions in the country are spending hundreds of millions of dollars to build the kind of infrastructure that Southeastern Pennsylvania already has, adding that it's crucial that the state now maintain it.
Rob Wonderling, president of the Greater Philadelphia Chamber of Commerce and the former Republican chairman of the state Senate transportation committee, also made a plea for bipartisan action in the legislature to support a "core function" of government.
He said that one of the most frequent questions the chamber is asked by businesses that are considering setting up shop here is the state of the region's transportation infrastructure.
At the same time, Rendell acknowledged the hard political reality that new fees or taxes would inevitably be needed to close the funding gap. "There's no way out," he said, adding that voters understand the need to invest in infrastructure.
He said that two-thirds of the hole could be filled by indexing motor vehicle and licensing fees to inflation. They were last increased in 1997, and increasing those fees would bring in $327 million. That, coupled with indexing the gas tax to inflation — which would increase the tax 4 cents and bring in $260 million — would more than replace the money expected from I-80, Rendell said.
Though Rendell said he was open to any transportation plan that would fill the I-80 hole, he did question the value of asking for federal permission to toll on Interstate 95 or trying again to get a permit to toll I-80. I-95 would bring in $175 million, and I-80 could bring in $80 million — not a whole lot of money, he argued, given that any toll revenue would have to be used on those roads. He also said that it could take up to two years for a federal decision on tolling either road and that there are only enough federal tolling permits available for one of the highways.
Rendell said that he wants a legislative fix ready for him by the end of the year, which will allow transit agencies to easily restart their stalled projects and protect infrastructure spending from a victory by anti-taxation Republican gubernatorial candidate Tom Corbett.
Contact the reporter at campisi.anthony@gmail.com