Torresdale Avenue storefront improvements take off this fall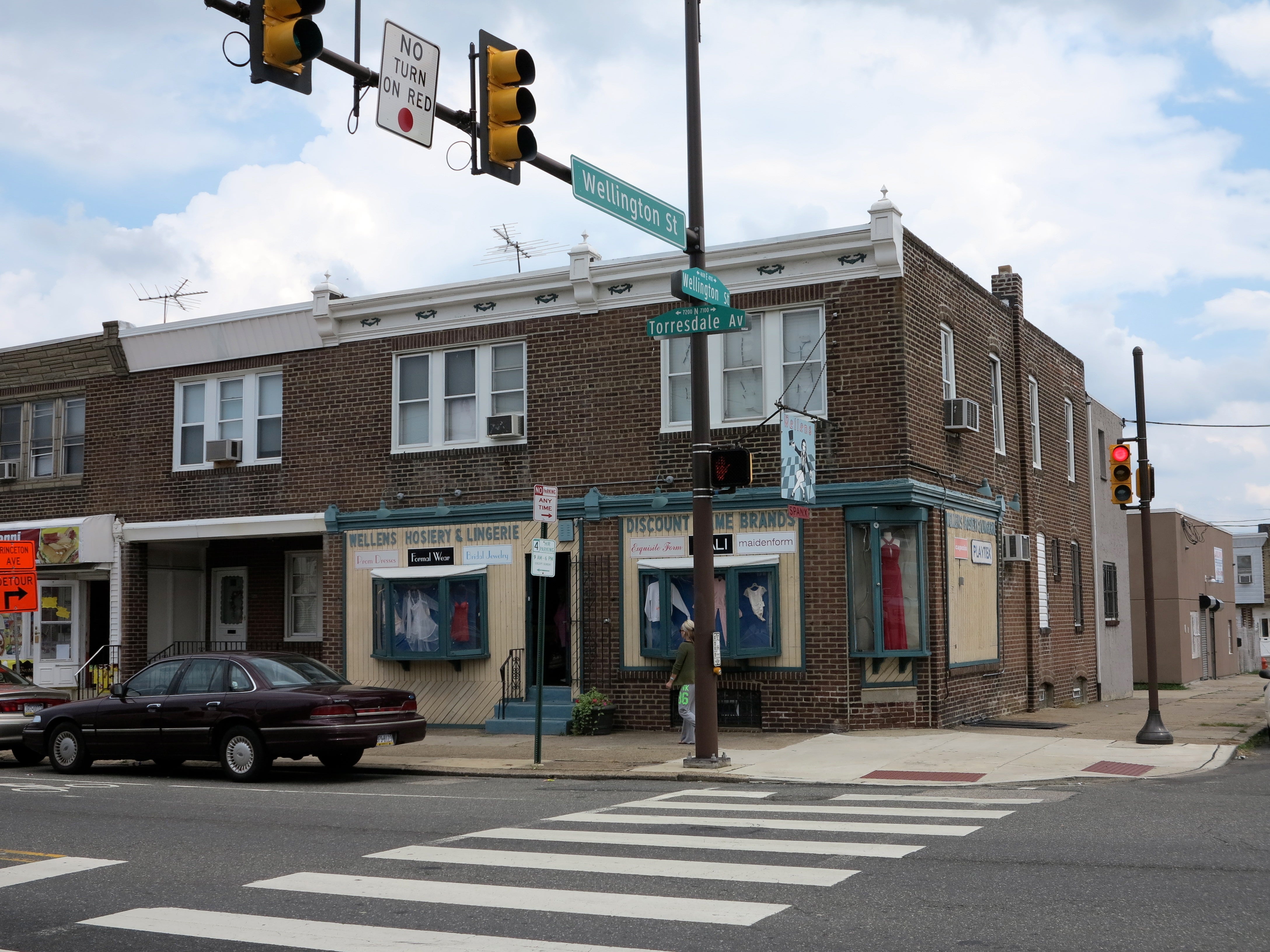 Along Tacony's stretch of Torresdale Avenue layers of vinyl siding and stucco are being peeled back in favor of restored woodwork and brick. Fresh coats of paint, new shop signs, better lighting, opened-up windows, and crisp awnings are cropping up as part of a facade improvement program on Torresdale Avenue this fall.
We've been following the Tacony Community Development Corporation's Historic Tacony Revitalization Project since they launched the facade improvement program for commercial storefronts last year.
While the Commerce Department's popular storefront improvement grant program is used citywide, the initiative in Tacony is distinctive because of the number of shops lined up for renovation all at once. Since we last checked in on the program, 12 property owners have signed agreements committing to the program, and two more are pending. So far two facades have been redone and 10 are slated for construction this fall.
By doing a significant batch of storefronts at once, the hope is that Torresdale Avenue will become a more appealing destination to shoppers and businesses alike. And with a stronger commercial backbone, that could help Tacony as a whole.
Already this year the facade of DeNofa's Deli was overhauled and more subtle improvements were made to the Sannutti Funeral Home.
At DeNofa's double-width storefront layers of white siding and dated signage have been ditched in favor of refined brown and green paint scheme, clean stucco and brick finishes, and a new sign featuring the DeNofa's logo above the door. It looks totally refreshed.
It took some courage on the part of owner Angie DeNofa to be the first property to complete a major renovation under the program but she has been rewarded. DeNofa told me on a recent visit that she's heard nothing but great feedback from her fellow business owners and her customers.
While her leap of faith may have helped convince neighboring shopkeepers to go forward with the program, Steve Wellens said he would have taken a chance on the facade improvements anyway for his shop up just up the avenue.
"I was actually due for a little facelift," Wellens said of his business, Wellens Hosiery, at the corner of Torresdale and Wellington. Wellens' parents opened the business in 1957, and he remains a committed neighborhood business owner. Wellens shares Tacony CDC's hope that the facade improvement program will help attract new businesses and draw more shoppers to Torresdale Avenue.
Construction began at Wellens Hosiery last week and soon enough the shop's windows will be revealed for the first time in decades. The window openings have been boxed in and occupied by product displays instead of glass that allow passers by to peek in. Wellens says he thinks the change will invite people to see into his shop anew and allow the shop to create nicer displays.
When contractors removed the boards and display cases that had filled in the windows Wellens was thrilled. "It was like a breath of fresh air," he said. "I felt like I was part of the Avenue again."
Thanks to pro bono design assistance Wellens will also sport a new logo and a new awning. "It's going to look like something out of Manayunk," Wellens said proudly.
And this kind of change will spread down the 6800-7000 blocks of Torresdale Avenue this fall where at least 10 more facades will be reworked. Look for refreshed faces for two of DeNofa's neighbors – Kavanagh's Tobacco and East Coast Dental – the Athenian Diner, New Station Pizza and its next door neighbor Fu Mei Mart, Computer Guy, Dave's Auto, Smith's Hardware, as well as 4707 Longshore Avenue.
Alex Balloon, corridor manager for Tacony CDC, estimates that the average budget for a single storefront was about $14,000 while a double storefront was about $24,000. Grant funding, provided through Commerce Department's storefront improvement program, can cover up to 85% of eligible façade improvements.
Tacony CDC anticipates that these façade improvements will account for more than $225,000 in new investment spent on the appearance of shops on Torresdale Avenue.
Here's a look at several of the properties that will be under construction this fall:
DeNofa's Deli after facade improvements

DeNofa's Deli before renovations, 2012.

DeNofa's logo graces a new sign above the door
Both East Cost Dental Lab (6936 Torresdale) and Kavanagh's Tobacco (6938 Torresdale) next door will be given distinctive facelifts this fall.

Computer Guy (6911 Torresdale Ave) will be refreshed this fall.

New Station Pizza (6904 Torresdale) and its next door neighbor Fu Mei Mart (6900 Torresdale) will both get improved signage and awnings as part of the facade program.

The Athenian Diner (6824 Torresdale) will be enhanced this fall.

Smiths Hardware (6918 Torresdale) should soon have a new awning and woodwork where there's now siding.

Sannutti Funeral Home went from stucco to brick in the last year.
WHYY is your source for fact-based, in-depth journalism and information. As a nonprofit organization, we rely on financial support from readers like you. Please give today.