Torresdale Avenue businesses envision refreshed facades
Can an entire neighborhood commercial corridor be uplifted if enough business owners freshen up their building facades? That's the hope brewing along Torresdale Avenue in Tacony where a new facade improvement program is just taking off.
Back in June I took a walk on Torresdale Avenue with Tacony CDC Corridor Manager Alex Balloon as he was drumming up interest in the new facade improvement program, a joint venture of Tacony CDC and the Commerce Department. It turns out that a lot of business owners along Torresdale Avenue, from Robbins Street to Cottman Avenue, are interested in at least exploring how they might improve the look of their buildings and give the Avenue greater curb appeal. This year Tacony CDC developed design guidelines [pdf] with plain-language recommendations for improvements along the commercial corridor.
This summer 21 businesses owners applied to participate in the facade improvement program and started working with designers to come up with ways to spruce up and restore storefronts and upper stories. Tacony CDC is covering early design costs, and engaged the architectural services of Fon and Ignatius Wang, of UCI Architects, and Ray Brogden to work with owners. Back in July the Community Design Collaborative, through its rStore program, held a Design Day at the Tacony Library with Tacony CDC where volunteer designers helped business owners reimagine their building facades.
Angie DeNofa, owner of DeNofa's Italian Deli and Catering (6944-46 Torresdale Ave), participated in the Design Day said she was so pleased with the ideas for her shop that she wouldn't change a thing. She is especially excited about the possibility of returning the facade of her building to its original brickwork, as well as adding new windows, awnings, lighting, and signage. Here's a peek at changes that could come for DeNofa's: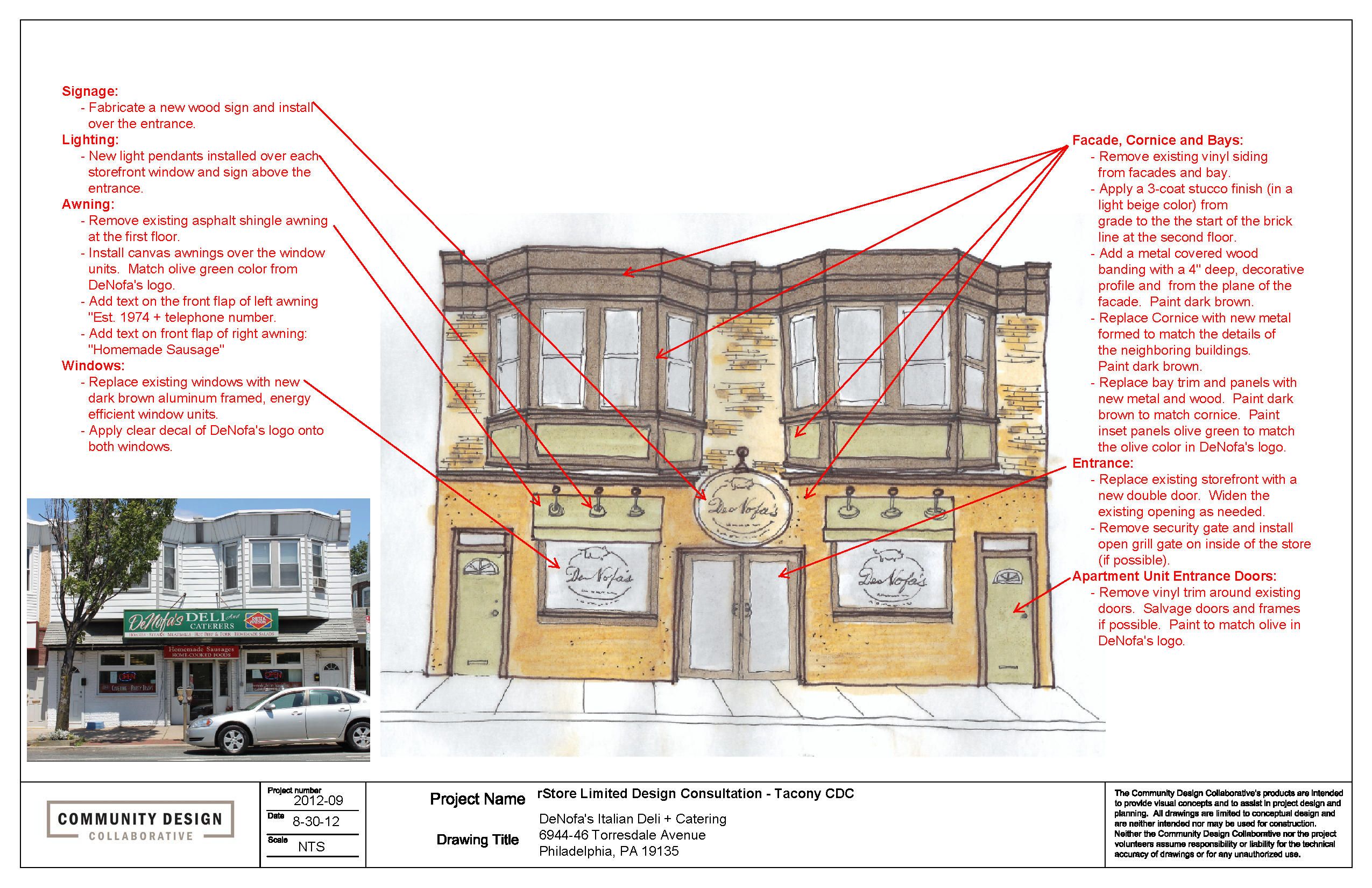 Though he's got something positive to say about all most of the storefront redesigns, Balloon singles out DeNofa's design, when pressed, as one he thinks could be very successful. "What I really like about that design is that it helps match the brand to the product. It makes it look less like a hoagie shop and more like the Italian specialty shop that it is."
The facade improvement grants can cover up to 85% of eligible costs (such as improved lighting, a fresh paint job, and new signage). It's up to business owners to pay for the rest, so it remains to be seen how many will move forward once cost estimates come in.
To DeNofa, whose business has been on Torresdale Avenue for 36 years, the grant program is a big opportunity to put a fresh face on the whole commercial corridor and express a bit of Tacony pride.
"Because there are so many interested participants I think you see the desire to stay here and not just give up," DeNofa told me on the phone from her shop. She hopes the facade improvements send a message that Tacony's stretch of Torresdale Avenue is on the rise, and she hopes it will help attract a few new new commercial tenants. "There's plenty of room here for different businesses," she said.
One facade project is already underway at the Joseph A Sannutti Funeral Home (at Torresdale and Princeton), but construction on other facades will wait until spring. For now, we'll share this preview of the kinds of projects that could be on the horizon. These are four other facade redesigns that came out of this summer's Design Day. (Click to enlarge each image.) EOTS will keep you posted as thees projects move along.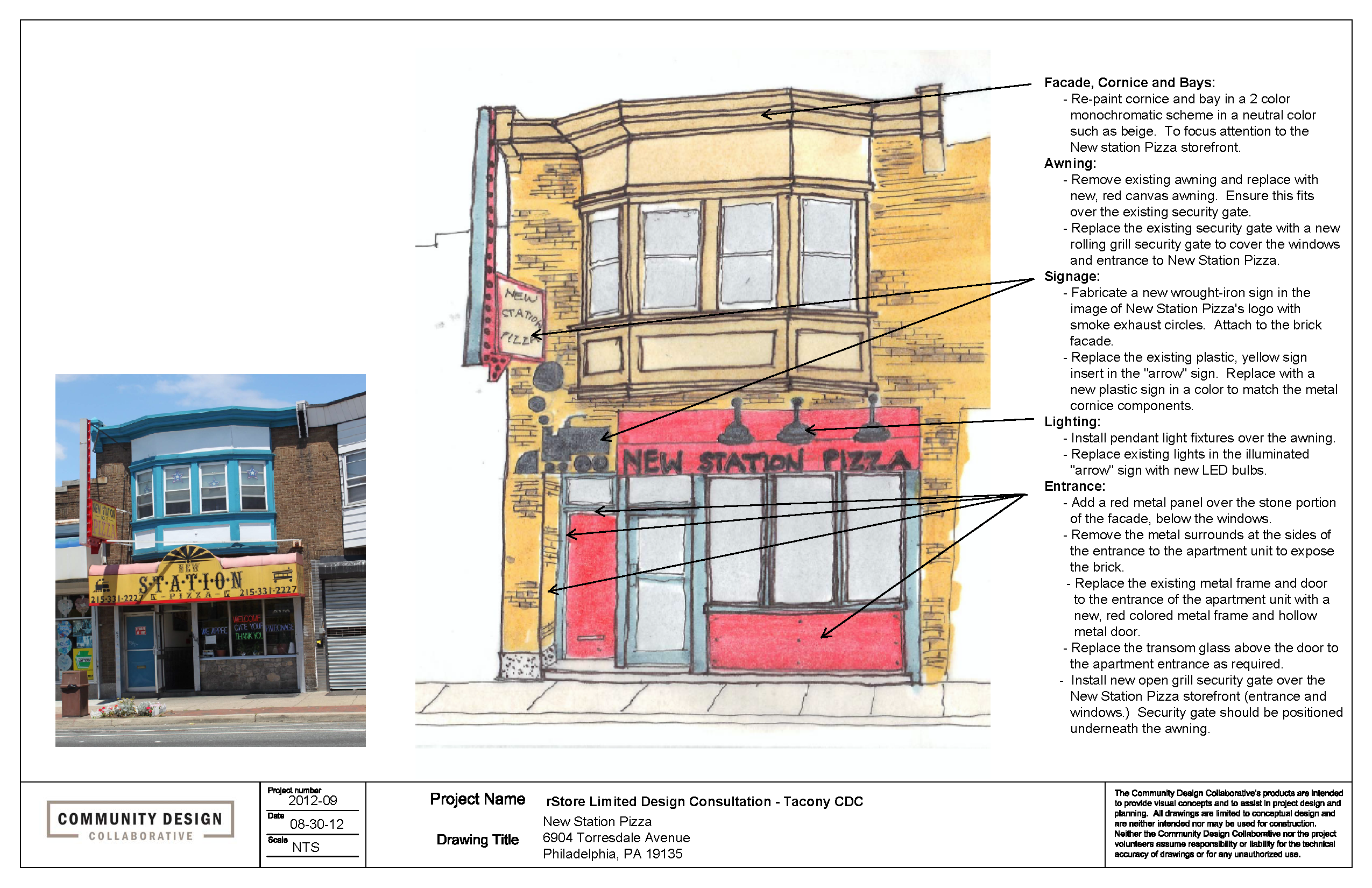 WHYY is your source for fact-based, in-depth journalism and information. As a nonprofit organization, we rely on financial support from readers like you. Please give today.