The plan for our greatest civic space: More Park, Less Way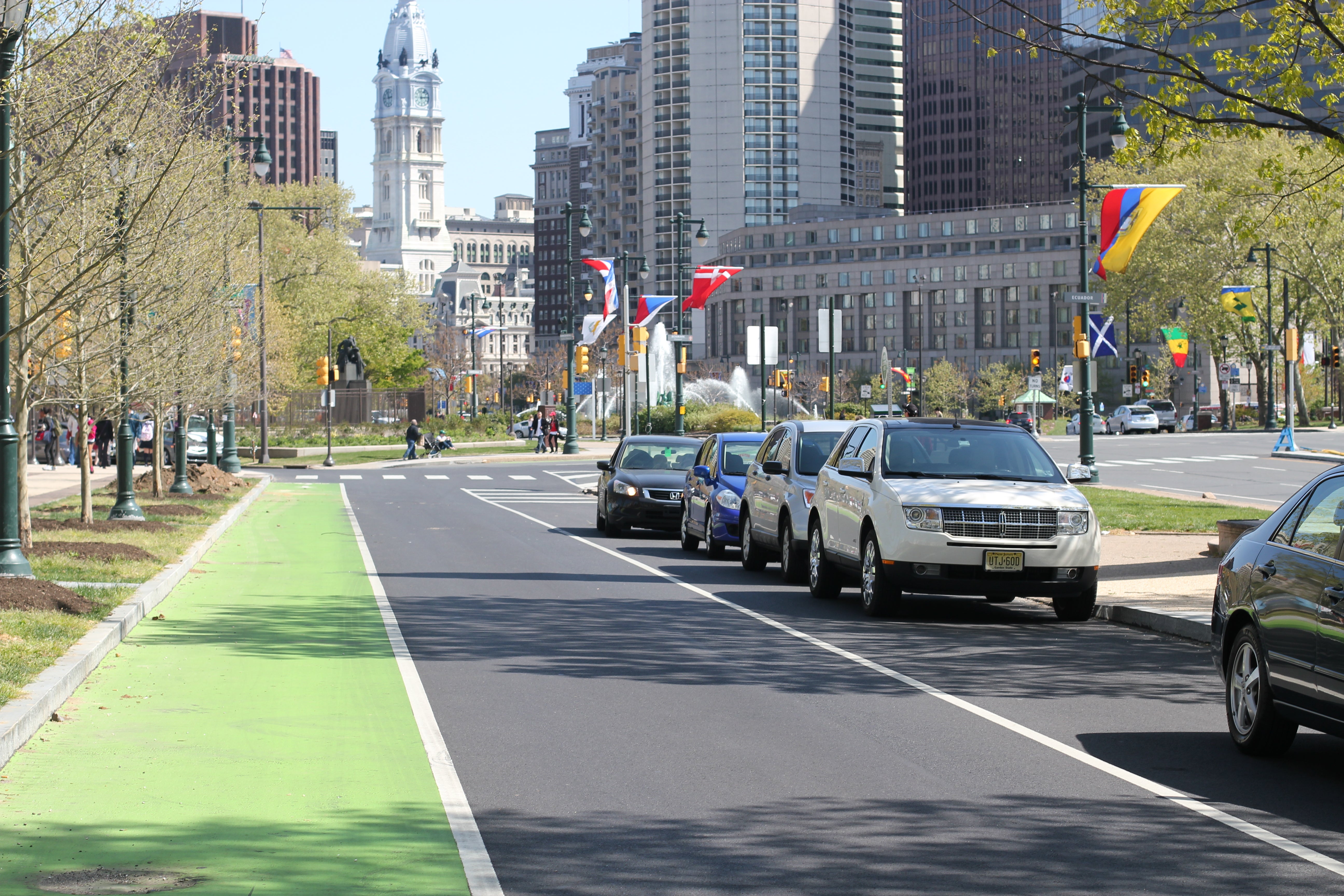 Walksheds

Open Space Assets

Amenities

Proposed Actions

Destinations and Desire Lines

Key Issues

Access Opportunities

(l-r) Rebecca Johnson (Fairmount CDC), Justino Navarro (Spring Garden Civic), David Searles (LSNA), Michael DiBerardinis

New Uses

Harris Steinberg

Mayor Michael Nutter
Yoga stretches on the grass. Food trucks on Eakins Oval. And, why not, an ice sculpture from Andy Goldsworthy, the English artist famed for his work using materials he finds in natural settings.
These are just three possibilities culled from "More Park, Less Way," a plan for enlivening the northern end of the Benjamin Franklin Parkway (from Logan Square to the Philadelphia Museum of Art) unveiled Monday night at the Academy of Natural Sciences by PennPraxis and the Department of Parks and Recreation.
The plan centers on transforming four under-used swaths of green — totaling 17 acres — into programmed open spaces offering a variety of active and passive recreation options.
On a stage set with tables, chairs, and a large red patio umbrella, borrowed from Cafe Cret on the Parkway, a host of speakers offered remarks on the plan. The emphasis, they said, was on actionable items, do-able within the next three years.
At the end of the event, Michael DiBerardinis, deputy mayor, environmental and community resources, even suggested that — at the insistence of Mayor Michael Nutter — one item, the removal of cars from Eakins Ovals to turn it into a flexible plaza space a la The Porch at 30th Street Station, might even be in place by Memorial Day weekend.
The start of the event was delayed slightly as DiBerardinis waited for the Mayor to arrive. When the Mayor took the stage, he began by acknowledging city officials — including City Council president Darrell Clarke, whose 5th District encompasses the area under discussion — as well as PennPraxis, the plan's funders (Pew Charitable Trusts and Lenfest Foundation), neighborhood groups, and several external partners (Drew Becher of the Pennsylvania Horticultural Society; Gail Harrity of the Art Museum; Paul Levy of the Center City District; and Nancy Goldenberg, chairperson of the Philadelphia Parks and Recreation Commission).
In celebrating the Parkway — which he called Philadelphia's "most important" civic and cultural space — Mayor Nutter reminded the audience that it could be "so much more." It is, not, he said, a "thoroughfare" or an "8-lane highway."
Clarke next offered a shout out to the 5th District, and said simply, "at the end of the day, it's [the Parkway] "going to look real good." Rina Cutler, deputy mayor, transportation and utilities, said that her agency will serve as "traffic cop" for the plan, ensuring safety and access for the proposed projects.
DiBerardinis next introduced Harris Steinberg, executive director of Penn Praxis, who provided a detailed look at the plan. He began by sharing some of the group's research. Some 70,000 people live within a 10-minute walk of the northern Parkway, he said, including 5,000 who are under 18-years-old and 9,000 people over 65 years of age. They lack amenities like food, restrooms, and even newsstands, while, at the same time, their progress is heeded by the 30,000 cars that zoom by each day and make for a series of "troublesome intersections," he said.
Steinberg then introduced the four areas that could be turned into potential parks: the patch of green surrounding Iroquois, the iconic red sculpture by Mark di Suvero; Eakins Oval; a 3-acre area in front of Parke Town Place; and the edges of Von Colln Memorial Field, where, he said, the ball field would stay.
The parks would be designed according to principles gleaned from the town meetings that Praxis staged last year. They are: design for Philadelphians; more park, less way; connect the dots; and enliven the parkway. To realize these values, he added, traffic calming, new paths and bike lanes, reallocation (but not elimination) of parking, and additional public transit would be employed.
Steinberg emphasized that a "focused management structure" would need to be implemented to ensure a dedicated funding stream through, for example, parking fees, concession revenues, or implementation of a special services district. Later, DiBerardinis echoed this, saying crafting the spaces would be the easy part, but programming and maintenance might be harder.
Steinberg concluded his presentation with a charming, animated pie-in-the-sky look at how four different people might experience the rejuvenated parkway in four different seasons. A "mom and tot" embarked on a particularly exhaustive winter trek that started with yoga at Von Colln, wound down to Sister Cities Park for a snack, made its way back up with a stop for storytelling at the Free Library, and ended at "Iroquois Park" for an outdoor puppet show. No tantrums or shivers entered into this bucolic picture.
The evening ended with DiBerardinis joining three neighborhood representatives in a stagey (figuratively and literally, as they sat at those patio tables) discussion of the plan. Only one, David Searles of Logan Square Neighborhood Association, offered any criticism. The plan, he said, "touches on" connecting the northern and southern ends of the parkway, but that aspect needs to be developed further. Searles also earned applause from the audience when he exhorted officials to "involve us and get feedback from us."
DiBerardinis wrapped up the evening by responding that "we will do our best to come back to neighbors" when the department begins it detailed design work. But, he added, the continued commitment of the Mayor and Councilman Clarke was crucial. Without it, he said, "we ain't going anywhere."
WHYY is your source for fact-based, in-depth journalism and information. As a nonprofit organization, we rely on financial support from readers like you. Please give today.