Suburban EMS squads are hurting, with staff shortages and financial issues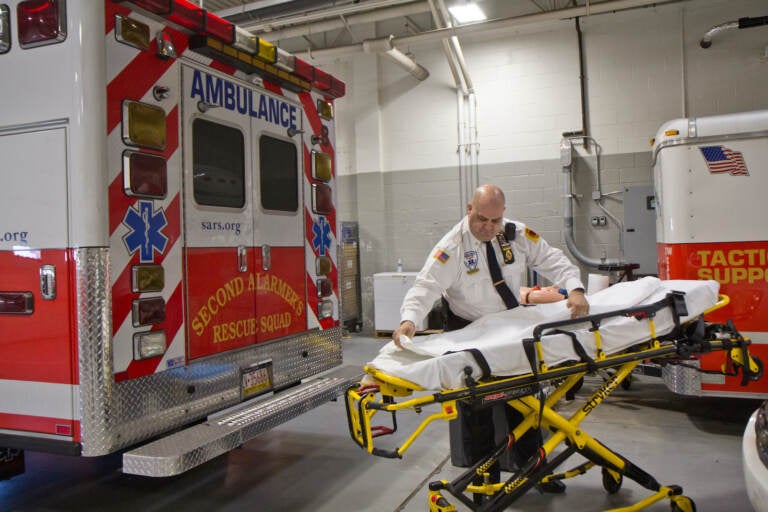 Ambulance crews often see people on the worst days of their lives, delivering health care to them in the back of a vehicle zipping through traffic at high speed. Members of this relatively new medical profession have saved countless lives, but now emergency medical services may need some saving of their own.
In the suburban communities surrounding Philadelphia, where emergency medical services aren't solely supported by local taxes, ambulance operations are facing huge financial issues and widespread staff shortages.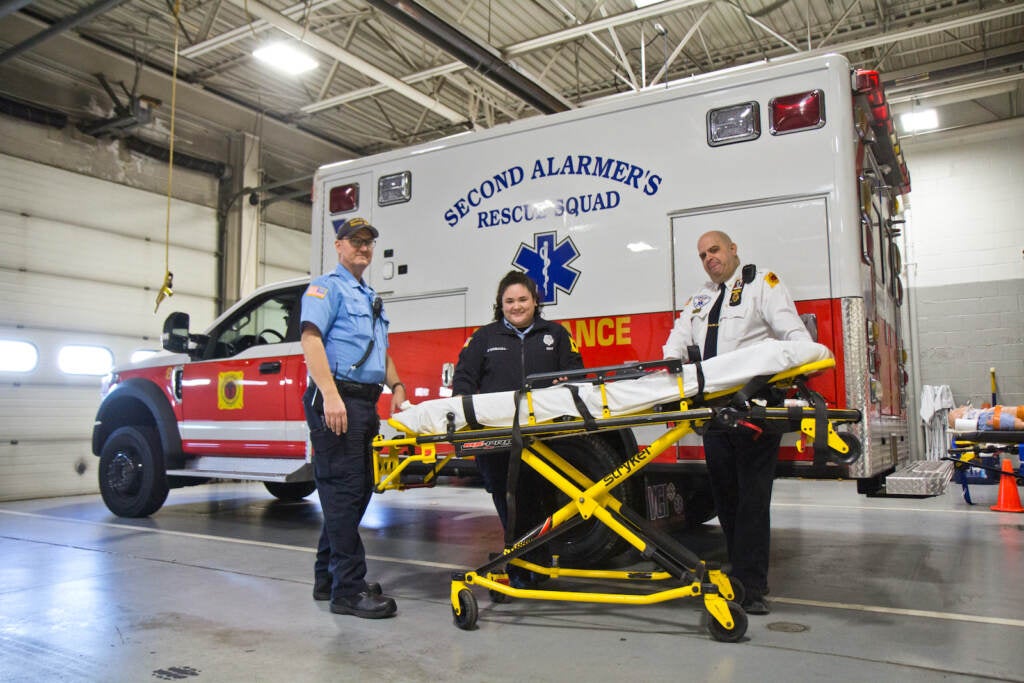 "I think the system is under phenomenal stress — and there's no other way to package that statement. It's under the most stress I've ever seen," said Jim McCans, Haverford Township's director of emergency services.
McCans has been involved with emergency services in some way, shape, or form for nearly 40 years. He first became an emergency medical technician at age 16. Since then, he's seen the field evolve: In addition to handling an increasing call volume, EMS workers spearhead flu vaccine clinics, train camp counselors, bring to life municipal naloxone and car safety programs, and even lead Delaware County's Homebound COVID-19 Vaccination Program.
He is proud of the work he's done as a paramedic. McCans said he's "blessed" to have experienced it all and thanks his supervisors and coworkers. But at the same time, he feels as if the foundation is beginning to crumble.
Burnout is starting to get to his colleagues, McCans said, pointing to the climbing suicide rate among EMS workers. Everyone is feeling broken down in a profession where "everybody has a bad back," he said. The constant exposure to trauma is taking its toll beyond the usual 12-hour shifts.
"How do you put away all that shit you saw during the day and act normal at the party? I see people do it. I think I've done it myself," McCans said.
From his point of view, society has known since the Middle Ages that the first person to lay hands on a patient has the greatest impact on the outcome, but instead of investing in that first point of contact, EMS has largely been ignored. As a result, the profession, which in the Philadelphia suburbs is made up of partially paid and partially volunteer personnel, is losing workers.
"I think we need to take a hard look at all of our first responder resources and decide where the biggest bang for our bucks are, where do we have the most effect on the quality and preservation of life," McCans said. "And I think once we do that, I think we take a much more honest look at how EMS should be handled, how it should be treated, how it needs to be treated — or we're not going to have it. We're not attracting anybody into this job. What's the sales pitch? Work your ass off under difficult conditions for low pay? And over the next 40 years of your life?"
A 2018 report from the Pennsylvania Senate Resolution 6 Commission said emergency medical services were in big trouble throughout the state, "leading to EMS agency failures and closures." The report said that the "ability of EMS to respond to disaster situations" was "in serious question." In 2013, there were 1,645 agencies statewide. In 2017, the number shrunk to 1,278. The report estimated that the number of active providers dipped to 17,000 statewide — down from about 30,000 providers.
But the situation isn't unique to Pennsylvania. It's a national problem. The American Ambulance Association and the National Association of Emergency Medical Technicians sent a letter to Congress in October asking for a hearing on the EMS workforce shortage.
Haverford Township has a Pennsylvania Department of Health Advanced Life Support License that allows McCans and his deputy director to drive an ALS responder vehicle to "provide incident command," but since 2016 the township has subcontracted its emergency medical services to the Narberth Ambulance Corps.
The nonprofit Narberth agency also provides pre-hospital ambulance services to Lower Merion, Conshohocken, West Conshohocken, and Narberth. It covers the area with about 70 volunteers, 40 part-time or per diem workers, and 30 full-time employees. The roughly 140 people that make up the operation include about 20 support staff and board members.
The agency handled about 10,000 calls in 2021. Albert Davey, its executive director, said the shortage is very real and has only gotten worse because of the pandemic.
"COVID shut down a lot of educational avenues. A lot of the EMS training institutes shut down or scaled back dramatically … It's been a tougher climb to get these people in here to provide care," Davey said.
Local schools such as Bryn Mawr College, Villanova University, and St. Joseph's University have provided a good pipeline of young talent, Davey said, but because of the low-paying nature of the job and better chances for career advancement elsewhere, people don't stay very long.
"When you're a paramedic, or an EMS provider, EMT, EMR, you have a certification number. And we've noticed over 30% of the EMS licenses have not been renewed, so people are leaving the field," he said. "If you're smart enough as an ambulance person to manage a patient, deal with stress and family, deal with shift work and night shift and all those kinds of things, you're a very sought-after candidate for other fields."
To retain EMS workers, Narberth Ambulance Corps has slightly increased pay for career staff and has even offered gift cards and free meals for volunteers, but it hasn't been enough.
"We want this to be a career, and we struggle to provide a good living wage and try to provide a good and safe environment," Davey said.
He doesn't want to be all "doom and gloom." Davey appreciates the coverage area and said that Narberth Ambulance Corps manages to have really successful fundraising drives like the Main Line Bike Race and the Ardmore Rock n' Ride. But he believes that municipalities should be doing more.
"Unlike large cities that have different kinds of funding streams, municipalities have to kind of realize that EMS is an important part of their public safety portfolio. And we need their help," Davey said.
Who pays the price?
In Media, EMS staffers have been paid for the last 20 years. The Media Fire Company has an emergency medical technician whom it pays and has a contract with Main Line Health's Riddle Hospital for a paramedic to staff the ambulance 24/7.
But Media Fire Company gets very little municipal funding, according to Chief Ed Gibson III. He said EMS tends to be treated as the outcast of first responders.
"Our municipality, they don't give us a ton of funding. They pay for fuel, they pay for vehicle insurance, they pay for major equipment insurance, but they don't help us with salaries. They don't help us with the contract for the paramedic — nobody helps us. And not only do we cover Media Borough, we cover Upper Providence Township, Nether Providence Township, and half of Rose Valley Borough, that's our primary response district," Gibson said.
Vickie Petriw is the deputy chief at Skippack EMS, one of the smallest squads in Montgomery County. The agency typically does around 1,500 calls a year. The total for 2021 was close to 1,800, and it has just opened a second station in Worcester Township.
"Skippack Township does give us some money, but some of the other townships that we help to cover don't. So we pretty much rely on our residents," Petriw said.
The agencies say they must deal with insurance companies that will try everything in their power to pay the least amount for their calls. For some EMS agencies, insurance payments barely cover their expenses, which in turn disrupts the agencies' ability to properly pay their EMS workers.
"The impact to the community is that we may not have a crew up, so it means that they're, or a neighboring squad may not have crews up, so we're covering them. We have a certain area that we cover, and then if a squad neighboring us is out on a call, or they don't have a crew because they're having staffing issues, if someone calls 911, we may be sent to another area to cover their call," Petriw said.
Extending coverage to Lansdale or Souderton could possibly mean ambulance rides of 20 minutes or longer.
"When you're calling 911, you don't expect an ambulance to take 25 minutes to get there, especially if you're living in Montgomery County," Petriw said.
In the more rural parts of Chester County, where homes and hospitals may be quite far apart, ambulance rides can be even longer. Gary Vinnacombe, deputy chief of EMS for Union Fire Company No. 1 of Oxford, said that his squad's coverage area is upwards of 100 square miles, and that his unit is very fortunate to receive strong municipal support.
Longer ambulance rides mean the possibility of deadly loss of a precious resource: air.
"We could easily go through one or two oxygen cylinders on the way to the hospital, if we have a severe respiratory patient or if we're managing their ventilations," Vinnacombe said.
It's not unheard of for EMTs to work more than one job, or take shifts at more than one EMS agency.
McCans, in Haverford, often tells people about a situation a few years back that embodied the struggle of the overworked EMT who bounces back and forth between long shifts.
"There was this EMT and he was upset because … the EMT who was relieving him hadn't come in and because he was going to his next job. And a lot of them will do that, they will go job to job. So he calls the guy at the job, 'I can't come to get you right now because my relief isn't in either.' … He calls that guy, and he's waiting for his relief. Well, the irony is that all three were each other's relief," McCans said.
Second Alarmers Rescue Squad is one of the largest EMS agencies in the Philadelphia suburbs, with five stations and a coverage area that includes Abington Township, Upper Moreland Township, Whitpain Township, Hatboro, Rockledge, Jenkintown, and part of Upper Dublin Township. In total, that's about 52 square miles.
The nonprofit agency has been around for more than 80 years and has mostly career EMTs, but still manages some volunteer providers. Second Alarmers fields about 13,000 calls a year and is proud of the service it provides.
"But as we are short-staffed, and as we don't have providers to fill shifts on the street, we have people who are working two or three shifts a week of overtime — or more," assistant chief Ken Davidson said. "We don't let providers work more than 24 hours in a row because obviously we want them rested and physically fit to do their job. But when you start running out of providers, you then have to start looking at [in] some cases downgrading the service at a station from that advanced life support to basically support which is still emergency care, but not quite at the same level."
As far as answers go, there seems to be some consensus that money plays a major role.
"I'm always known for saying that money is not the only solution, it is a solution. But what I've been saying recently is, it's really the one solution we haven't had the luxury of trying to use," Davidson said.
In the suburbs, EMS services are not primarily funded through taxes. For example, only one town in the Second Alarmers coverage area has an ambulance tax.
"We made requests to all our municipalities for funding from … the American Recovery Plan Act. We feel that we are very clearly one of the uses, it's appropriate for those funds. It's directed at first responders, frontline health providers, and that's certainly what we do. And very disappointingly, we have gotten a very lukewarm response," Davidson said. "The important thing is for the public to realize that they really need to be reaching out to their elected officials and urging them to support EMS, just like the other branches of public safety."
After Davidson's interview with WHYY News, Abington Township approved its recent budget — which included an ARPA allocation of around $227,000 for the Second Alarmers.
Davidson said the township stepped up.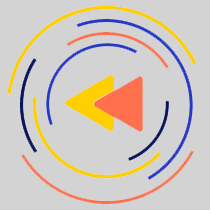 Saturdays just got more interesting.
WHYY is your source for fact-based, in-depth journalism and information. As a nonprofit organization, we rely on financial support from readers like you. Please give today.