Spring Garden Connector RFP | Sen. Casey visits Kenzo Renewal | Annunciation BVM School conversion | Woodland Ave. water main break | Point Breeze house collapse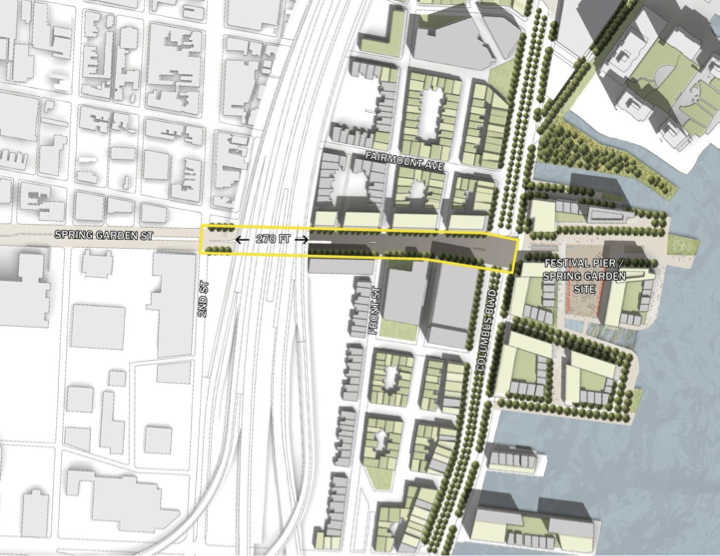 Good morning, Streeters! Hope you enjoyed the weekend and are feeling ready for some real fall weather. Today's high? A crisp 55°. Today is Columbus Day, which means that government offices, public schools, and the post office are not open. Trash and recycling pick up is pushed back one day.
The Delaware River Waterfront Corporation issued an RFP seeking a designer for the Spring Garden Street Connector, from Delaware Avenue to 2nd Street, reports PlanPhilly's Kellie Patrick Gates. Key to this connector project is making the huge I-95/El overpass less grim. The hope is to start construction next summer.
Sen. Bob Casey paid a visit to Kensington Renewal last week to call on the federal government to help people get mortgages in neighborhoods with low property values, NewsWorks reports. In areas where homes cost less than $50,000 most banks won't originate mortgages that small, which can serve to suppress investment in neighborhoods where it is badly needed. "If you qualify for a mortgage, you ought to be able to get it no matter where you live," Casey said.
A developer is contemplating turning Annunciation BVM School at 12th and Wharton into apartments and adding some sort of community use for the ground floor, reports Naked Philly. The school was built as the James Wilson Public School 112 years ago, designed by Henry deCourcy Richards, and is listed in the National Register of Historic Places.
Sunday brought another water main break, this time at 43rd and Woodland, reports West Philly Local. As West Philly residents or commuters have already noticed: Woodland Avenue is closed from 42nd to 43rd and the Route 36 and 11 trolleys are still detoured along Chester Avenue between 40th and 49th streets. Shuttle buses will operate between 49th and Woodland to 40th. Check SEPTA's system status for updates.
And from the department of déjà vu: Point Breeze saw another partial building collapse – this time on the 2000 block of Fernon Street. No injuries were reported. Action News has this video. A building on the 2300 block of Ellsworth also partially collapsed recently.
The Buzz is Eyes on the Street's morning news digest. Have a tip? Send it along.