Should we order in tonight? Questions about food safety in the time of coronavirus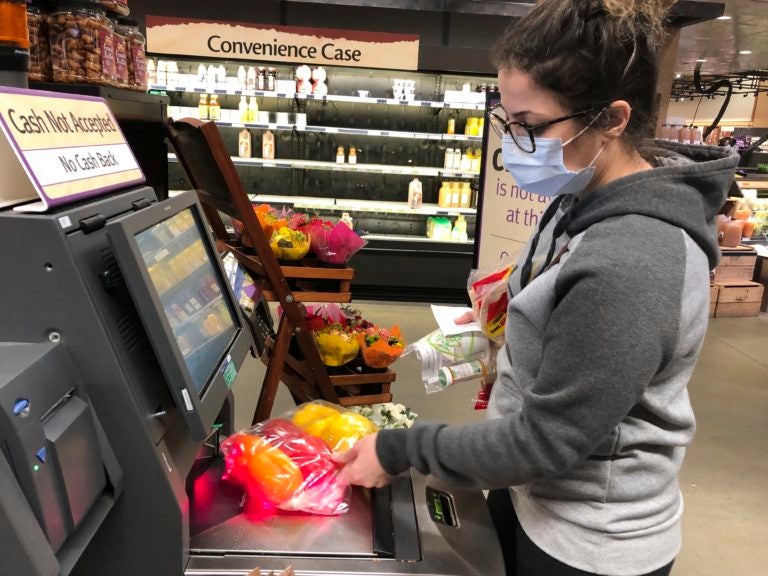 You need to eat, and sometimes it seems like grocery stores and places that deliver food are the only businesses open in these weird times.
But are these options still safe? Is food a comfort now, or a vehicle for disease?
The biggest threat is not the food itself; it's other people. Not in a scary post-apocalyptic way, but because of science.
SARS-CoV-2, as the new coronavirus is officially known, will not infect the cells of your cardboard pizza box. Bits of virus might linger there longer than you would like, but the box will not cough on you, or rub its eyes after touching an unsanitized elevator button. Research suggests there is a bigger risk from other sick people than grocery items harboring the virus. As with all things, good social distancing and good hygiene are essential.
Restaurants and grocery stores say they are not taking this lightly.
"When we first heard the news, we shut down Middle Child," said Matthew Cahn, who owns the sandwich shop at 11th and Locust streets. The shop was closed for two weeks, did some intense cleaning and recently reopened for takeout orders only.
"I feel very safe about what we're doing in the shop and how we produce food," he said.
As of Wednesday, the Food and Drug Administration reports "there is no evidence of food or food packaging being associated with the transmission of the coronavirus." Despite research finding the virus does remain viable on cardboard, stainless steel and plastic, the risk of contracting COVID-19 from your groceries or takeout food is low.
But the risk posed by other people does exist.
"I can't really guarantee what happens once a courier has it," said Cahn. And this isn't an easy question. From an epidemiologic perspective, there isn't an easy answer.
"An infected shopper in a store full of people where everyone is wearing a mask and gloves may pose less of a risk than an infected but unprotected delivery person visiting a small number of houses," Charles Perrings, a professor at Arizona State University who has done research on epidemiological economics, said in an email.
Basically, estimating risk is hard to do, and so much of this is totally new to everyone.
You can make some of these judgments for yourself, of course. For groceries, going to a bigger, crowded store at peak hours is likely more risky than shopping at a smaller store with fewer people during off hours. And the smaller stores in your neighborhood, such as produce markets, co-ops and bodegas, might be better prepared.
"Working with local vendors, I think we almost have an advantage," said Meagan Washington, marketing and communications coordinator at Mariposa Co-op in West Philadelphia.
For example, Riverwards, a produce market in Fishtown, was able to source extra flour from Pennsylvania grain mills to meet demand that has, perhaps, been driven by stress baking.
On Tuesday, Middle Child's first day open again, couriers coming to pick up food orders weren't obeying the 6-foot distancing rule. Cahn and his team reevaluated, marked lines every 6 feet for couriers who are waiting, and implemented a new system: "We reached through a window, put the food on a table, call the name, that person can come grab it."
Mariposa Co-op now has a line in which people can wait 6 feet apart, to reduce crowding in the store.
"It's a pretty long block," said Washington. "Thankfully, everyone has been so patient. So thankful and grateful that we're taking these precautions to keep our community and our store safe, because typically no one really wants to wait in a long line."
Riverwards is operating with similar guidelines, allowing five people in at a time.
But if you're practicing perfect social distancing and are still worried about your food, here's the rundown:
Even if the virus is detectable on an object, like a cardboard box, that doesn't mean it's infectious. It's also somewhat a probability game. Cereal boxes or egg cartons are not high traffic surfaces like doorknobs. Unlike bacteria, which can continue to multiply in the right circumstances — think unrefrigerated egg salad sandwiches — the amount of virus actually decreases the longer it sits on a surface. That doesn't mean you should be careless, but it does mean that the chance of a grocery item making you sick is pretty low.
If you want to be really careful, there are extra measures you can take. Things in glass or plastic can be washed, just like you would wash your hands. Research suggests that the virus can be viable for over 72 hours on plastic and stainless steel. You can quarantine plastic or canned groceries for a couple of days, or disinfect them.
Treat produce as you normally would. Something more robust, like a potato, can be scrubbed, but most produce should simply be rinsed in cool water.
As for things in cardboard or bags — packaging that wouldn't survive a dunk in sudsy water – you can either quarantine them or put them in a new container. The same study measuring how long the virus exists on surfaces found that no viable virus was measured after 24 hours on cardboard. So you can keep new boxes separate for a day or two.
A 2004 joint study between the FDA and the National Institute of Health on SARS, a virus related to this new coronavirus, showed that four minutes at 149 degrees significantly reduced the amount of virus. For reference, chicken should be cooked to 165 degrees. Heat is your friend here.
A silver lining of virus food safety is that it is incredibly similar to non-pandemic food safety: Cook your chicken and rinse your vegetables in cool water.
If you're worried about ordering food in, or even about your mail or packages, the same rules apply. Wipe down takeout containers, and if you're really worried about packages or mail, they can be quarantined for about a day, or their package contents washed. As for the takeout food itself, if you usually trust the restaurant's fare, it's probably safe now. If you're worried, reheating takeout will sterilize it. Serious Eats, a food website, has a pretty exhaustive guide on this.
"I do think it's safe to order food. I do think we're doing our part to slow the curve," said Cahn. "If you want to order food, of course your risk is higher than if you just stay in your apartment. But if you're going to go outside and sit on a park bench or go to Whole Foods, you may as well be ordering from restaurants, being able to support businesses and doing that kind of thing."
And if you are able to, consider this the time to help others. It might be shopping for an older or high-risk friend, donating to a food pantry or helping our first responders.