Shaking it up with 'Romeo and Juliet' (Wilma Theater)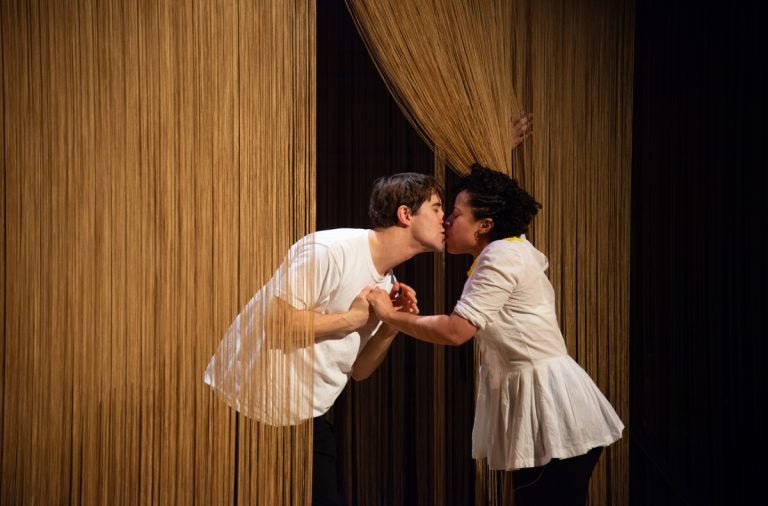 The question, when it comes to an adaptation like Wilma Theater's current "Romeo and Juliet," is: Are you a Capulet or are you a Montague? By that, I mean, when you see a play by Shakespeare do you want it to be all Shakespeare? Or can the production be mostly, generally Shakespeare?
If you're in the all-Shakespeare-all-the-time family, you might question the Wilma's rendition adapted by the Wilma's leader and the show's director, Blanka Zizka; the company's dramaturg, Walter Bilderback; the show's composer and vocalist, sweet-voiced Gracie Martin; and Anthony Martinez-Briggs, who is magnetic as a hip-hopping Mercutio from the 'hood.
You may frown at the music that accessorizes the text, or at the way Gracie Martin's lyrics are often lost in echo-chamber sound that accompanies her singing. Shakespeare is always edited for modern productions, but you may find the reworking here too much, or take exception to the cutting of a character, which makes the way the play ends less logical. Or you may be astonished at the abrupt ending, altogether.
But if you don't mind a fresh, unusual take on the Bard's work – the family of thought I'm part of here – you'll see this "Romeo and Juliet" from the other side of these arguments, which have merit. You'll find a play that becomes more exciting and endearing scene by scene, even the tragic ones. You'll hear much of Shakespeare's best language as if it's being newly spoken, in the enthusiasm of Matteo Scammell's Romeo and Taysha Marie Canales' Juliet. They play the roles as the teenagers the characters are meant to be, in a puppy love so innocent and honest it reminds you of high school.
"You kiss by the book!" Juliet shrieks, taken aback in an effusive way that makes the line sound like a modern addition, as if Shakespeare didn't write it. (He did.) And when Romeo tells Friar Lawrence (Lindsay Smiling, enchanting in an accent that could easily be Rastafarian) that his new love is one of the opposing Capulets, the priest's reaction is instant: "Ho-o-o-ly Saint Francis!" he blurts, as if cursing. (Shakespeare wrote that, too, followed by less emphatic text.)
The cast, indeed, has a uniformly keen appreciation of the roles. Among them, Krista Apple gives Julia's nurse a more human character than the usual daft one we see. Steven Rishard and Suli Holum are more like long-suffering modern parents of their teenage daughter than I thought possible from Shakespeare's text. Justin Jain is an appropriately fierce Tybalt, a relatively minor character who becomes a major hinge in the plot; in a sense, he is the star-crosser in the tale.
It's a big production, with a shrewd design by Matt Saunders that moves the action from place to place inside and around movable racks. Their bars hold curtains dense with gold-colored strings that at times appear to ripple like water, a sight both beautiful and eerie. The effect of the show's music is uneven, yet in the best moments a four-piece band (including vocalist Martin) enhances the plot and its characters. There is a chorus, too, of 11.
Although dancing is incidental, Silvana Cardell's choreography is especially striking early on at the Capulets' elegant dinner party, when all the guests are in sync with the cool steps. (After the party, invading Montague boys leave unnoticed, singing "We Are the Champions" under their breaths.) Maria Shaplin's evocative lighting and Vasilija Zivanic's modern costumes round out the show's design.
For those of us who are old hands at "Romeo and Juliet," just about every aspect of this production makes the old seem new – that's an accomplishment. Newcomers to the play can appreciate Shakespeare's plot and much of his language, and the modern, street-smart sensibility of the production will draw them in. For anyone who wants the experience of a mostly untouched Elizabethan R&J, I appreciate your desire. One will come along soon enough, I'm sure. It always does and it might be terrific.
—
"Romeo and Juliet" runs through Feb. 9 at Wilma Theater, on Broad Street between Locust and Spruce Streets. 215-546-7824 or wilmatheater.org.