SEPTA proposes new buses for University City, Roosevelt Blvd.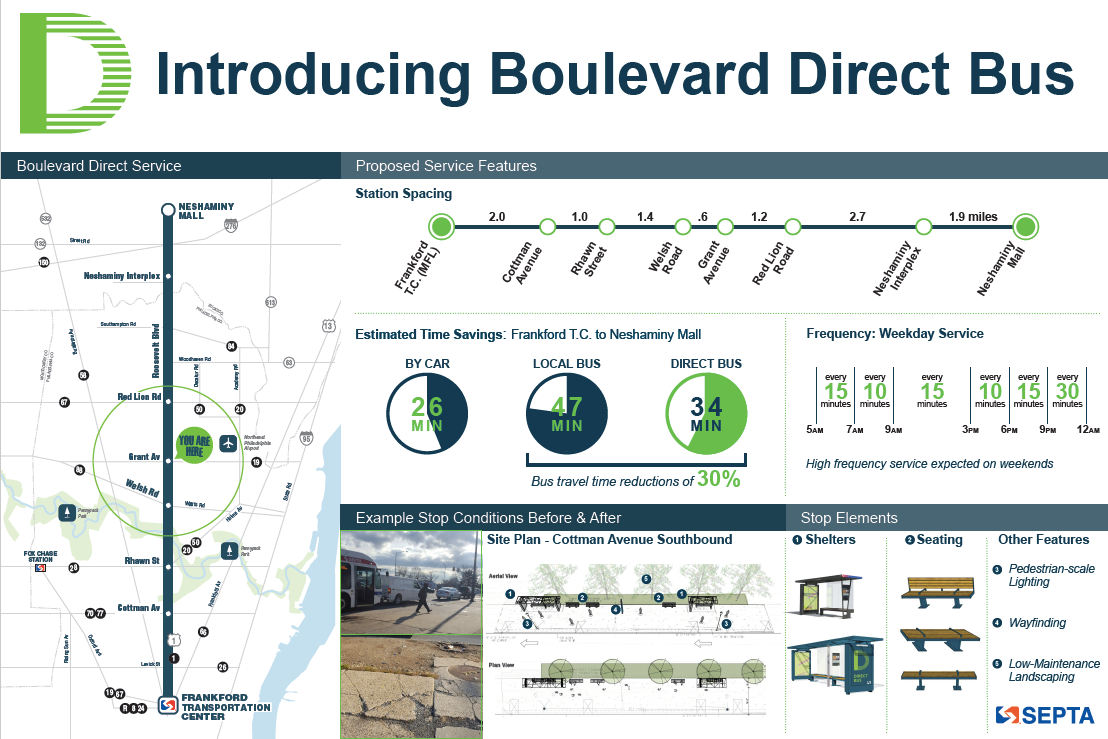 SEPTA unveiled the name for its new express bus service coming to Roosevelt Boulevard: the Boulevard Direct Bus.
Technically, the Boulevard Direct Bus is a mere proposal—nothing set in stone—one of a half dozen studied by SEPTA planning staff in advance of this year's annual service plan (ASP) process, which kicked off with a pair of open houses Wednesday. Every year, the authority reviews changes to its bus routes and train services, proposed by employees and customers. Out of the few hundred suggestions, only a few make the open house cut. This year, just six did, one more than last year, but way behind Fiscal Year 2016's fifteen.
Two proposals will be familiar to dedicated PlanPhilly readers: Boulevard Direct and a proposed Route 49 bus to link Brewerytown and South Philly to University City. SEPTA introduced both ideas during last year's ASP process, but neither was considered ready by the time the authority's board voted in the fall.
In addition, SEPTA showcased four new proposed tweaks to bus routes in Montgomery and Bucks Counties.
DIRECT IMPACT
Even though it's technically just a proposal, Boulevard Direct will become a reality sometime soon. SEPTA only needs to iron out the fine details, like obtaining formal board approval per the ASP process.
The new bus route can't come soon enough, said Lee Wall. "It'll be great for shoppers like me," said Wall, who currently drives to the Neshaminy Mall to get in her shopping fix at Boscov's. Currently, the bus takes too long to rely on, but the Bucks county resident said she would leave the car at home once Boulevard Direct began service.
Boulevard Direct will be an "enhanced bus service" running on Roosevelt Blvd. between the Neshaminy Mall and Frankford Transportation Center. SEPTA estimates that the eight-stop route would make the 10.8-mile trip in 34 minutes, significantly better than the 47 minutes local Route 14 buses currently take on average and only slightly slower than a car's 26-minute trip.
The buses will run every 10 minutes during peak weekday hours and every 15 minutes around the rushes, slowing to 30-minute intervals after 9 p.m.
Such frequent service won't be merely convenient, said Mike Carroll, Deputy Managing Director for Philadelphia's Office of Transportation and Infrastructure Systems (OTIS). "There are some crashes that take place because people are bolting across streets along the Boulevard or—believe it or not—bolting across the Boulevard to catch the bus."
"Clearly, what's going on, the person feels like they're in a hurry," said Carroll. Missing an infrequent, slow bus can ruin a person's day. "This is their one chance to get to work, school, an appointment," Carroll added, "people who are feeling desperate in that situation are making bad choices, putting themselves at risk."
"One of the things I think is very important is to understand how we make changes across all modes of transportation. What it does to enhance people's access along the Boulevard and ultimately throughout the city when we make transportation improvements along this stretch of road."
Making a missed bus more tolerable is just one way OTIS plans to address Roosevelt Boulevard's lingering safety issues.
The city is in the middle of a multi-year study to improve Roosevelt Boulevard, considered one of the nation's deadliest city roadways. While SEPTA's new bus service plays into those plans, the two remain separate, said Carroll. That three year, $5 million "Route for Change" study will try to balance the need for safety enhancements with maintaining the street as a major thoroughfare for traffic, said Carroll.
Carroll also noted that Boulevard Direct might, in time, expand or become a model for other such specially-branded express bus routes in the city. The Delaware Valley Regional Planning Commission (DVRPC) released a study of Roosevelt Boulevard in 2015 that considered how an enhanced bus service like the proposed Boulevard Direct could be slowly upgraded into a full-blown Bus Rapid Transit (BRT) system. BRT systems largely feature all the same elements as a light rail lane, minus the tracks and trains.
Besides the unnumbered name, Boulevard Direct will feature special bus stops and transit signal prioritization. To go full-BRT, it would need dedicated travel lanes, multi-door boarding, and raised stops (to alleviate the need for buses to kneel for less mobile passengers).
THE UNIVERSITY CITY 49ERS
Like Boulevard Direct, Route 49's return to the ASP open house augurs well for those excited to see SEPTA introduce entirely new routes for the first time in years. (More recent "new" routes were split off from existing routes, like when SEPTA split Route 23 into two, naming the southern half Route 45.) The expansion, which would require 9 buses to run, is only a possibility thanks to Harrisburg's passage of Act 89 in 2013, which allowed SEPTA to order 525 hybrid buses.
The proposed route would run between Brewerytown and Grays Ferry by way of University City. SEPTA riders in both outlying neighborhoods have heretofore lacked an easy, transfer-free way to get to Philadelphia's second largest (and booming) employment center. Brewerytown and Grays Ferry have seen a lot of new development recently, as well.
Route 49 would also provide a surprisingly absent transit link between 30th Street Station and the cultural institutions along the Benjamin Franklin Parkway.
The proposed 49 would also provide links to University City for residents in Fairmount, Spring Garden, Graduate Hospital and Point Breeze.
ROUTING AROUND IN THE 'BURBS
SEPTA staff also presented four proposed changes to suburban bus routes.
Two of the proposals are really just one change that affects two routes: shortening Route 99 so it no longer wandered Egypt Road to Oaks, and extending Route 131 to make up for Oaks' loss of service. Route 131 is shorter and more direct than Route 99, so the move should improve service reliability and run times. SEPTA suburban service planning manager Mark Cassel said the authority is in talks with Montgomery County officials to discuss this change, and perhaps others.
A third proposal would extend Route 132 in Souderton to serve the Hilltown Shopping Center. Currently, many riders disembark at County Line Road to walk to the shopping center. The extension would save them the hike, which features a dangerous intersection for pedestrians across Route 309, said Cassel.
SEPTA officials said that proposed changes to Route 99, 131 and 132 are unlikely to be presented to SEPTA's board for approval this year, as they are still in early planning stages.
SEPTA staff also reviewed small changes to Route 88's turn-around loops.
SEPTA's board will vote on the proposed in the late summer or early fall, following a formal hearing. If approved for Fiscal Year 2018 (which begins July 1st, 2017), the proposals could be implemented by this November.
Last year, SEPTA's board ultimately approved just two of the service change proposals, making tweaks to Routes 2 and 310.
SEPTA encourages public feedback on the service proposals. Readers can go to SEPTA's website to weigh in on the proposals.
WHYY is your source for fact-based, in-depth journalism and information. As a nonprofit organization, we rely on financial support from readers like you. Please give today.