Sanchez, O'Brien named committee chairs as new council members are sworn in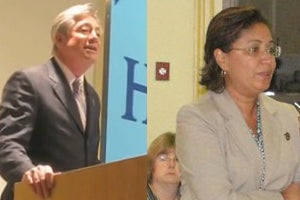 Some things won't be changing in Philadelphia City Council. Tenth District Councilman Brian O'Neill retained his seat as a Republican despite a challenge from Democrat Bill Rubin, and O'Neill also still holds his seat as minority leader.
But other things will change. With six new members and a new president, council had some committee holes to fill as newcomers Denny O'Brien, Bobby Henon, David Oh, Cindy Bass, Mark Squilla and Kenyatta Johnson were sworn in.
O'Brien, of Millbrook, was named chair of the Disabilities and Special Needs committee — not much of a stretch given the similar work he did as a state representative. And the chair position for the Licenses & Inspections committee went to 7th District incumbent Councilwoman Maria Quinones-Sanchez.
In the video below from our partners at NewsWorks, Henon and Squilla discuss plans for their districts.