Review: 'The Carols,' but not the ones you might sing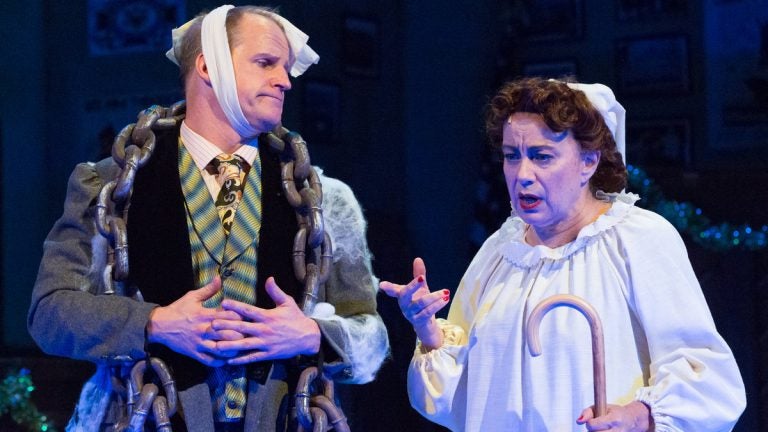 A new musical called "The Carols," set during World War II in a hicksville town with too few guys available to cast the annual "A Christmas Carol," is the sugar plum of this season's holiday shows. It's written and directed by Jennifer Childs, the head of 1812 Productions, and I hope the company finds ways to push it out into the larger world. For artistic directors (and audiences) in search of new holiday entertainment, "The Carols" is a sure shot.
But before they get a hold of it, consider that the current production in Center City will be difficult to match: Its cast of heavy-hitters is all over this sweet show, owning it. Mary Martello, the locally-based actress who can play just about any one – and has – is Miss Betty, the keeper of the little USO in fictional Picatinny, N.J. She's a sourpuss, to use a word they'd use in 1944, the time of "The Carols." Her glory days, whatever they were, are long behind her.
Martello, with unquestionable comic timing, rules this USO roost with a frown and a whole lot of bah-humbugging. And when things turn on a dime, as they must in so many musicals, she's equally fine in different spirits. Her assistants at the USO are three beautifully harmonizing volunteers, the Carol sisters — played by Rachel Camp, who narrates the show with a sly know-it-all presence; Emily Kleimo, who likes to do things just right; and Caroline Dooner, a winking magnet for whatever guys might be around. A quiet young man with a limp like Tiny Tim hangs out at the USO hall, hiding mostly behind a piano – he's actually TJ Harris, the show's pianist and music director.
The place is lonely because the town's men are off to war. (In Lance Kniskern's scenic rendering of what we imagine a '40s USO hall looked like, a bulletin board announces "Gone But Not Forgotten" and another new picture of another local boy goes up as the war goes on.)
The three sisters have hit a wall concerning the hall's annual "Christmas Carol" – who's around to play the roles? Just them, it turns out. Then a Borscht-belt comic bursts into the hall, needing a place to sleep and a job. No job here – there's no pay for performing. But his willingness to help stage "A Christmas Carol" seals the deal. Anthony Lawton, another Philly stage vet, plays the washed-up comic with great hi-jinks and a credible spouting of Yiddishisms.
The show's 10 songs are fun – Monica Stephenson writes the catchy tunes and Childs supplies the crisp lyrics. There's everything from tap dancing to a stylish version of the old "Who's on First" routine that's a hoot in a new context. As for the eventual production of "A Christmas Carol," calling its context new in this little confection would be an understatement.
__"The Carols," produced by 1812 Productions, runs through Dec. 31 at Plays & Players Theatre, Delancey Place between 17th and 18th Streets. 215-592-9560 or 1812productions.org.