Review: 'Newsies,' when urchins helped make press lords rich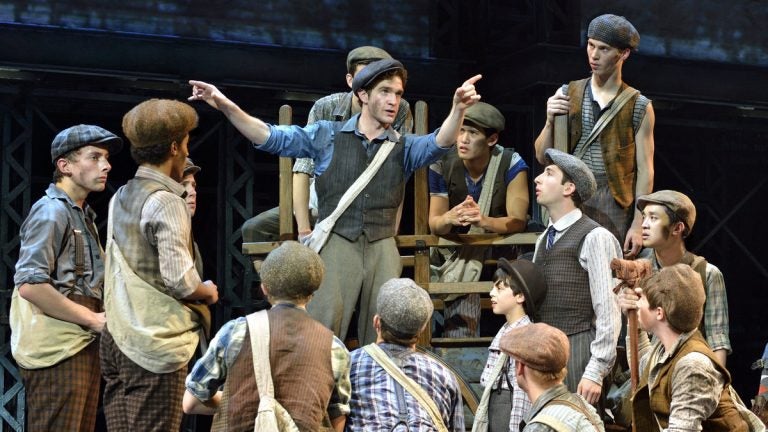 Too bad that the national tour of Disney's "Newsies" is running at the Academy of Music only through the weekend, because it's as thrilling and robust as it was when it first appeared on Broadway two years ago. The folks at Disney didn't expect it to stay long, period – they claim to have booked in only 101 performances at the Nederlander Theatre on Broadway. It ran for 1,005.
Along the way it picked up a Tony Award for Bristol native Christopher Gattelli, whose choreography is nothing less than a knockout – some of the most demanding stuff seen on Broadway in some time. In the national tour, the cast handles the high-jumping swirls and rat-tat-tat steps as if they were a walk in the union hall.
Unions and newspapers – that's what "Newsies" is about, with the typical (some might say mandatory) boy-meets-girl and underdogs-topple-topdogs themes. The show's inspired by a piece of American history, an early strike that's become a footnote. In 1899, a collection of street urchins from all over New York City came together to challenge William Randolph Hearst, Joseph Pulitzer and all the city's press lords. They were the newsboys of New York, many of them teenage or grade-school orphans and immigrants, boys who kept themselves alive by selling the latest edition for a penny.
When the press lords decided to charge the newsboys 6 cents for every 10 papers they'd sell, a penny increase, the newsies rebelled by refusing to sell any papers. They went up against the city's most intimidating collection of men, and whether their two-week strike was a success is more a matter of perspective than fact – but for Disney, it's been a great story. The boys, of course, come off as trampled kids stuck in a system that insures them poverty and no futures. Joseph Pulitzer comes off as a dreadful tyrant, only half of which is accurate.
The company first used the tale for its 1992 film "Newsies," which has developed a following of kids in the years since its home-video release. The theatrical version is fully revamped, with spunky, engaging music by master Disney-show composer Alan Menken and lyricist Jack Feldman; their score also won a Tony. The script is by actor-playwright Harvey Fierstein.
The national tour of the show, which closed on Broadway this summer, began this week in Philadelphia (coincidentally, a union town that still has two newspapers). After two nights of previews, "Newsies" officially opened Thursday, when I saw it and was blown away by the talented cast — they handle director Jeff Calhoun's dynamic staging as if they'd been performing it for months, not nights. They perform in great urchin style, in Jess Goldstein's poor-kid costumes and on Tobin Ost's remarkable set of steel structures that move into various positions to create different scenes and most visibly, punchy effects for the endings of show-stopping numbers.
Dan DeLuca plays the newsie who organizes the rest of them, and he's a full-voiced charmer, yet his delivery's so stylized it sometimes sounds as though Jesse Jackson had been his speech coach. Stephanie Styles, sweet and sincere, approaches her role as a cub reporter with reasonable apprehension and makes a fine love interest (and cub reporter, as well). Steve Blanchard is a perfectly nasty Joseph Pulitzer. Jacob Kemp and Zachary Sayle are excellent as two newsboys prominent in the plot, and at Wednesday's performance I saw a startlingly talented little guy named Vincent Crocilla in the role of the youngest newsie, played by Anthony Rosenthal in alternating performances.
Unions and newspapers – two parts of American life that have been taking a beating over the past decade. Yet you sense their vibrant meaning to the country in the plot of "Newsies," even though at the end it wraps itself up with uncanny neatness, like a Christmas-store gift from a high-class retailer. Still, that's not a bad way to refer to Disney or, at this season, to "Newsies" either.
"Newsies," in its national tour, runs through Nov. 2 at the Academy of Music, Broad and Locust Streets. 215-731-3333 or www.kimmelcenter.org/broadway.