Review: 'Hot 'n' Cole' in champagne flutes filled with Porter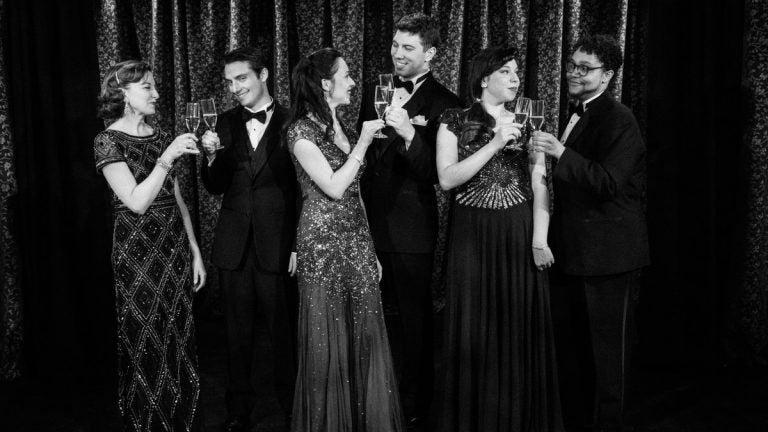 "Times have changed," Cole Porter wrote as the first three words to "Anything Goes," and the current Mauckingbird production of "Hot 'n' Cole" celebrates the fact. What's best about this celebration is its nonchalance – you no longer need to do a wink-wink to the audience when two women are singing "Let's Do It, Let's Fall in Love" or when a guy comes forth with "My Heart Belongs to Daddy." In the still of the night, it's all just … there.
Mauckingbird Theatre Company devotes itself to gay themes and issues, or a gay take on an otherwise straight work. In the entertaining "Hot 'n' Cole," the company stages an equal-opportunity revue of about 50 songs, in full or in pieces, of Porter's catalogue of remarkable songs. When it comes to Porter's Number One theme – romance – the bright cast of three woman and three men mix it up every way possible: straight, gay, sometimes a ménage of singers.
There's no dialogue in the revue's two acts, just Porter's music. That would be enough for some people, but in Brandon McShaffrey's peppy production, the six singers do right by Porter, who wrote for the stage: they turn the songs into little shows themselves. They create characters for each, offering a lot more than just an evening's medley.
The gender mash-ups heighten the fun – and here's the kick, some of the songs lend themselves, in these different contexts, to little sexual double entendres. (Porter himself led a bisexual life.)
The women in the cast – Michelle Eugene, Nicole Renna and Jenna Rogalski – look great in Marie Anne Chiment's long gowns, awash in sequins. The guys – Luke Brahdt, John McCarthy and Philip Anthony Wilson – are playful in their tuxes. They are, in true Cole Porter style, a bunch of swells.
They're also strong-voiced and, especially when they sing as an ensemble, impressive in their timing. The role of the accompanying pianist rotates between musical director Hana J. Cai and associate musical director David Jenkins.
One of the revue's plusses is that its creators – David Armstrong, Mark Waldrop and Bruce W. Coyle – include Porter's intros to many of his songs; for "You Do Something to Me" and others, they're little theatrical setups. Some songs, like "Love for Sale," banned for decades by radio station managers, are still rarely heard. Come to think of it, I'd never heard several of the songs before, and was happy to meet them on the top-floor Playground space of the Adrienne, where Mauckingbird seats the audience at round nightclub tables. Cole Porter might've felt right at home.
"Hot 'n' Cole," produced by Mauckingbird Theatre Company, runs through Feb. 1 at the Adrienne, Sansom Street between 20th and 21st Streets. 215-923-8909 or www.mauckingbird.org.
WHYY is your source for fact-based, in-depth journalism and information. As a nonprofit organization, we rely on financial support from readers like you. Please give today.