Return of 'El Gran Teatro de la Luna' tops Fairhill Square improvements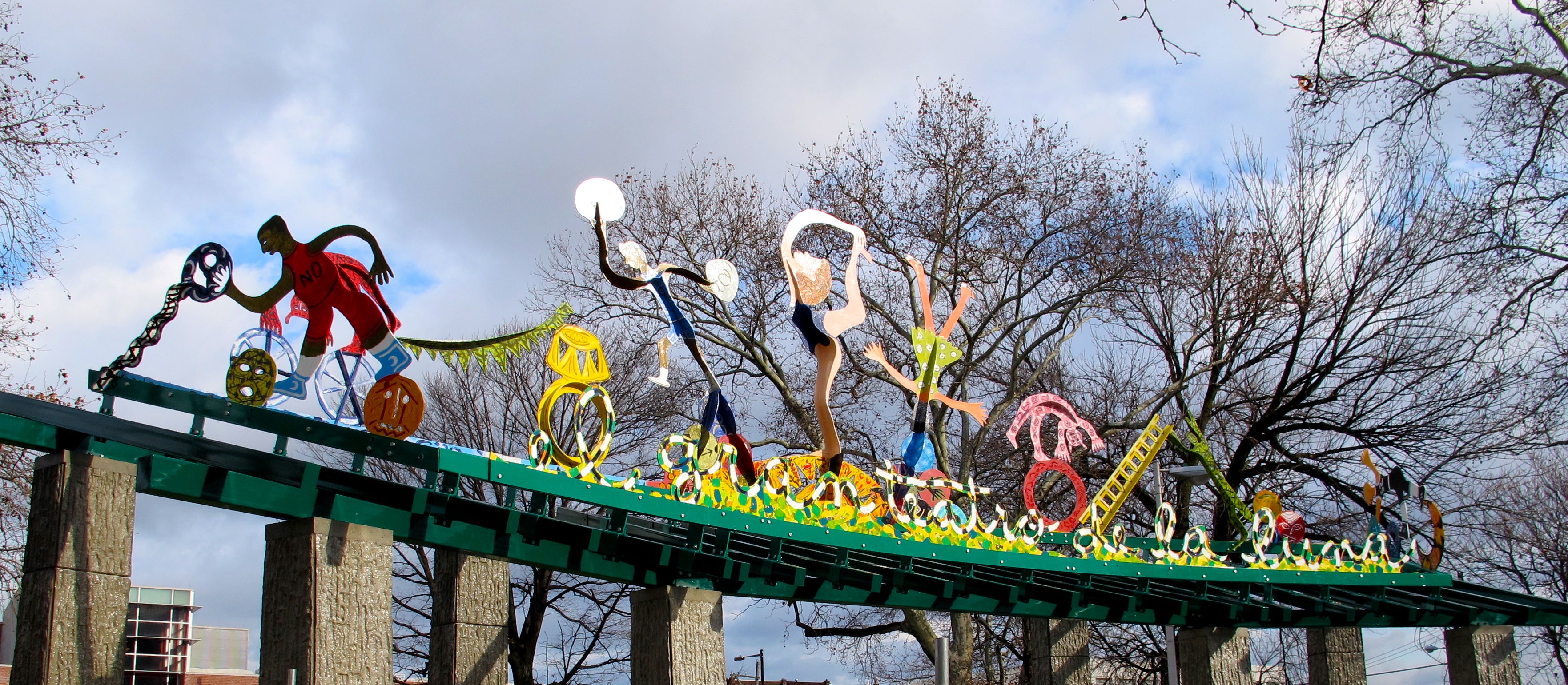 Rafael Ferrer's exuberant sculpture El Gran Teatro de la Luna ("The Huge Theater of the Moon") has been missing from Fairhill Square, at 4th Street and Lehigh Avenue, for 14 years. But as of late last year Ferrer's brightly painted aluminum figures – a whirligig of action frozen in mid leap and tumble – returned to the park atop a new metal pergola that frames a new outdoor stage at the heart of Fairhill Square.
On Tuesday, May 14 Rafael Ferrer will join the city and community partners at a celebration in Fairhill Square to officially rededicate El Gran Teatro de la Luna, marking the end of an improvement project for Fairhill Square which brought back the long-missing sculpture.
In addition to the new stage area with Ferrer's sculpture, Fairhill Square has new walkways, furniture, lighting, and plantings thanks to $365,000 in funding from both the City and PA Department of Conservation and Natural Resources. A $35,000 grant from the National Endowment for the Arts, matched by the Association for Public Art, enabled Ferrer to restore and repaint his sculpture.
"It's a piece that people are going to feel proud of and connected to," Carmen Febo-San Miguel, executive director of the nearby Puerto Rican/Latino cultural organization Taller Puertorriqueño, told me last year in anticipation of the sculpture's return.
Despite reports heralding the reinstallation last summer, El Gran Teatro de la Luna wasn't actually installed until December. Margot Berg, Philadelphia's Public Art Director, explained that the delay was due to faulty engineering and inadequate attachment systems. The city hired the Iron Studio's Warren Holtzman to design and fabricate the new anchoring system.
'El Gran Teatro de la Luna' freshly reinstalled in Fairhill Square, December 2012

'El Gran Teatro de la Luna' in Fairhill Square, December 2012

Fairhill Square's playground is well-used

New trees and walkways are among the recent improvements to Fairhill Square

Playground at Fairhill Square

Chess tables and new benches in Fairhill Square

New walkways and central plantings in Fairhill Square

Rafael Ferrer's 'El Gran Teatro de la Luna'

'El Gran Teatro de la Luna' marker

'El Gran Teatro de la Luna' tops a new metal pergola in Fairhill Square, May 2013

'El Gran Teatro de la Luna' in Fairhill Square, May 2013

'El Gran Teatro de la Luna' in Fairhill Square, May 2013
El Gran Teatro de la Luna's long road home
El Gran Teatro de la Luna "is as meaningful today as it was 30 years ago" when it was first dedciated said Penny Balkin Bach, director of the Association for Public Art, in an interview last fall. She said she was thrilled, though not surprised, to see it reinstalled after so many years in storage.
Bach remembers well when her organization commissioned Ferrer, a renowned Puerto-Rican born artist who was then living and working in Philadelphia, to create a new public artwork for Fairhill Square as part of its Form and Function program. Then as now, Fairhill Square was a well-used public space in the heart of a largely Latino and Puerto Rican neighborhood. At the time St. Christopher's Hospital was still located across North Lawrence Street from the park, and its presence drew a greater diversity of community members into the park.
But when "St. Christopher's moved, immediately everything changed," Bach recalls. And the utility building, which was the original base for Ferrer's sculpture, became a problem. "Drug dealers used the building to shield themselves from Lehigh Avenue," she explained.
Febo-San Miguel too recalled that "unhealthy" activities accompanied the park's disrepair and abandonment. Ultimately the utility building became such a clear community liability that it was demolished and the sculpture was put into storage.
Over the years, Bach said she resisted seeing El Gran Teatro de la Luna reinstalled elsewhere because it was designed for Fairhill Square.
"To me it really speaks to the enduring nature of art. The park design and the building didn't survive, but the sculpture did," Bach said
And in many ways it's emblematic of renewed interest and investment in Fairhill Square by the city and community at large.
"Everybody wants the park to be a place for kids and families," the city's Margot Berg said. "We think [the sculpture] helps identify the park as a positive place."
Maria Guzman was among those I spoke with who said they felt the park was was getting better. "It's a safer environment now. It's way better," she said while watching her young daughter on the park's playground.
"I think now that they remodeled it, it feels a lot more homey," said teenager Emmanuel Coreano, sitting at one of the chess tables at the park's center after school with his friend Jonathan Figueroa.
"I see a lot more people here now," Figueroa added. "Before, people just walked past and ran to their houses."
Terrence Johnson who lives across 4th Street from the park said he particularly appreciates the new lighting because it makes him feel safer on his way to work in the very early morning.
"It came out real nice," said Manny Bermudez as I was taking pictures of the freshly reinstalled sculpture one morning in December. Shareef Holmes, who was drinking coffee with Bermudez in the park that morning, said he hadn't seen the park look this good since Michael Jackson's people visited St. Christopher's Hospital in the mid-1980s. (Jackson's representatives handed out jackets to the children at St. Christopher's during the Victory tour in September 1984.)
Holmes said he thinks community groups have a "more of a clear concept of how the park should be," adding that he hopes to see more picnics, concerts, and movie nights this summer.
For his part, Holmes agreed that there's "not as much hard crime as there used to be," but advised me not to come back at night. As he described how crime was "less visible" in the park we watched a hand-to-hand drug deal (pills of some sort) a few feet away. Change comes slowly.