Report: Long waits for health care, outdated technology at Vaughn prison
An independent assessment of health care at the James T. Vaughn Correctional Center near Smyrna finds fault with its 'sick call' process.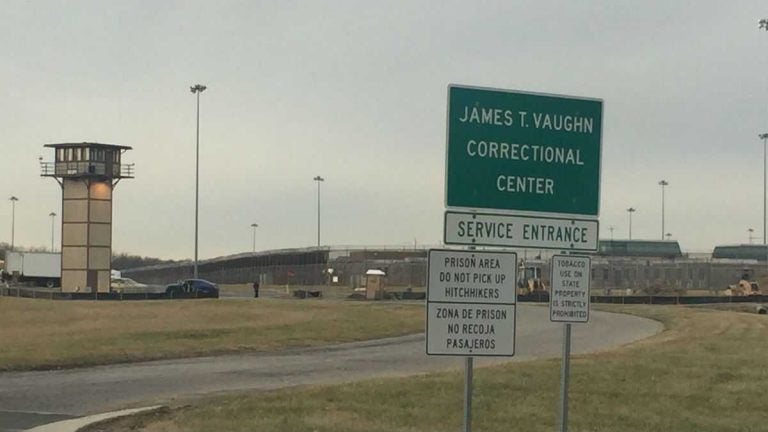 An independent assessment of health care at the James T. Vaughn Correctional Center near Smyrna found an insufficient "sick call" process — including lengthy wait times and outdated technology.
The report compiled by the National Conference on Correctional Health Care Resources, Inc. outlines several recommendations to improve the process for requesting and receiving medical care.
An independent review of James T. Vaughn following last year's prison uprising, which led to the death of correctional officer Lt. Steven Floyd, recommended the Department of Correction receive an independent assessment of health care at the prison.
Following the prison riot, former inmates and relatives of inmates alleged prisoners were not receiving needed care for serious medical and psychiatric problems.
NRI, a nonprofit that aims to improve the quality of health care in correctional facilities, conducted two days of interviews with inmates and staff, and evaluated health records and other documentation.
The $25,000 evaluation found officers respond to requests for medical attention, appointments are made and treatment is administered. But inmates and staff pointed out several inefficiencies within the sick call system.
Lengthy wait times to receive care was one of the most significant problems the report identified.
Patients with chronic conditions are sometimes not seen in a timely manner, and the NRI found the waiting room area in the main clinic is so small some patients wait for hours to be seen or may return to their unit without receiving health care at all.
One inmate interviewed by the group reported that, after requesting to see a dentist, a co-payment was charged to his account — even though he'd been waiting more than six weeks for an appointment.
"This creates distrust and could dissuade inmates from attempting to access the health care system," the report stated.
The National Conference on Correctional Health Care Resources standard of timeliness is that a patient see a health care professional within 48 hours after a request or 72 hours on weekends.
In addition, while inmates are aware of the sick-call process, they reported not receiving instruction — such as  orientation or a handbook — on how to access health care.
While the DOC staffing model is adequate, at the time of the assessment, 23 health care positions — including five charge nurses, nine registered nurses and five licensed practical nurses — were vacant.
Across all DOC facilities, almost 87 percent of provider positions, 78 percent of registered nurse positions, 78 percent of licensed practical nurse positions, 85 percent of dental positions and 86 percent of "other" health care positions are filled, according to Connections, which has contracts with DOC to provide the primary medical care and behavioral health care in its facilities.
Bureau Chief of Correctional Healthcare Dr. Marc Richman said recruiting medical staff is a competitive process.
"We have a brand new hospital in Milford, a new psychiatric facility in Georgetown, so nursing shortages will be on our radar for some time, and hospitals are aware of it as well," he said.
"There will be more opportunities for nurses to pursue employment at those two facilities so we're going to have to make sure we stay ahead of that and incentive as much as we can to get our staffing."
A shortage of correction officers and mandatory overtime also are causing fatigue and poor performance — as well as tension between health staff and inmates, the report said.
Report recommendations include prohibiting complaints that are not related to health in the sick-call process; improving efficiency so cases can be handled by a nurse without escalation to a physician; addressing the high volume of patients in the waiting room and lengthy wait times; and creating a new approach to scheduling visits and educating inmates on health, wellness and health care policies.
NRI also recommended restructuring or replacing DOC's electronic medical records system. Connectivity is a chronic issue, said the report, as staff enter data on Microsoft Word documents, copy and paste them into the records system, resulting in many late entries.
One medical provider who sees between 12 and 15 patients a day reported working 80 to 100 hours per week in order to complete documentation.
The NRI report is not the first time the state has looked at ways to improve health care system in its prisons. In 2006, the U.S. Department of Justice and the state entered a memorandum of agreement under which the state agreed to take specific actions to improve medical and mental health care services provided to inmates.
Corrections Commissioner Perry Phelps said his department will implement the recommendations as soon as possible.
"We're going to take the recommendations, just like we did with the independent review after the incident on Feb. 1, and we're going take them and evaluate them and as the process teams looks at the processes we need to do," he said. "I have no other intent than to fix it."
DOC has issued a new inmate handbook, as well as forming a working group to discuss ways to improve its sick-call system and incentivize nurses to work for the department. The department also said it wants to expand video- conferencing doctor appointments to address staff shortages and prevent long wait times.
And it's working to improve the medical record system by increasing Wi-Fi access points for better connectivity.
DOC said individuals who require urgent care are receiving the treatment they need.
The department also requested an evaluation of its grievance process with the Moss Group.
WHYY is your source for fact-based, in-depth journalism and information. As a nonprofit organization, we rely on financial support from readers like you. Please give today.