Renewed focus on measles vaccines in New Jersey
This article originally appeared on NJ Spotlight.
—
New York City's decision to threaten fines and legal citations against those who have not been vaccinated against measles could indirectly benefit New Jersey's immunization efforts, although experts here agreed such measures are not necessary to address the measles outbreak on this side of the Hudson River.
New York Mayor Bill de Blasio declared a public health emergency on Tuesday that requires unvaccinated individuals in the largely Orthodox Jewish community of Williamsburg — where 285 people have been diagnosed with measles since last fall, and nearly two dozen hospitalized — to get the measles vaccine or face citations or fines of up to $1,000.
"I'm not sure we need to do what New York City is doing, but I'm happy they are doing it," said Dr. Puthenmadam Radhakrishnan, a pediatrician with a practice in Ewing. Close monitoring, plus education and outreach to further boost vaccination rates, are what currently make sense for the Garden State, he and others said Wednesday.
As of last Friday, 13 people in New Jersey had been diagnosed with the highly contagious respiratory disease this year; that's in addition to the 33 cases detected between October and January, according to the state Department of Health. While the symptoms are often mild, measles can cause fever, cough, runny nose, and rash, and can even lead to death, killing as many as two out of 1,000 youngsters who become infected, the state warns.
Most of this year's measles cases in New Jersey have been linked to an outbreak in Ocean and Monmouth counties, the DOH found, and many originated with travelers who had been infected overseas. During the third week of March, exposed individuals visited a dozen different locations on multiple dates, including several facilities associated with Orthodox Judaism, children's stores and restaurants in Lakewood, a regional emergency room, and Newark Liberty International Airport's Terminal B.
DOH is working with Ocean County health officials
"Vaccines are the most effective thing we do in public health. We are consistently putting the message out on social media and in press releases and on our website," state health commissioner Dr. Shereef Elnahal said. The DOH is also working closely with the Ocean County Health Department and provided it a tent and extra vaccines to help inoculate more residents last fall; the state also supported the county's call to keep unvaccinated students home from schools.
"The situation in NYC is unfortunately a lot worse," Elnahal added. "They've had an ongoing outbreak for months. It reached a point (where) public health officials have gone to extra steps to try to contain the outbreak."
The commissioner's call to vaccinate was echoed by Rabbi Aaron Kotler, the president of Beth Medrash Govoha, a Lakewood yeshiva — or Orthodox Jewish college — with 6,700 students. Infected individuals, who may have included visiting scholars from Israel, not staff or students, are known to have traveled through two BMG facilities on several dates in March, the DOH reported.
"I join the physicians of our state in urging all parents to immunize their children on time as per the (federal Centers for Disease Control and Prevention) schedule and not just in times of crisis," the rabbi said. The school requires students to be vaccinated, and Kotler said he was grateful they had done so.
Once a common childhood disease, measles has been drastically reduced over the decades through immunizations, which the medical profession generally considers safe, effective and critically important. Without protection from the vaccine, nine out of ten people who come in close contact with someone who is infected will get the disease, the DOH said.
Banning unvaccinated people from public spaces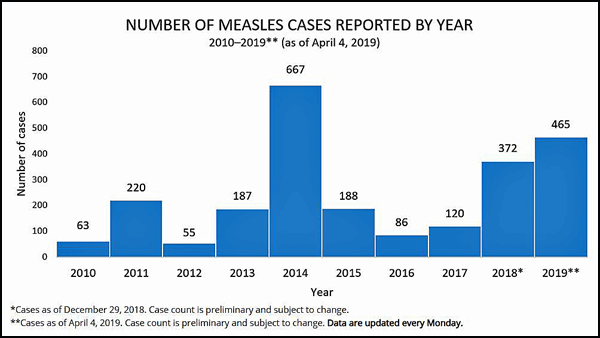 Case numbers have ticked up in recent years, with a record 667 people diagnosed nationwide in 2014; last year there were 372 cases countrywide and 465 confirmed infections have already been reported in 2019, according to the CDC. The bulk of the recent outbreaks — defined as three or more connected cases — occurred in our region, including 173 cases diagnosed this year in Rockland County, New York, where government officials have attempted to ban unvaccinated individuals from public spaces.
"We're facing a crisis that should have been dealt with in the 19th Century. And it was," Radhakrishnan said, referring to the development and widespread use of vaccines.
At least 90 percent of the public should be vaccinated to properly protect the community at large, he said. According to the state, 94.6 percent of Garden State pupils received all their shots during the 2017-2018 academic year. But that still leaves more than 13,500 students unprotected, the vast majority of whom opted out when their parents claimed vaccines conflicted with their religious beliefs.
Two lawmakers, Assemblywoman Mila Jasey (D-Essex) and Herb Conaway (D-Gloucester), a physician, are seeking to do away with New Jersey's religious exemption for vaccination entirely; the use of this option has grown sixfold over the past decade, records show. The change is contained in an amendment to a bill they had previously introduced to tighten the state's vaccination policy; lawmakers approved the revised plan in January, despite passionate testimony from people concerned about the push to reduce parental choice.
"I think it's unfortunate in this day and age that people are still that uneducated and fearful when it comes to vaccinations," Jasey said Wednesday.
No need to follow NYC's lead
However, Jasey did not think New Jersey needed to follow New York City's lead on the policy, noting, "I don't think we're at that point here." While not keen on the idea of forcing people to take medical precautions, she said, "You have to weigh the public health issues."
But many parents have legitimate questions about the impact of these shots, dozens of which are required in the first year of life, explained Sarah Lane, a doctor of osteopathy and leader with the New Jersey Coalition for Vaccination Choice, which opposed the bill to end religious exemptions. Vaccines are not 100 percent effective, she said, and in some cases — albeit rare — children have suffered serious side effects.
"The majority of people are trying to make the right decisions for their children," Lane said, "and government mandates interfere with a person's right to do that, and they interfere with a patient's relationship with their doctor."
Public health is important, Lane continued, but it shouldn't restrict someone's ability to refuse medical treatment. To suggest otherwise — especially to parents who may have seen adverse effects in another child — is like saying "they should set their kid on fire to protect someone else's child," she said.
De Blasio's plan is a "complete overstep of a government agency," Lane added.
But Michael Weinstein, director of the New Jersey Immunization Network, called the mayor's move "the right thing to do," given the high case numbers and population density in New York. While the Big Apple's solution might not make sense for New Jersey, Weinstein said it has sparked a robust conversation about "what we can do here to move the ball in the right direction."
The city's action "puts the correct spotlight on this," he said, adding, "There was a need for a little shake-up here."