Region's trails get $250,000 boost from William Penn Foundation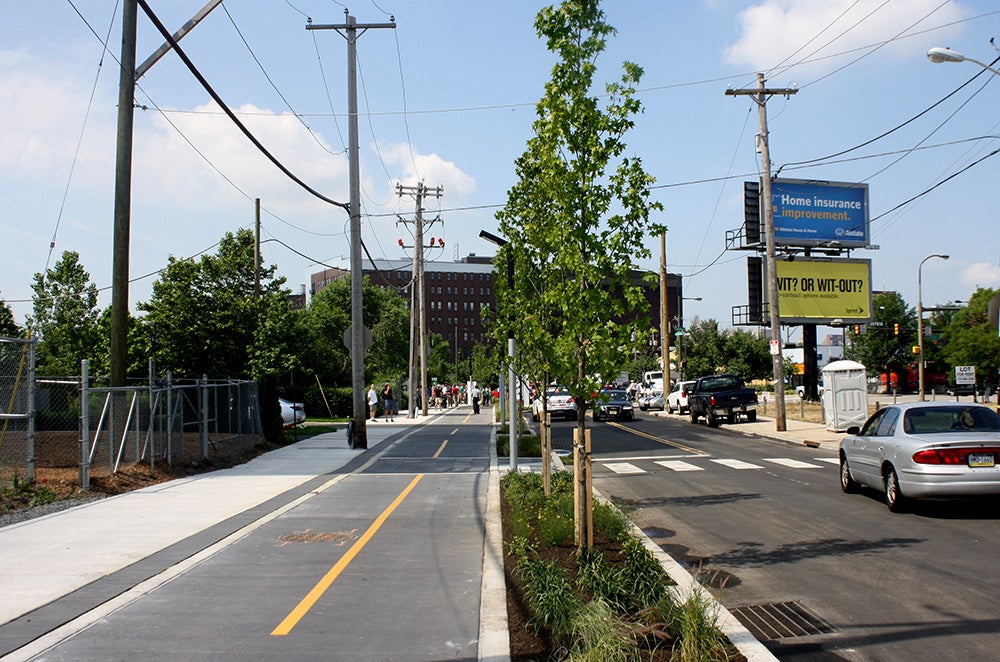 Last fall, regional trail advocates said that the region's trail funding future was unclear. Now those interested parties are getting a bit more clarity.
Today, the Delaware Valley Regional Planning Commission (DVRPC) board approved a $250,000 grant from the William Penn Foundation*. The grant will allow DVRPC's Regional Trails Program to provide technical assistance to bicycle and pedestrian trail managers, builders and advocates. While this funding will not provide any capital dollars, it will support efforts to apply for and leverage trail-building funds from other sources and to continue to build The Circuit, a 750-mile network of off-road bicycle and pedestrian trails.
This new funding is an extension of the $10 million grant that the William Penn Foundation made to DVRPC in 2010. That $10 million created a dedicated pool of funding to build and promote The Circuit. Over the course of three years, the funding helped advance approximately 25 miles of trails. Last fall, though, the last of the $10 million was allocated, and the William Penn Foundation did not have plans to infuse additional dollars.
"The idea of the $10 million capital grant was to sort of seed grant or [create] something that would bring momentum for The Circuit itself and for attracting additional public dollars – both of which it did" said Andrew Johnson, a senior program officer at the William Penn Foundation. "It attracted additional public dollars, and it also really, really, really, I think galvanized trail owners and builders around The Circuit concept."
The $250,000 grant is another three-year award.
DVRPC's Regional Trail Program staff will use the funds to work with applicants who are applying for federal funding to do trail projects, coordinate with regional efforts like the East Coast Greenway, work with counties that are developing their own trail networks, assess ongoing highway, bridge and transit projects to see where there are opportunities to include trail elements and more.
In working with DVRPC on trails over the last three years, Johnson said, "It was very evident to us, and I think to advocates as well as to trail owners, they weren't just a conduit to funds. They were a conduit, but they also bring expertise."
That expertise resulted in better projects and led the William Penn Foundation to make this latest grant.
"The value add [the DVRPC] team could bring with some private funding is something that we could do for not a huge amount of money, but would essentially buy more time from their staff to focus on Circuit-related trails," Johnson said.
"Our goal … is by the time we're done the program, is to help with the construction of an additional 25 miles of multiuse trails and plan an additional 50 [miles], said Chris Linn, DVRPC's environmental planning group manager and manager of the Regional Trails Program.
That is a general goal, he said and noted that it is tough to estimate just how many trail miles this funding will help build.
The Cobbs Creek Trail is a mostly off-road, paved trail that runs along Cobbs Creek Park from 63rd and Market streets to approximately 70th Street and Woodland Ave

58th Street Greenway

Grays Ferry Crescent, now the southern most portion of the Schuylkill River Trail will soon lead into Bartram's Mile

Tacony Creek Trail

A cyclist cruises on the new Port Richmond Trail's new pervious pavement
Funding and building The Circuit
"We're continuing to support trail development, design and construction in very targeted instances, so the foundation is still committed to that and still very committed to the idea of The Circuit and completing The Circuit," Johnson said.
With the $250,000 award from the foundation, DVRPC staff will continue to participate in and support the Circuit Coalition, a group of trail advocates working to build The Circuit.
The Circuit Coalition is in the process of campaigning for a small percentage of the region's transportation budget to be dedicated to regional trail development, and Sarah Clark Stuart, policy director at the Bicycle Coalition of Greater Philadelphia and a Circuit Coalition leader, said the process is "very much a work in progress." Currently, the Circuit Coalition is meeting with county stakeholders and pushing for Circuit funding to be included in the draft Pennsylvania Transportation Improvement Program (TIP).
Of the $250,000 William Penn Foundation grant, Stuart said, "I think it's great. I think it's a good thing that DVRPC staff continue to work on The Circuit so that level of technical assistance is secured for another three years, but what we want to bring to the table or hope that DVRPC adds [is] dedicating future funding for trail construction."
Linn said the idea of creating a dedicated stream of trail funding is still a relatively new idea.
"I think folks have a lot of questions about how it could be implemented, so everyone's trying to figure that out," he said.
Linn said it is worth noting that our region has made a huge commitment to trails both through the TIP and federal transportation funding over the last 20 years. In that time, approximately $130 million federal transportation dollars have been programmed for trail-specific projects in the five-county Pennsylvania region. That does not include funding for projects like the 202 Parkway Trail, where the costs of the trail are embedded in the larger roadway project.
"I think we as a region collectively, if we cultivate good projects, get them ready for construction, that really increases our chances of taking advantage of opportunities for construction dollars [when they] are available," he said.
*In the interest of full disclosure, it should be noted that PlanPhilly is funded by the William Penn Foundation through PennPraxis and the University of Pennsylvania School of Design.