Green for green: $21 million in federal funds for clean air transportation projects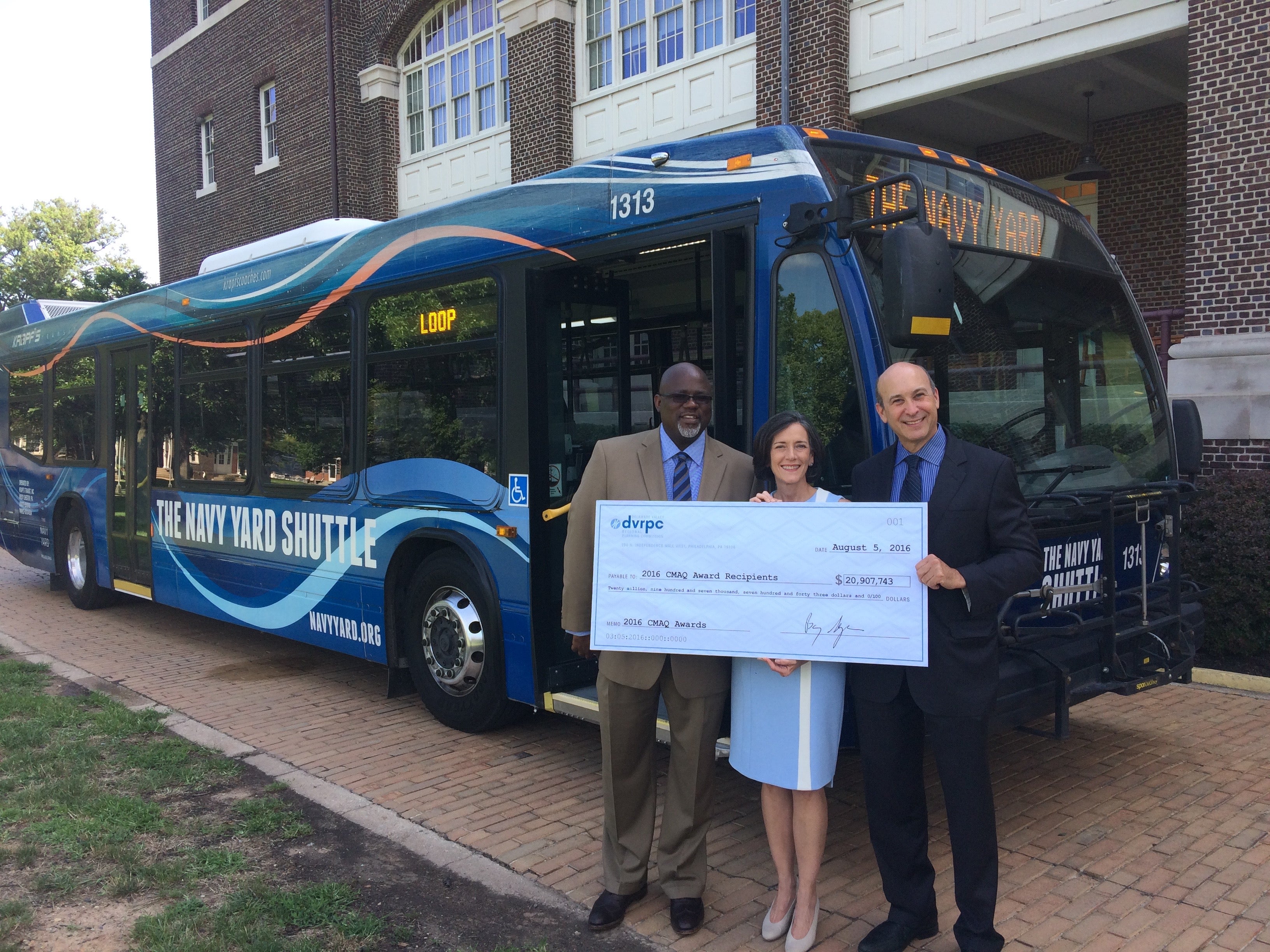 Big check in hand, the Delaware Valley Regional Planning Commission (DVRPC) announced the award of $20.9 million in federal grants for green transportation infrastructure projects.
The check itself was a bit misleading. No one entity will receive $20.9 million. Instead, the money will be distributed to 17 transportation projects in Philadelphia and the surrounding Pennsylvania suburbs.
The grants will help fund five projects in Philadelphia. The Navy Yard, which hosted Friday morning's press conference, will receive funds to add a contra-flow shuttle loop to its bus services. The Navy Yard offers free buses on two routes: a loop through the 1200-acre office park and to AT&T station, and an express shuttle to Center City.
SEPTA will receive $2 million to build 10 new bus shelters on Roosevelt Boulevard, part of its ongoing plans to introduce an enhanced bus service, or bus rapid transit (BRT)-lite, to the congested and dangerous roadway.
Monies will also go towards redesigning North 5th Street between Luzerne and Cayuga Streets into a complete street, meaning a roadway that balances the needs of all users, rather than just automobiles.
The Fox Chase Lorimer Trail will receive $868,000 to build another half-mile segment of what will one day will run 16 miles across Northeast Philadelphia and Montgomery County.
Another $2 million will go towards the purchase of 12 new trash haulers, which will run on compressed natural gas (CNG).
Elsewhere in the region, US 202 and US 1 in Delaware and Chester Counties will receive $3.3 million for traffic signal upgrades, which should help improve traffic flows. Plymouth Township received $515,000 for its own set of CNG vehicles: two trash haulers and two snowplows.
The Neshaminy Greenway Trail and Paoli Pike Trail received $1.8 million and 1.7 million respectively to fund trail extensions.
The money comes through the Competitive Congestion Mitigation and Air Quality (CMAQ) program under the Clean Air Act. As the regional planning organization, the DVRPC distributes the funds. Twenty-seven projects applied for CMAQ funds this year.
CMAQ projects aim to reduce automobile emissions. According to the DVRPC, this year's slate of projects will reduce nitrogen oxide pollution by 11.3 tons per year, and fine particulate matter by half a ton per year.
A full list of the grants with descriptions can be found on the DVRPC website.
WHYY is your source for fact-based, in-depth journalism and information. As a nonprofit organization, we rely on financial support from readers like you. Please give today.