Reading Terminal Market celebrates its 120th year with major renovations
February 22 is Reading Terminal Market's 120th anniversary and, far from ossifying into old age, the market has a major renovation project underway. I caught up with Paul Steinke, the market's general manager, last week to discuss how Philadelphia's food city is getting the equivalent of an urban renewal project on its eastern edge.
If you frequent Reading Terminal Market, you've probably noticed that there's been a lot of construction happening over the past few months and that several vendors have moved. Soon the market will have more stalls, new vendors, and improved public amenities.
The current project was driven by the market's explosive visitor growth over the last decade, Steinke explained, increasing from 4.8 million visitors in 2003 to about 6.3 million in 2011. On average 115,000-120,000 people pass through the market each week. That's remarkably successful for a market that was largely vacant and hanging by a thread in the 1970s. Today the market's success comes, to some extent, at the building's expense. Some areas of the market are well worn. Of course, that's part of the market's charm and authenticity, but it was time to rethink things.
Over time the market's eastern edge had become its backside, as valuable floor space was devoted to refrigerators, prep space, and service areas. So despite the growth and popularity of the market, its eastern end lacked the liveliness seen in other areas. It also wasn't the best use of the space, as visitorship and interest from possible vendors grew.
Guided by a recent master plan, developed by Friday Architects and Planners, the eastern edge of Reading Terminal Market is being revitalized. "Avenue D," the market's easterly north-south corridor, is being straightened out (see above); refrigerator and storage areas were moved from the main market floor to the basement; more vendor stalls are being added; and there is new space for office, operations, and maintenance. And mercifully, the new bathrooms are bigger and vastly nicer.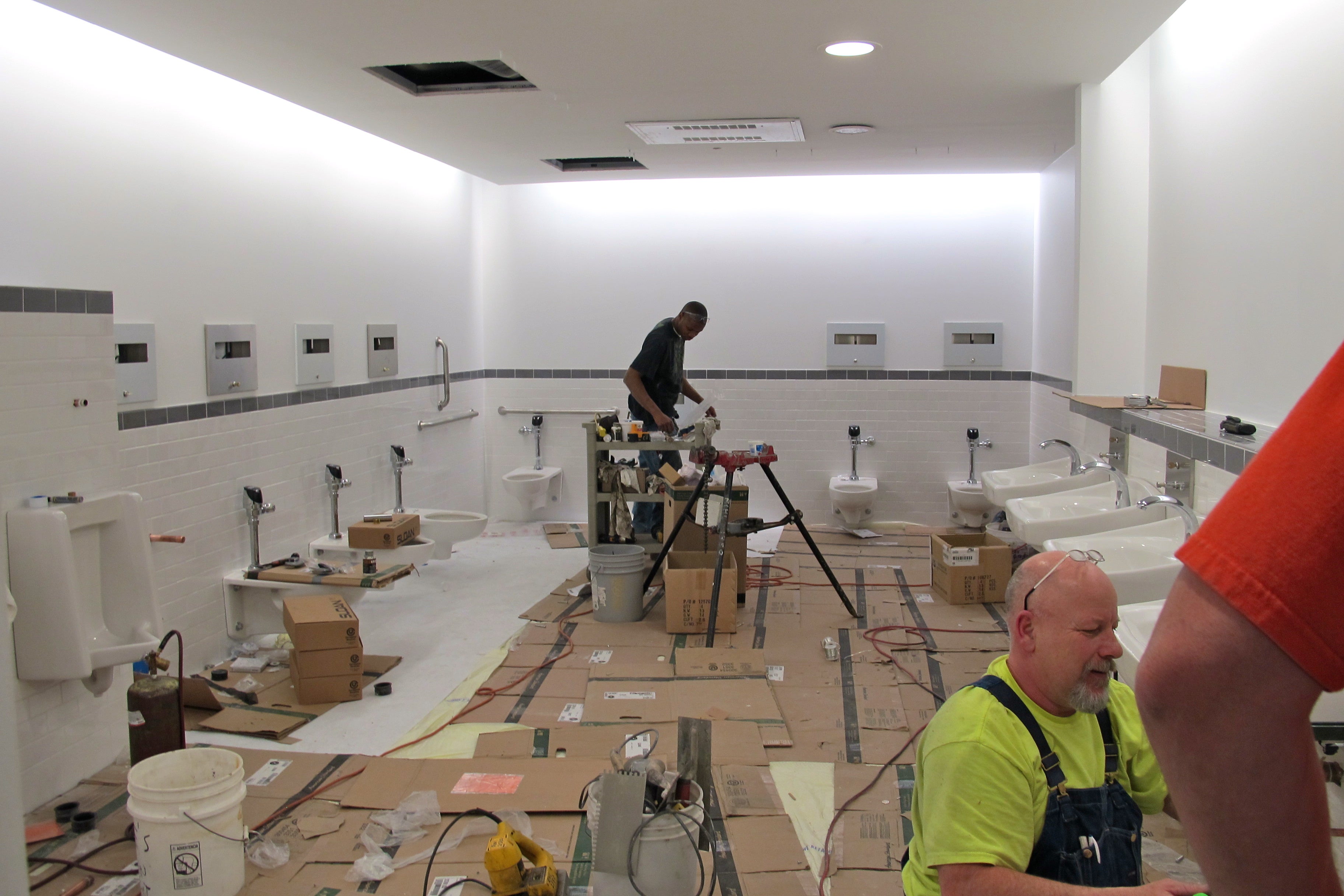 As these physical changes were taking shape, two vendors left the market, which opened up opportunities for several stalls to shuffle spots. Here are some of the vendor shifts:
In May 2011 long-time vendor Harry Ochs, a butcher stall at the market since 1906, closed up shop. That closure, however, allowed DiNic's to gain space by moving into the former Ochs stand. (The Ochs name is honored on the new DiNic's sign.) DiNic's moved into its new, bigger digs on January 9, Spataro's opened where DiNic's used to be on February 17, and Flying Monkey expects to move to the former Spataro's stand in March.
Meanwhile, Spice Terminal declined a lease renewal. But fret not; Steinke said that the market has a lease out to a similar bulk purveyor to sell herbs, spices, tea, coffee, and nuts by the pound. Where Spice Terminal used to be, a new German food stand called Wursthaus Schmitz (an outpost of South Street's Brauhaus Schmitz) will open around Memorial Day.
Molly Malloy's, a gastropub created by Iovine Brothers, replaced the old Beer Garden back in October. And it's a good illustration of how the market's eastern edge is spiffing up without becoming so shiny and new that the market's patina disappears.
Rounding out the renovations is a new home for the market's demonstration kitchen, La Cucina, just off of Center Court. Via a clear garage door, La Cucina will connect to the new Rick Nichols Room, named for the Inquirer writer who Steinke credits as a "fierce advocate" for the market. That room will be a multi-use space which will also have a market history display, developed in partnership with the Philadelphia History Museum (via a William Penn Foundation grant).
"It's definitely the biggest project since the market was completely renovated by the convention center in the early 90s," Steinke said. "That was a 30 million dollar job, this is a $3.5 million dollar job 20 years later." Most of the project financing comes from a combination of loans from Beneficial Bank and PIDC.
Elizabeth Halen, owner of Flying Monkey, says they're excited to move the bakery a few stalls down to the former Spataro's spot. Halen notes that Center Court is "very savory…so it's nice to throw in some sweet stuff." Halen operates one of few women-owned stalls, is one of the youngest vendors, and she's clearly proud to represent a new breed at Reading Terminal Market.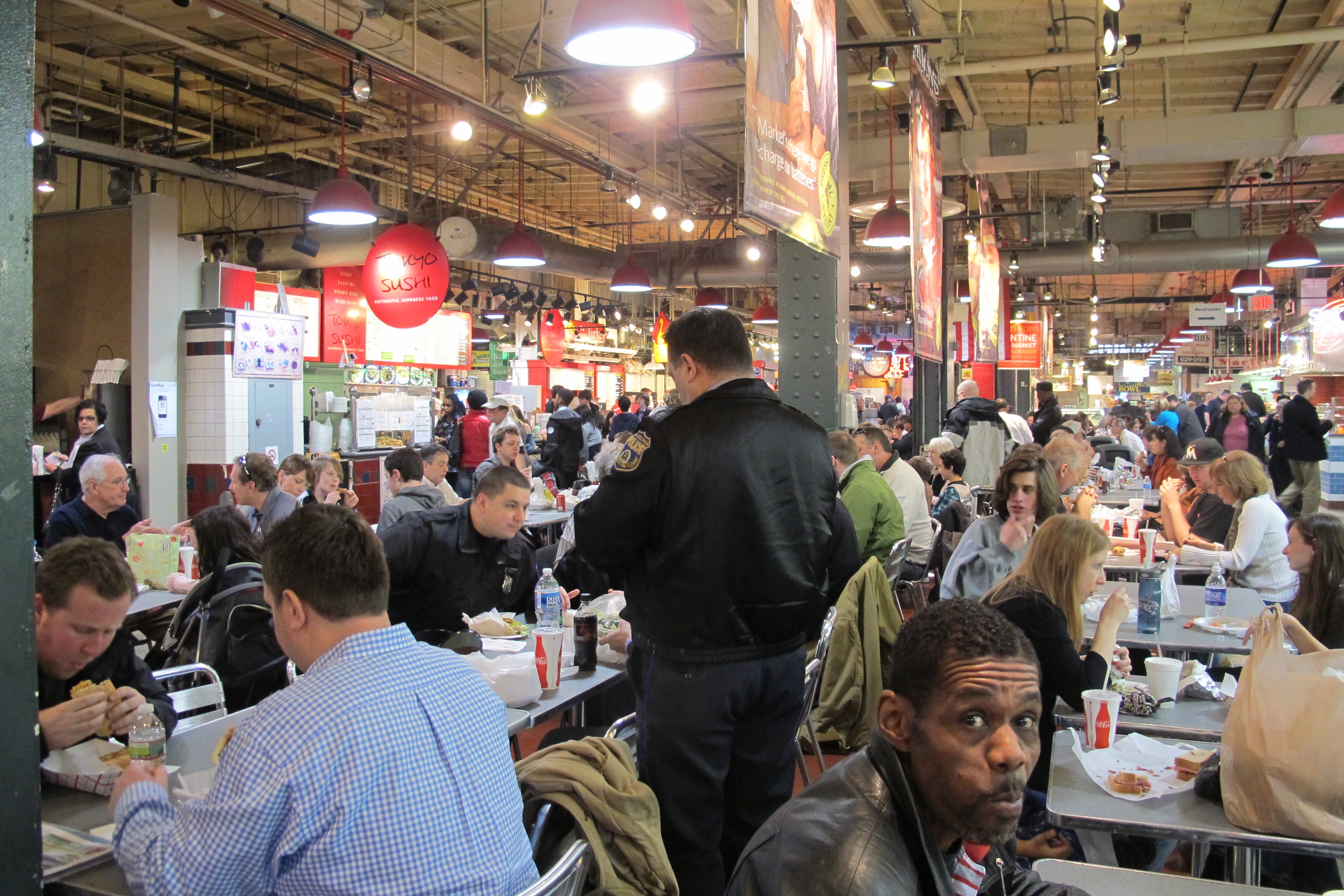 So today, as Reading Terminal Market celebrates its anniversary, the place is very much thriving thanks to willingness to carefully adapt. Despite the changes afoot, it'll still be the market Philadelphians know and love. Part of that security comes from the market's commitment to being a true market that is home to local vendors, not just a food court.
Paul Steinke has not brought lunch to work in his 10 years at Reading Terminal Market, and I can't blame him. (When we met on Friday, he celebrated Spataro's new stand by eating one of their classic cream cheese and olive sandwiches on rye.) The market captured my heart (by way of my stomach) because I feel like it is a beautiful expression of our city through food.
Maybe it's the planner in me, but I see Reading Terminal Market as our city unto itself: Its "avenue" grid is packed with the wonderful diversity of urban life, marked by ethnic enclaves, where old school establishments stand next to newcomers, and all sorts of people gather to eat and shop. Reading Terminal Market is one place where people from all over the city share a sense of ownership and belonging. So as generations of shoppers and eaters come elbow-to-elbow and belly-to-counter at the market, we are sustaining a proud tradition that supports a vibrant food community that also bonds us together as Philadelphians.