RCO insurance measure moves to next Council step; parking minimums hold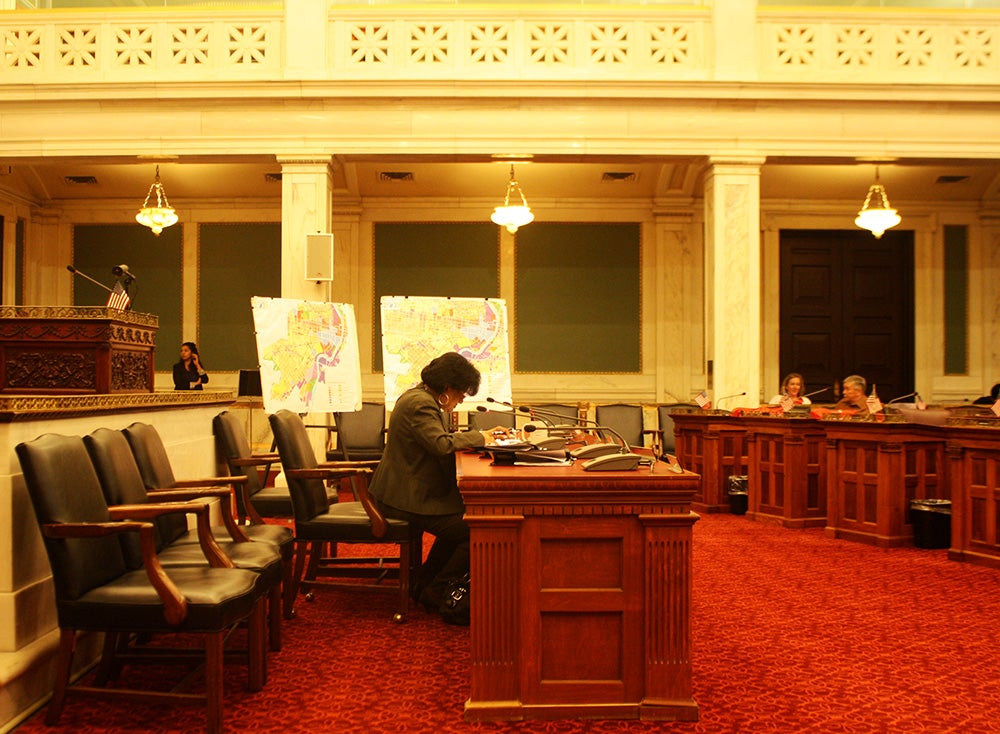 The array of controversial measures City Council will be considering before its summer recess has narrowed.
Legislation boosting mandatory parking minimums was held in the Rules Committee on Tuesday, marking the third time in the last two years that such a bill did not advance. The sponsor, Councilwoman Jannie Blackwell, downplayed the delay.
"Maria [Quiñones-Sanchez] wanted to amend some things for her district, and she didn't have the amendments done," Blackwell said Wednesday. "That's why. It wasn't my idea, I've been ready for two years. But you can't fight your colleagues, so I've got to wait. We are going to hold over until September. So far, it looks like folks are still going to go for it, so if we can hold onto the votes we can still get it passed."
Other observers said that the votes do not appear to be there, and that Blackwell and her principal ally in the parking wars, Council President Darrell Clarke, may need to push for a narrower bill instead.
Meanwhile, Councilman Bobby Henon's proposal to pay for directors and officers liability insurance for registered community organizations (RCOs) advanced out of the committee Tuesday, but its sponsor agreed to not bring it to a vote until the fall. That's because the Kenney administration asked for 45 days to review it, and Henon's office happily agreed.
As introduced, the bill is open-ended and merely authorizes the city to provide funding to "help offset the cost of D&O Insurance premiums attributable to the threat of Strategic Lawsuits Against Public Participation." Several prominent community groups have been destroyed or almost gutted by such suits in recent years.
What the city should do is not spelled out in the bill, nor is it clear how the Planning Commission would institute guidelines for the disbursement of funds for the insurance, which the bill would also require. The agency is not, after all, staffed by insurance experts.
Henon's measure also was considered at the Planning Commission on Tuesday, where it faced questioning from Commissioner Cheryl Gaston.
"We cannot use public funds for a private entity," said Gaston. "RCOs are not government agencies, they are not quasi-judicial agencies, and therefore if they need insurance coverage, that should be up them not the city."
But several other commissioners argued that at least the volunteer-led RCOs need protection from frivolous or malicious lawsuits meant only to drive them out of business.
"There are a wide range of different organizations that are RCOs, and some, like HACE, have the ability to provide their own insurance," said Maria González, president of the HACE CDC. "Then there are groups that are strictly political, ward organizations, but then there are civic associations with volunteer boards that need this extra support."
Of the major legislation on the Rules Committee's docket, the only bill to advance without complication was Cindy Bass's proposal to empower RCOs and increase regulations for builders in the city.
Developer groups have protested the bill requiring increased community notification since its introduction, saying it produces still more red tape even as real estate interests face added costs from a proposed construction tax and Mayor Jim Kenney's proposed tax increases.
"There is no good argument to make these changes other than to increase costs to developers, as these proposals will not increase participation or raise awareness in any meaningful way," said James Maransky, president of the Building Industry Association.
The warning came despite amendments that slightly moderate Bass's bill, removing requirements that developers send expensive certified mail ($3.50 per missive) to near every near neighbor of a proposed project and to the relevant RCOs.
Instead, the bill now requires developers to twice alert near neighbors, the local council representative, and RCOs by the still-pricey means of a "certificate of mailings" ($1.40 per letter). That cost would fall both on major developers proposing dramatic multi-unit projects and individual homeowners hoping to build roof decks or raise fences by three inches. In dense parts of the city, that could add $500 to $600 to the price of small home alterations that require zoning variances.
Bass's legislation still requires the Planning Commission to provide developers with 2 foot-by-2 foot corrugated plastic orange signs detailing proposed changes to passersby, which will be substantially more expensive than the stickers distributed today. The city's planning agency also will still be required to alert residents by mail when a remapping bill changes the zoning of their properties, which could result in tens of thousands of letters every year. The Planning Commission's budget remains unchanged, however, and it remains unclear how the more expensive signs and the flood of letters would be paid for.
City planner Marty Gregorski testified before the council's Rules Committee that the bill "could be onerous to the average homeowner" while pushing "additional costs to both the applicants and the city."
Lastly, Bass's bill would also extend the "one-year rule" — which prevents projects denied zoning applications from reapplying for a year — to cases the zoning board has dismissed or instances where the proposal's applicants have withdrawn.
Bass has received support for the bill from several neighborhood groups, many of them based in her district. A number of observers said they believe she has the votes to pass the measure out of the full council by the end of the session.
WHYY is your source for fact-based, in-depth journalism and information. As a nonprofit organization, we rely on financial support from readers like you. Please give today.