Projects aims to find out what makes Philadelphia streets beautiful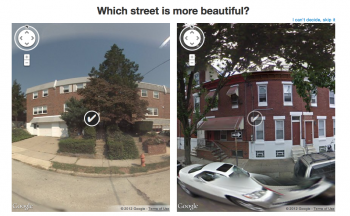 What makes a street beautiful? Sunlight? Trees? Kids playing? Smooth asphalt?
It might sound easy to define on paper, but scan through 200 randomly selected Philadelphia streets images, and what's beautiful is decidedly less clear.
Those images are part of OpenPlans' Beautiful Streets project, which has been created to ask Philadelphians help identify the nicest looking blocks and determine what elements residents want to see in streets to eventually help the city have a blue print for improvements.
While it might be hard to decide what's beautiful, the act of choosing is easy. Given two images, you'll be asked to click on the one you think is nicer looking. And again and again until you've gone through all 200.
Look closely enough, and you're sure to see plenty of Northeast blocks in the mix.