Profs and Pints brings lectures to thirsty students, revenue to academics
Profs and Pints brings lectures out of the halls of academia and into the mainstream for casual students to share a beer and share in knowledge.
Listen
2:18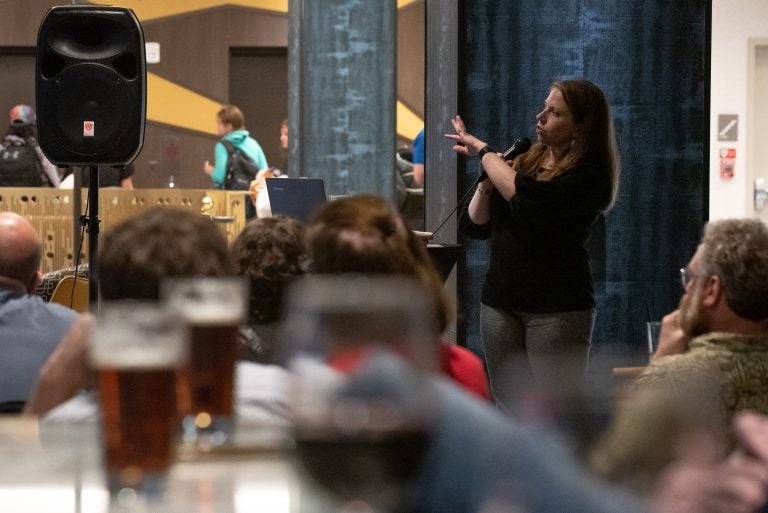 On a recent Monday night, Jessica Choppin Roney did something out of character during one of her lectures about how people became engaged in politics in Philadelphia's Colonial days.
"I've never had a beer during a lecture before," said the associate history professor at Temple University. "It was awesome."
Not to be left out, her pupils also imbibed, and some had dinner as they listened to her talk about how Colonial Philadelphians formed civic associations, clubs or societies to address issues they felt weren't being handled by their absent government.
"This is people actually taking into their own hands a problem, and they go and they solve it their own way," Choppin Roney said. "So they take over medical care, education, poor relief."
Susan Epstein drove to the Cambria Hotel in Center City all the way from Wilmington to hear Choppin Roney speak. She found the lecture all the more enjoyable because it was outside of a traditional classroom — and without the pressure of a looming exam.
Epstein could "just sit and listen and learn about something from somebody super knowledgeable."

The hour-long lecture and 30-minute Q&A constituted a test run in Philadelphia for Profs and Pints, a Washington, D.C., company started by Peter Schmidt, a former education journalist who was laid off in 2017.
Schmidt said he came up with the idea pretty quickly after he lost his job. He knew higher learning was out of reach for many because of high costs, and he knew how professors without tenure can struggle.
"We were writing about adjuncts who were living out of their cars, who were on food stamps, people with doctorates who were working constantly just to have a minimal standard of living at that," said Schmidt.
So he thought, why not connect people like Epstein who are eager to learn with people who love to teach — and could use the extra money?
So far, Profs and Pints has hosted almost 110 talks given by some 80 professors, said Schmidt.
Through a partnership with Cambria Hotels, he hopes to build on his early D.C. success and expand to Dallas, Nashville, Chicago and Philly.
Professors pitch Schmidt a topic with a brief title and short synopsis. Upcoming lectures include: "Mermaid Tales," "Meet the Real Indiana Jones," and "Is Capitalism Moral?"
The teachers get to keep up to 70% of sales from tickets that start at $12. And venues get to draw a crowd on what would typically be a slow Monday or Tuesday night.
Sharing the joy of learning
Still, for Choppin Roney and other teachers, it's not about the pay.
"For me, it wasn't about the money, although obviously that's really nice. It's not like a gig economy, I'm lucky enough to be fully employed," she said. "But there's a big disconnect between academics' writing and people actually getting what we're talking about."
It's usually academics who buy and discuss the history books Choppin Roney writes. And when lecture opportunities do arise outside the classroom, she said, the turnout is often small.
"So I was really excited about this because there would be an audience," she said. "I worked very hard on the book that this talk is coming from — I would like to be able to share that with as many people as possible."
Early in her lecture, Choppin Roney pointed to a PowerPoint slide displaying the portrait of a young Colonial man in a wig, white shirt with ruffles and black robe.
Her face lit up when someone shouted "Benjamin Franklin!"
"It is! Very good!" she said.
Choppin Roney proceeded to talk about Franklin's role in creating a Philadelphia militia for protection when it became clear the Quaker Assembly wouldn't because of its pacifist principles.
She paused to take a sip of beer.
Tour guides, travelers who received tickets from the hotel, and people who said they wanted a low-key activity on a Monday night were among the audience who asked Choppin Roney a slew of follow-up questions.
"They were wonderful, really fun," she said at the end of the night.
Profs and Pints joins similar efforts like Science on Tap, which aims to get people into science.
Lectures won't resume until the fall.
WHYY is your source for fact-based, in-depth journalism and information. As a nonprofit organization, we rely on financial support from readers like you. Please give today.