Pop-up lessons in adaptation and magic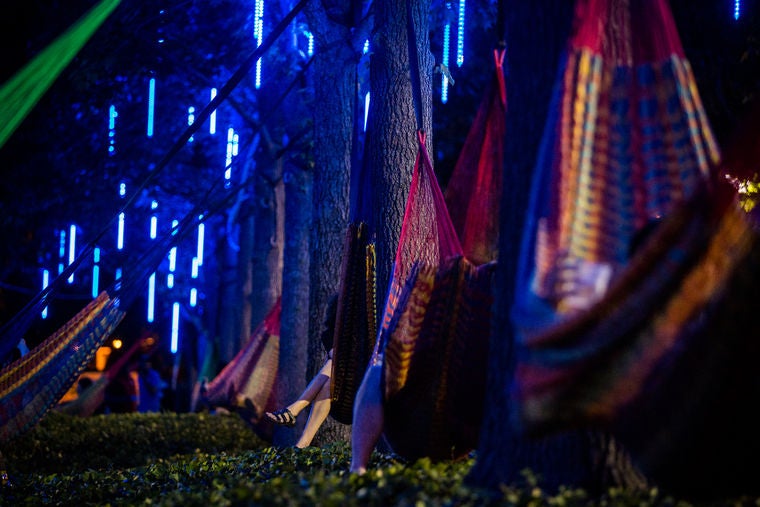 Philly has taken the pop-up bait hook, line and sinker. Or maybe hammock, lantern, and shipping container.
We're hopelessly into these low-cost but high-impact temporary "placemaking" projects that turn underused spots into public space, transforming the vacant or forgotten into something beautiful and unexpected.
On the Delaware River waterfront, Spruce Street Harbor Park is packed with people doubled-up in hammocks, strolling a boardwalk, and lounging on a floating barge oasis. On the Parkway, the Oval is literally a Candy Coated world of all-ages fun plus a deilghtful beer garden. The PHS Pop-Up Garden makes it feel like a tropical resort is vacationing on South Street. Each one is breath of fresh air in a city that can feel stagnant and resistant to change.
The popularity and proliferation of pop-ups in recent years shows that Philly is a city interested in new thinking about public space and that Philadelphians are hungry for novel urban experiences.
All of these pop-ups are cast as trial runs in urban transformation. But do pop-ups really get us to see places anew or are we blinded by the pleasant distraction of twinkle lights and craft beer? Are we learning from these experiments in public life?
For the nonprofit groups behind these pop-ups, each with a public mission, that question is especially important. Here's what Delaware River Waterfront Corporation (DRWC), Pennsylvania Horticultural Society (PHS), and Fairmount Park Conservancy are hoping to glean from their respective pop-ups.
Spruce Street Harbor Park: Surprise
This year DRWC and a design team turned a dead plaza along the Penn's Landing marina into Spruce Street Harbor Park. It's a robust and quirky series of temporary environments: a boardwalk with games, a grove of trees with hammocks and sling chairs and an LED light show above, and a floating barge "oasis" with a shipping container concession stand by Jose Garces.
"Our mission is to reconnect the city to the waterfront and something like this does that," said DRWC communications manager Emma Fried-Cassorla.
It's a temporary seasonal amenity aimed at drawing people to the river, creating buzz about the waterfront, and hopefully building broader public support for the riverfront's revitalization. The pop-up helps give the waterfront a sense of progress and a spirit of discovery.
DRWC is watching how visitors use each amenity, and is already adjusting what they can. They're learning lessons about which games are most popular (add more ping pong), public furniture durability (hard plastic fares best), and design scale (barge capacity is too small given demand). They are also surveying visitors about what draws them to the Spruce Street Harbor Park and how they traveled there. This will inform next year's design, signage, marketing, and hopefully shape other future waterfront public spaces – both permanent and temporary.
DRWC has noticed that passive activities draw people to the river most, so Spruce Street Harbor Park is designed with that in mind. It is made for lazy summer days and warm nights, and it's drawing a pretty diverse crowd. There's a little something for everyone.
"It's really not the programming that's driving this at all," Fried-Cassorla said. Instead people are drawn because they designed "a beautiful space in a surprising way."
More than any particular ingredient, unexpected pleasures are key to pop-up success. So as DRWC replicates its seasonal pop-ups – Waterfront Winterfest and Spruce Street Harbor Park – the challenge is how to keep these projects feeling fresh and surprising.
(Ashley Hahn, EOTS)

(Matt Stanley // courtesy of DRWC)

(Ashley Hahn, EOTS)

(Ashley Hahn, EOTS)

Spruce Street Harbor Park map
Can the Benjamin Franklin Parkway be a park destination? Wildly colorful lanterns and flags, painted pavement, and a full calendar of programming have returned for the second year inviting visitors to see the heart of Eakins Oval as a public space.
The Oval is a collaborative pop-up produced by Department of Parks and Recreation, Fairmount Park Conservancy and their partners. Started last summer, it's a three-year test to see how temporary installations and programming – from mini-golf to Baconfest, yoga to Yards beer – can transform this Parkway parking lot into a public amenity.
The Oval is a daily chance for the Fairmount Park Conservancy to share its work advocating to strengthen our city's park system.
"I hope it's making people think about these public spaces we have been taking for granted… and that it transfers into stewardship and support," said Meg Holscher, Senior Development Director for the Conservancy.
Intensive data collection is a deliberate and daily task for Oval staffers. They take hourly head count estimates, frequently survey visitors, and look at online metrics. After collecting this information last year the city and conservancy were able to use their findings to attract more sponsors and improve the pop-up's most popular elements. The overwhelming positive message: More please.
The Oval is heavily programmed, so last year's data helped inform this year's schedule. Learning that The Oval was popular with an all-ages crowd shaped the event and entertainment calendar. Thursday and Friday nights emerged as peak times, particularly with the popular but bare-bones beer garden, which led to some design improvements. People wanted more fitness classes, so this year there are more. It also became clear that rather than tourists, a majority of visitors were from adjacent neighborhoods, confirming that people were using The Oval as a community park.
After this season of The Oval, the partners behind it will compare this year's data with last year's to see if there are new lessons to be learned that inform next year's pop-up and the long-term future for Eakins Oval.
One thing seems clear already, Holscher said: "There will need to be something there that is park-like and a flex space" that serves near-neighbors in both programming and design.
(Ashley Hahn, EOTS)

(Ashley Hahn, EOTS)

(Ashley Hahn, EOTS)

(Ashley Hahn, EOTS)

(Ashley Hahn, EOTS)
At four years old the PHS Pop-Up Garden is the eldest of Philly's seasonal pop-ups. This year's garden is on the 1400 block of South Street and it's got a breezy vacation vibe- tropical plants, umbrellas, abundant seating, a cabana bar and rotating cast of food trucks.
PHS president Drew Becher sees their pop-up gardens as a living advertisement for the organization's citywide work greening vacant lots, supporting community gardens, planting trees, and caring for high-profile public landscapes.
Becher said PHS hopes that by showing the potential of underused spaces, PHS can help drive a dialogue about creating a better public realm citywide.
"People should expect more from their public spaces," he said. "I think it's really important for the quality of life for Philadelphia and the image of Philadelphia."
Each year Becher said their pop-up designs have evolved based on the previous year's experience. In 2011 the pop-up on Market Street was composed of plantings and reused flower show exhibits. It turned out that people wanted to eat lunch there. That led to 2012's version with a giant farm table in a lot on Walnut near Rittenhouse Square. Last year's on South Broad PHS added shipping container food and drink vendors (the secret sauce of pop-up success), which gave people a new social reason to visit and linger.
This year's pop-up garden swings even more in the direction of food/drinks, feeling more like a resort patio bar than a public space. It could draw double the amount of visitors than last year's pop-up.
Becher said PHS is "quietly observing the ways people are using the particular spaces" throughout the day, how they move through the garden and interact. PHS is also surveying users and neighboring businesses to inform next year's pop-up creation. And there will be a next year.
Pop-ups have proven good business for PHS. Becher credits the pop-up gardens with helping PHS reach broader audiences, noting the organization's membership is at an all-time high. The pop-ups are becoming an iconic part of PHS' public identity: The number one question people used to have for Drew Becher was, what's the theme for next year's flower show? Now he's asked just as often, where's the next pop-up garden going to be?
Much like PHS' flower show, pop-ups need to shapeshift each year, presenting familiar elements in a distinctive and dazzling way.
PHS is considering creating a Pop-Up Kit that other groups or cities could copy. But that points to a tension in pop-up land: If surprise, spontaneity, and whimsy are key, how do you repeat the successful elements without coming off canned?
(Ashley Hahn, EOTS)

(Ashley Hahn, EOTS)

(Ashley Hahn, EOTS)
If there's one pop-up truth – beyond the happy union of beauty and beer – it's that pop-ups seem to breed pop-ups.
In part we have pop-ups because we can't always afford to do permanent things. We're not going to retool the Penn's Landing Marina next year. We're not building dozens of new city parks on vacant lots. We want nice things, but maybe this is all we can get for the money. That's okay.
A dash of novelty, a spirit of experimentation, and the promise of a surprise does something healthy for our city's psyche. It refreshes our thinking. Maybe all we want is more.