Planning Commission supports 2401 Washington project, zoning hearing delayed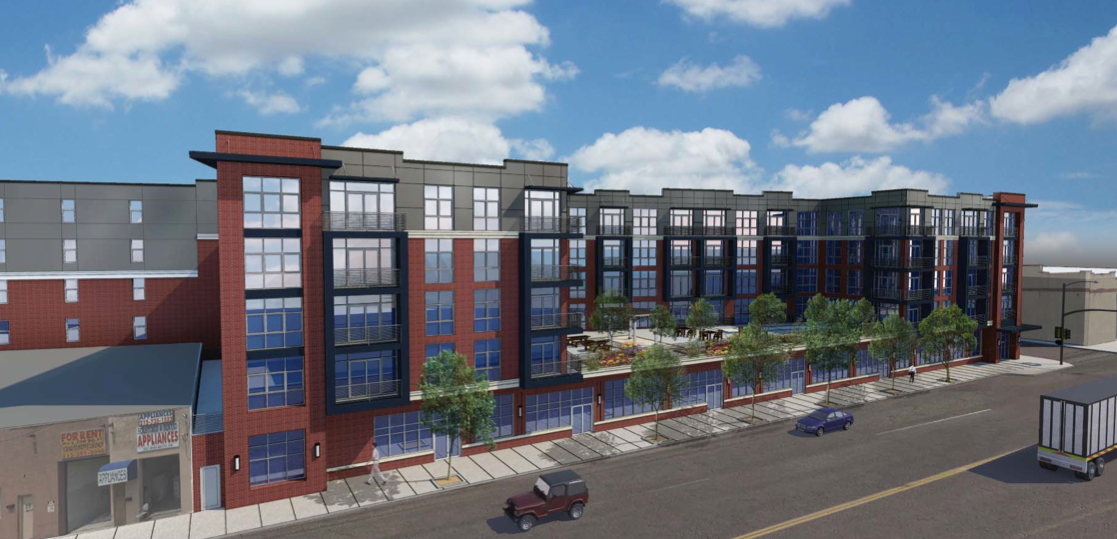 On Tuesday, the Philadelphia City Planning Commission voted to support a proposal to build a 113-unit, mixed-use apartment complex at 24th and Washington in South Philly, a property currently occupied by a vacant lot and a billboard.
As PlanPhilly reported earlier this month, the project has broad support from the South of South Neighborhood Association and the Washington Avenue Property Owners Association, two community groups that work in the area. It also received generally positive comments from the Civic Design Review committee.
But some residents who live near the property, and are organizing as the North of Washington Avenue Coalition, feel the project is too big and too dense, and would make parking more difficult in the neighborhood. A scheduled hearing at the Zoning Board of Adjustment was delayed on Wednesday to give the developers and those residents more time to work through their concerns.
Because properties on Washington Avenue west of Broad Street are nearly all zoned for industrial use, developers need to get special approval from the zoning board before building residential and commercial projects. Meanwhile, the Planning Commission, Councilman Kenyatta Johnson's office, and a host of community organizations are working on updating the zoning maps for the area.
There is some disagreement among various groups about how the corridor should be zoned. In overly simple terms, the disagreement seems to center around whether residential density should be encouraged on the avenue or whether the properties should be developed for primarily commercial use.
Washington Avenue straddles two planning districts—South and Central—and the South District planning process is currently underway.
While residents are awaiting the outcome of that process and the introduction of new zoning maps, Councilman Johnson has introduced a zoning overlay that would prohibit a handful of development categories that all stakeholders seem to oppose. Those include things like pawn shops, parking garages, strip clubs, and junk yards.
Members of the North of Washington Avenue Coalition declined to discuss their concerns with PlanPhilly immediately after the hearing was postponed. It has been rescheduled for March 18, at 2 p.m.
WHYY is your source for fact-based, in-depth journalism and information. As a nonprofit organization, we rely on financial support from readers like you. Please give today.