Photo: GWHS grad shines on the football field at Delaware Valley College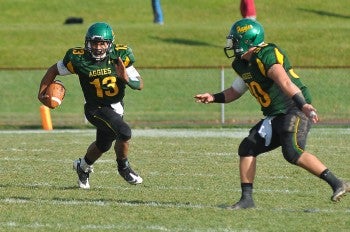 Aaron Wilmer, a product of George Washington High School, is now the quarterback for Delaware Valley College in Doylestown.
Recently named the Middle Atlantic Conference Offensive Player of the Week, Wilmer led his Aggies team to a perfect 10-0 regular season record, its fourth consecutive conference championship, and the team's third straight berth in postseason playoffs.
The Aggies won the first round of the playoffs against Norwich College and took their 11-0 record into the second round of the NCAA Division III playoffs before succumbing to the Cardinals of St. John Fisher College, a team from Rochester, NY.
Wilmer passes and rushes, and he did both on Saturday, even coming from behindin previous games to win. But he couldn't work his magic Saturday; interceptions really hurt. He'll be back. He's just a freshman.