Philly's Navy Yard welcomes visitors with open arms
The Navy Yard in Philadelphia unveils its first major public art installation, a comically ferocious sea monster.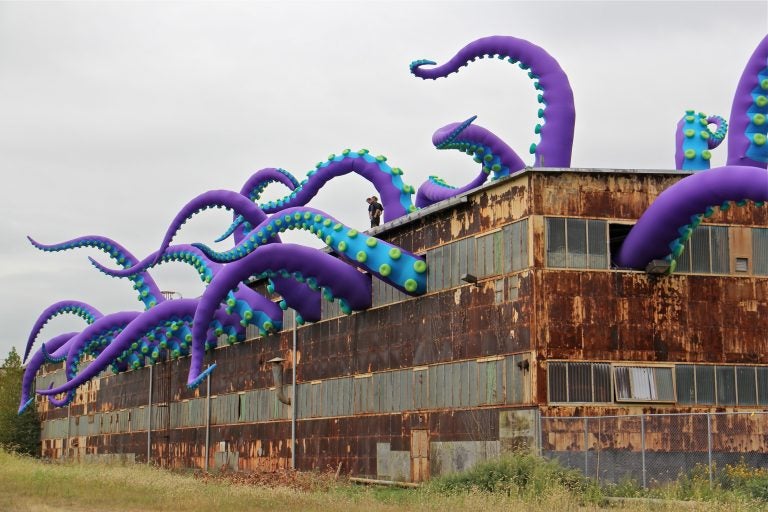 Once a military shipyard, the Navy Yard in Philadelphia holds onto its ghosts. Upon entering the gated peninsula, visitors pass a floating cemetery of scrapped warships. Former commanders of ferocious seas, the ships are now hulls turning from battleship gray to a putrid pink.
Now, one of the yard's rusting warehouses with an apron of tall weeds is holding something ferocious from beneath the sea — and it wants to get out.
Twenty tentacles from some kind of leviathan burst through the windows. At 40 feet long, they sway as though searching for food.
This sea monster is an art installation by Luke Egan and Pete Hamilton — aka Filthy Luker and Pedro Estrellas — U.K.-based artists who have made an international name for themselves with gigantic inflatable tentacles. They were invited to create this temporary installation — just 45 days — by the Philadelphia Industrial Development Corporation.
PIDC is a public-private entity that manages the real estate of the Navy Yard – the factory buildings, office space, and housing once owned by the Navy. It is largely responsible for attracting businesses — and their estimated 14,000-strong workforce — to the area.
"We want to use art and culture to connect to the community," said PIDC's Navy Yard marketing director Jennifer Tran. "This provides an excuse to visit."
PIDC consulted with a group of local curators and artists who called themselves Group X. The members wish to stay anonymous, so as not to detract attention away from the art. They approached the artists and coordinated the use of the warehouse, Building 611.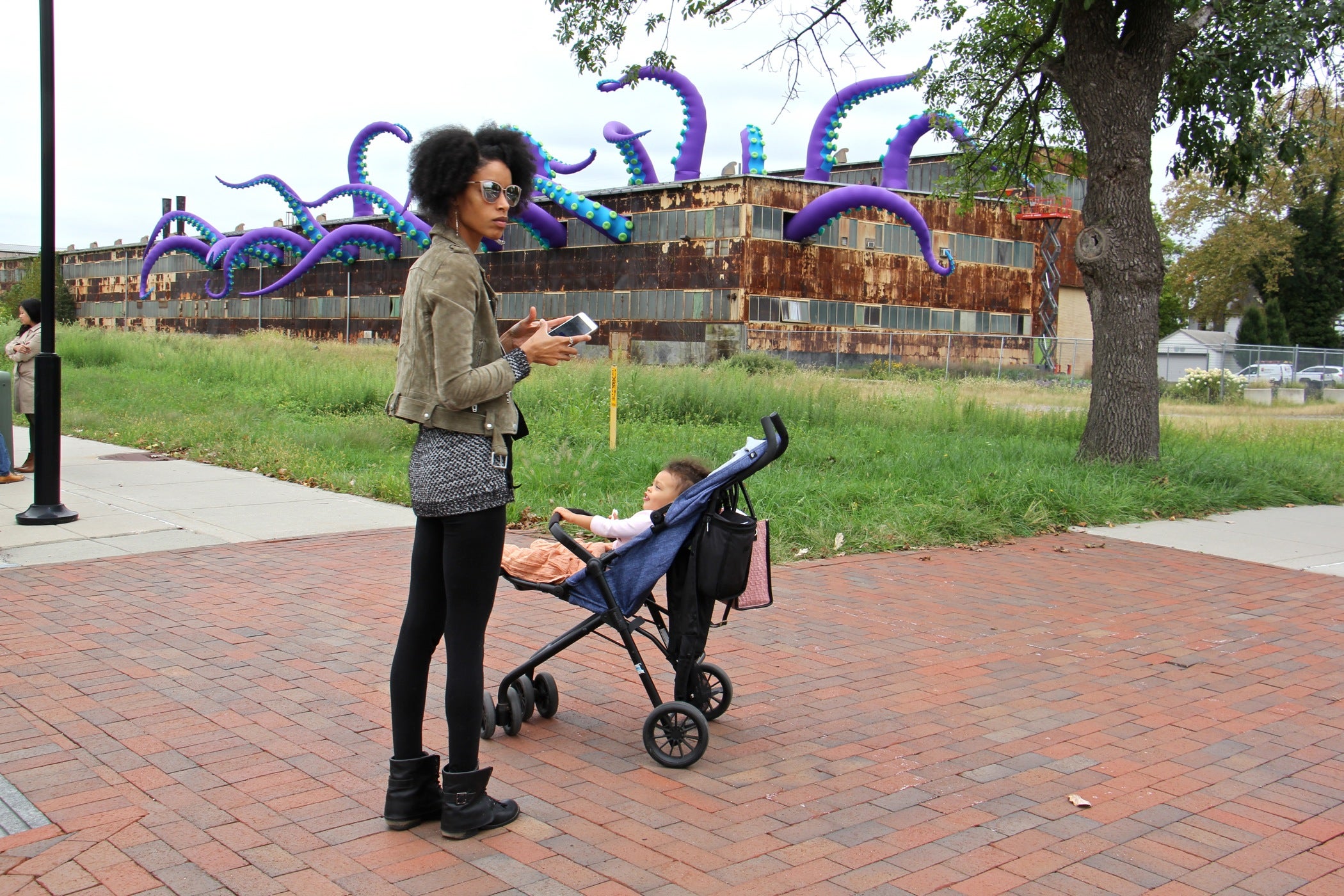 The rusty and seemingly abandoned building still serves as an active warehouse, and the public is not allowed inside. Spectators are left to wonder just what kind of sea monster is on the other end of those tentacles.
"This is a fun piece. Lets people's imagination runs wild," said Tran. "It's a sea monster. Some people might think it came from the Delaware. Others might think it's trying to escape the building."
The sea monster is part of PIDC's bid to make the Navy Yard an arts destination for visitors other than those who have to be there for work every day. Right now, residential housing is not permitted in the Navy Yard, but that could change.
Meanwhile, the PIDC is planning other, not yet disclosed art interventions.
WHYY is your source for fact-based, in-depth journalism and information. As a nonprofit organization, we rely on financial support from readers like you. Please give today.