Philly's first 'slow zone' aims to curb traffic deaths in Fairhill
The lower speed limit, new speed cushions and corner buffers were chosen with the involvement of community members.
New speed cushions, a lower speed limit, street corner buffers, and fresh pavement markings have cropped up in a neighborhood in north Philadelphia.
The traffic calming features are part of the city's first completed "slow zone" — covering several blocks in a residential area of Fairhill.
The neighborhood was chosen through a scoring criteria based on crash history, community spaces, and vulnerable populations. Community members helped choose the safety improvements.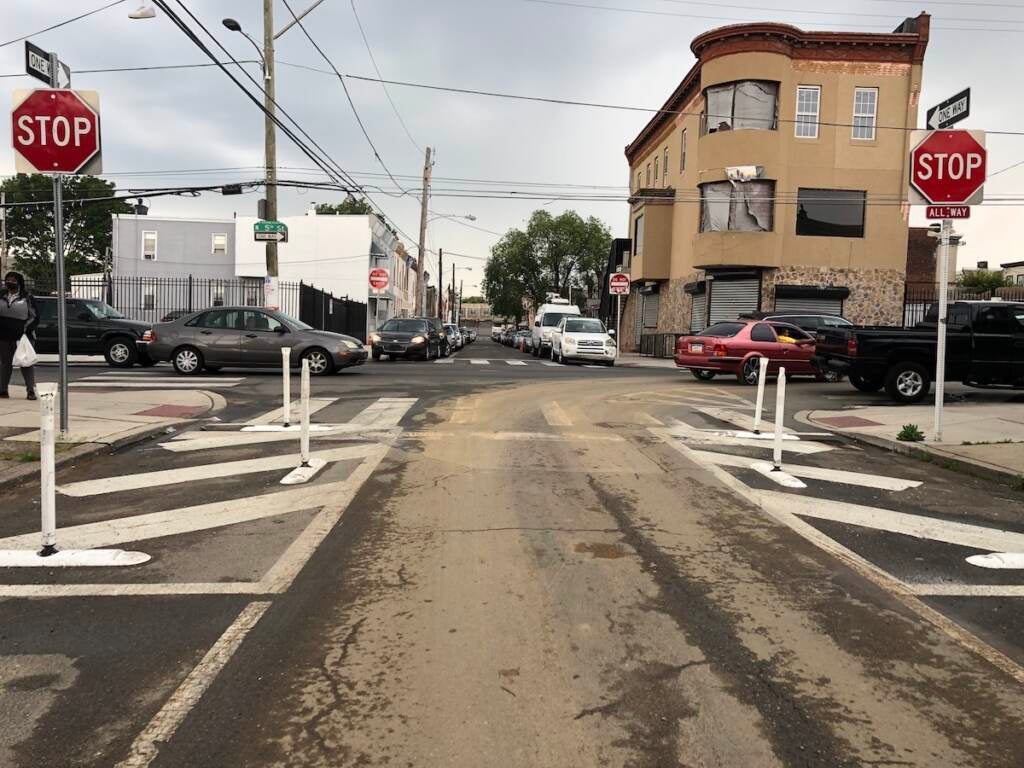 Philly's slow zone program puts traffic calming devices not just on single, targeted blocks, but on entire zones of residential streets. It's part of the city's "vision zero" goal to eliminate pedestrian traffic deaths.
City Councilmember Maria Quiñones Sánchez said at a ribbon cutting for the zone Friday that the project is about "changing the culture" of how cars interact with bikes and pedestrians. She called Fairhill a "multi-modal" community with young people and seniors moving about.
"Part of this community needs to slow down, and we need to be safe," she said.
The same corner in Fairhill before the slow zone features were added. (Courtesy of the City of Philadelphia)

A corner in Fairhill after the slow zone traffic calming features were added. (courtesy of the City of Philadelphia)
Maria Gonzalez, president of HACE Community Development Council, which helped bring the slow zone to Fairhill, said she's proud of the project.
"The residents themselves advocated for this, worked hard for this, and really led the effort and identified what they felt was a priority … to make this community more walkable and safer for themselves and for their children," she said.
The city has two other "slow zones" in the works near elementary schools in the area.
The community design process is underway for other zones in West Passyunk and Tenth Memorial Way.
WHYY is your source for fact-based, in-depth journalism and information. As a nonprofit organization, we rely on financial support from readers like you. Please give today.