Philly volunteers sewing free face masks keep up with demand while dodging 'Facebook jail'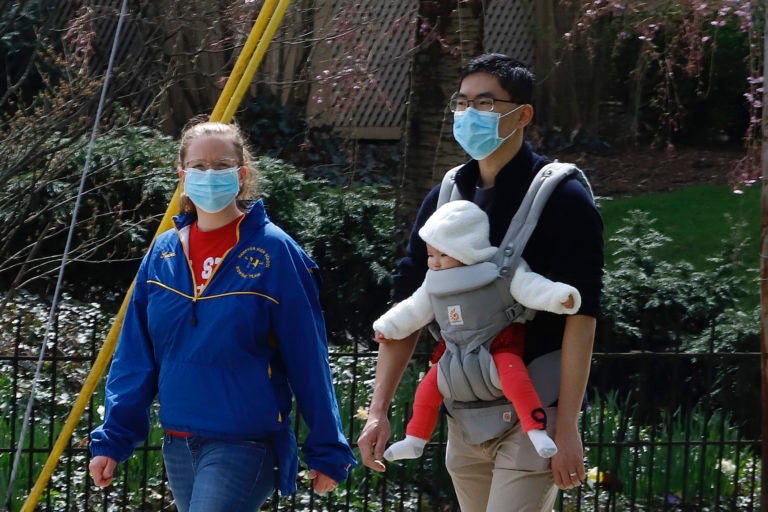 Hundreds of Philadelphia area crafters and members of the do-it-yourself crowd have been working at a feverish pace to supply health care workers, grocery store staff and the elderly with homemade face masks, meant to offer some protection from COVID-19, free of charge.
The process was already an arduous one as mask-makers flocked to Facebook to workshop best mask designs and plan contactless material donations — an effort made all the more complicated over the weekend by the threat of "Facebook jail" and trying to dodge it.
Going to Facebook jail — not an official term used by the social media giant — is what users call account suspensions and bans. This weekend, a handful of Philadelphia users found themselves "flagged" or warned by the company for violating "community standards on regulated goods."
"Any day now, I'm expecting to wake up and for all these [face mask] groups to be wiped off the platform and I'm truly not exaggerating," said Nicole Jochym, who helped create the group "Sew Face Masks Philadelphia."
The group has amassed almost 4,000 volunteers, and requests for 8,000 masks, since it started mid-March and now has a website to donate finished masks. The Facebook group continues to serve as a discussion forum where newbies can get pointers on the craft and sewers can share materials.
"I have three large containers of assorted fabric that is not 100% cotton. Does anyone want some? PM me," read one post Facebook flagged in the "Sew Face Masks Philadelphia" group. "It might be able to be used for gowns or masks … I will put it out in the [front] yard for pickup."
The innocuous messages have brought some stern warnings from Facebook.
"Admins in your group have posted or approved content that violates our Community Standards," read a message Jochym's group received from the company. "If this continues, your group may be disabled."
The handful of warnings the Philly users got over the weekend appear to be an overcorrection as Facebook cracked down on price gouging of in-demand products needed during the COVID-19 outbreak. The company has banned the sale of items like hand sanitizer, disinfecting wipes, and important to Jochym and other volunteers, medical masks.
Mask-related messages posted on personal Facebook pages have also yielded warnings, according to Jochym. Volunteers said simply having the words "mask" and "3-D" in posts can catch Facebook's attention.
"I understand why they're doing it. This approach makes a ton of sense," said Jochym. "[But] we don't know if we are putting our members in danger of going to Facebook jail, or if our group is in danger, we have no idea."
Before the pandemic, Facebook already had a policy of not sharing how many violations will get a person or group a permanent suspension. The company has said this is to keep people from gaming the system. That policy remains in place now, so groups like Jochym's don't know if they could be one red flag away from having their page shut down.
Still, users say the company's methods for vetting posts have become increasingly opaque during the pandemic.
That's because Facebook has undergone staffing changes among its content reviewers, the employees who flag posts and suspend accounts, due to coronavirus mitigation efforts and work-from-home orders.
The reduced workforce has forced Facebook to increasingly rely on its automated flagging systems and make adjustments to its appeals process.
On March 19, the company said it expected "to make more mistakes, and reviews will take longer than normal, but we will continue to monitor how our systems are performing and make adjustments."
This week, a Facebook spokesperson said the company didn't want to put obstacles in the way of people doing a good thing.
"The automated systems we set up to prevent the sale of medical masks needed by health workers have inadvertently blocked some efforts to donate supplies," wrote a Facebook spokesperson in an email. "We apologize for this error and have been working to update our systems to avoid mistakes like this going forward."
There is some good news for Jochym's group. No new warnings have been issued to her group in the past 24 hours, but some of the volunteers aren't taking chances, choosing to use the term "face coverings" in posts. They hope the tweak helps them avoid the platform's crackdown until there's a permanent fix.