Philly eases restrictions for restaurants, retail, and sports venues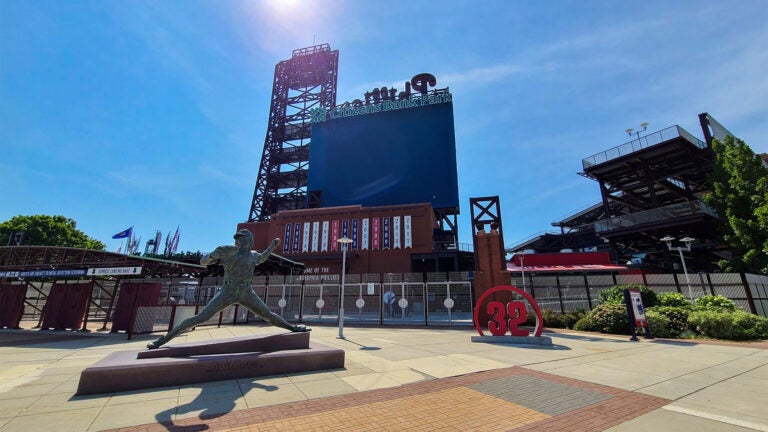 Ask us about COVID-19: What questions do you have about the coronavirus and vaccines?
Philadelphia will relax a string of COVID-19 restrictions on retail shops, restaurants, and large gathering places next week — and will allow a small number of spectators back into all city sports arenas and stadiums.
At a Friday press briefing, Health Commissioner Dr. Thomas Farley said that on March 1, the city would revise restrictions on businesses and other public places in order to bring the city more in line with state guidelines.
"It's one step closer to us returning to normal," Farley said.
Next week, Philadelphia will adopt Pennsylvania Department of Health regulations for large public gatherings. These limit indoor venues with fewer than 2,000 seats to 10% capacity and just 5% for larger venues, with a total cap of no more than 500 individuals.
Outdoor venues with fewer than 2,000 seats will reopen at 15% capacity. Larger venues will be limited to between 10% to 5% capacity, depending on size, with an absolute limit of 2,500 persons for all outdoor gatherings.
These new limits will apply to both indoor and outdoor sports venues. The Sixers, Eagles, and Phillies have all pressed the city to loosen guidelines in recent weeks, which have effectively banned spectators since a resurgence in cases late last year.
The cap applies to both the total number of staff, players, and fans allowed in a given venue at any one time. For the Phillies, the timing is fortuitous, allowing at least a small number of fans to attend a season opener at Citizens Bank Park in April. However, the operators of the Wells Fargo Center, home to the Flyers and Sixers, issued a statement indicating that the limits were still too restrictive to justify fan admittance, which requires hundreds of part-time staff. The operators indicated they were "optimistic" about the state further relaxing guidelines in the coming month.
Farley also said the rules will apply to tailgating, which the city had banned when the pandemic struck, going as far as closing FDR Park to cars on Sundays during football season to discourage Eagles fans from gathering.
The city had maintained tighter restrictions than the state, which is operating under an executive order from Gov. Tom Wolf that will expire on Feb. 28. Commissioner Farley cited progress on COVID cases and vaccinations for the relaxed restrictions, as well as the coming end to cold and flu season as grounds to loosen restrictions.
"Right now, Philadelphia's case rates are lower than the state as a whole," he said. "I'm optimistic, and that permits me to be comfortable with the changes we're talking about today."
Other changes coming on March 1:
Religious services had been capped at 10% capacity, but that limit will rise to 20%.
Restaurants will be able to serve up to six to a table, up from four, and the city will also drop a requirement that diners come from the same household. Restaurants will be limited to 25% to 50% capacity, depending on their compliance with ventilation standards.
Retail shops will be allowed to admit 20 for every 1,000 square feet of floor space, up from 10 people.
Senior centers will be allowed to open, but only to individuals wearing N95 masks or double masks for safety. No more than 25 people would be allowed in any one room at any one time.
Outdoor catered events will be allowed for 100 attendees, up from 50. However, indoor catered events remain off limits.
Farley said all the relaxed guidelines would be dependent on universal mask use except when people are dining.
Vaccines coming to Acme, city could get J&J single-shot vaccine
Officials emphasized progress on vaccine administration during Friday's press conference.
Acme Markets will begin to receive vaccines next week so Philadelphians can get vaccinated at the chain's grocery stores, and the city has already begun inviting eligible populations to make appointments at a six-week-long FEMA vaccination site inside the Pennsylvania Convention Center. Six new school-based vaccine sites will also open to increase the vaccination process for educational staff as public schools move toward buildings reopening.
Farley said the city would also soon receive 13,000 doses of the new Johnson & Johnson single-shot vaccine, in addition to existing shipments.
The Black Doctors COVID-19 Consortium, which recently held a 24-hour "vax-a-thon" at Temple University's Liacouras Center, will host two consecutive 12-hour sessions on March 21 and 22 to ensure nearly 5,000 attendees receive a second dose of vaccine. The large nonprofit provider also announced that it would end a reservation system and switch to a "first-come-first-serve" model on March 1.
To date, the city has administered 196,263 initial doses of vaccines, with 97,021 fully vaccinated — although nearly half of that amount had gone to non-residents. About 2,226,000 doses of vaccine had been administered statewide.
The city said vaccine access had been improving for Black people, who now account for 22% of all vaccinated. That's up from just 8% seen in recent weeks, while 43% of all city residents are Black. Many of the least-vaccinated areas of the city are in majority Black areas.
Philadelphia saw 221 new cases of COVID-19, for 113,308 total cases. The city recorded one new death, for a total of 3,092 killed during the pandemic. Pennsylvania saw 3,346 additional positive cases of COVID-19 overnight, for a total of 926,336 total cases statewide. The state has recorded 23,937 deaths to date.