Philly's vaccine supply flowing to some wealthy suburbs 4 times faster than many city neighborhoods
Residents of dozens of suburban ZIP codes are being vaccinated using city supply at rates almost four times that of the least vaccinated areas of Philadelphia.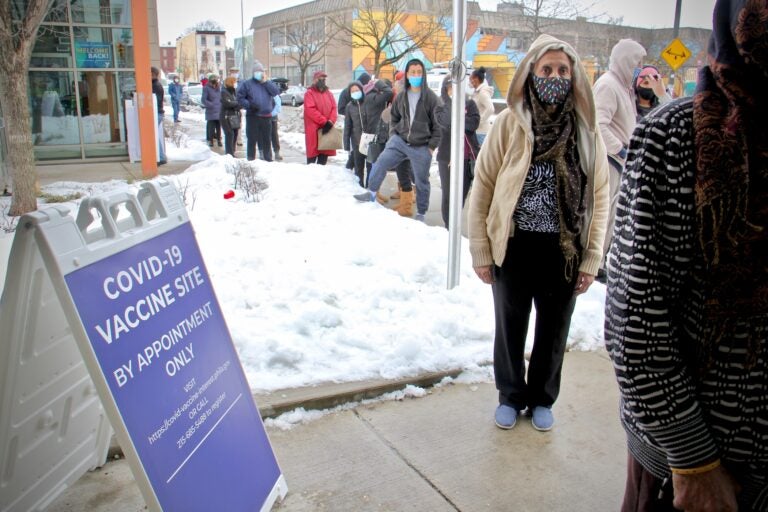 Ask us about COVID-19: What questions do you have about the coronavirus and vaccines?
Philadelphia has vaccinated tens of thousands of residents from across the country — from as far away as Alaska and Hawaii — even as it struggles to distribute doses in some city neighborhoods.
Newly released public health data shows residents of dozens of suburban ZIP codes are being vaccinated with city doses at rates almost four times that of the least vaccinated areas of Philadelphia.
Portions of North or Southwest Philly have seen just 300 to 400 first doses distributed per 10,000 residents. Meanwhile, residents of Bala Cynwyd, a wealthy suburb just over the city limits, received vaccines from Philadelphia's allocation at a rate of 1,109 doses per 10,000 residents — meaning the city has effectively vaccinated 10% of that 9,500-person community.
Philadelphia Department of Public Health data obtained by WHYY News showed areas such as  Huntingdon Valley in Montgomery County or Southampton in Bucks County have similarly seen thousands of residents vaccinated with Philly's doses. As of Thursday morning, at least 42% of Philadelphia's first vaccination doses had gone to people who don't live in the city, according to city data.
Health Commissioner Dr. Thomas Farley attributed this to the many health care workers and first responders who work in Philadelphia facilities and reside outside the city. But Health Department spokesperson James Garrow acknowledged that providers have struggled to prioritize city residents, largely relying on an honor system.
"We continue to remind our providers that — outside of a few specific employment groups that we're working with — vaccines that they receive from Philadelphia should only go to Philadelphia residents," Garrow said. "We are trying to balance making these doses available to eligible people who don't have a government-issued ID, but also trying to have some level of residency check."
Because so many suburban residents work in Philadelphia, said Farley, this trend is bound to continue. School District of Philadelphia teachers, many of whom live outside city limits, have already begun to receive vaccinations through Children's Hospital of Philadelphia.
Philadelphia is one of several cities nationwide that receives its own vaccine allotment directly from the Centers for Disease Control and Prevention, without passing through the state. But the supply is calculated based on the city's population and does not take into account nonresidents who work in the city.
That issue led Philadelphia's congressional delegation to formally petition CDC director Rochelle Walensky earlier this month to increase the city's allocation to accommodate the greater vaccination burden, citing a "large, daytime non-resident population."
A spokesperson for the CDC did not respond to a WHYY News request for comment.
On Thursday, City Councilmember Helen Gym said the latest figures on vaccination distribution added more urgency to those requests.
"Philadelphia is rightly an employment hub," Gym said.  "It's why we should all be supporting the call by Philadelphia's congressional delegation to ensure our city's vaccine allocation fully reflects the fact that we provide jobs and health care for the broader region."
10,000 vaccines land elsewhere — Bay Area to Alaska
Health Department spokesperson Garrow said the doses that went to suburban commuters can be seen as a byproduct of a regional flow.
Some 30,000 Philadelphians have been vaccinated elsewhere in Pennsylvania, according to state data. The U.S. Department of Health and Human Services developed a system that allows jurisdictions to "trade" allocations and doses, in anticipation of this very issue.
"Because we are vaccinating more Pennsylvania residents than Pennsylvania is vaccinating Philadelphia residents, we will likely be given more doses from the state's allocation," Garrow said. He did not have details on when the swap would be made.
Still, though many out-of-city residents are getting vaccinated through Philadelphia jobs, some have gamed the system. As soon as the vaccine became available, links to vaccine appointments at Rite Aid circulated, requiring no proof of residency or occupation, drawing many who weren't eligible into the city for shots.
The Health Department said it was aware of this phenomenon but believes most non-residents receiving Philly's shots have done so "appropriately" through their workplaces.
Philadelphia's immediate suburban jurisdictions have benefited the most from the vaccine honor policy, but data shows that upwards of 10,000 vaccines also went to residents with legal residences scattered across a wide breadth of the country.
Hundreds of New Yorkers have been vaccinated at city clinics, as have dozens from the Bay Area. One vaccine recipient listed a residence in Big Horn County, in Montana. Another listed Juneau, Alaska. Another, the island of Hawaii.
Still waiting for a vaccine in North Philadelphia
The pandemic, meanwhile, has pummeled Philadelphia neighborhoods like Bridesburg, and parts of North and Southwest Philly, where vaccination rates have been low.
Darryl Rodgers, 64, lives in North Philadelphia in one of the city's least vaccinated ZIP codes,  19132. Rodgers was eager to get the shot because he suffers from chronic obstructive pulmonary disease, heart disease, and asthma, all of which make him high-risk for COVID-19. He was able to schedule a shot at the Walgreens in his neighborhood, but in the days leading up to his appointment, he said the pharmacy called him to cancel because he wasn't 75. Rodgers said he made it clear he had underlying conditions that made him eligible.
"They rejected me," he said.
Philadelphia recently designated pharmacies as the go-to vaccination hubs for people over 75 in an effort to guarantee seniors priority and to weed out line-jumpers who aren't yet eligible, said Farley. The tradeoff is that those, like Rodgers, with other high-risk conditions or in high-needs areas are forced to find somewhere else to go.
Since Philadelphia received its first allocation of the vaccine in December, white residents have received a disproportionate proportion of the doses, and the wealthiest portions of the city — such as Center City or Chestnut Hill — have generally seen the highest rates of vaccination. About 20% of the city's doses have gone to Black people, who make up more than 40% of city residents. Less than 10% respectively have gone to people who identify as Asian, Hispanic, or another racial or ethnic identity. The Department of Health did not provide a racial breakdown of non-residents who received the vaccine.
The city is making efforts to reach people in undervaccinated ZIP codes through its own neighborhood clinics, which opened earlier this week. Farley also said the city is using its ZIP code map to oversample residents in undervaccinated ZIP codes when inviting people to future events. The Black Doctors COVID-19 Consortium, which operates vaccine clinics at churches and at Temple University's Liacouras Center, is also prioritizing people in underrepresented ZIP codes.
Earlier this month, Rodgers got the grim news of a fourth high-risk condition: an early-stage cancer diagnosis. Soon after, his doctor called to schedule him for his first dose of the vaccine. Still, Rodgers felt it shouldn't have taken a cancer diagnosis to get him a dose.
"We know people of color have been disadvantaged for a very long time, this is just another case of it," said Rodgers, who is African American. "I don't know if it's ever gonna change."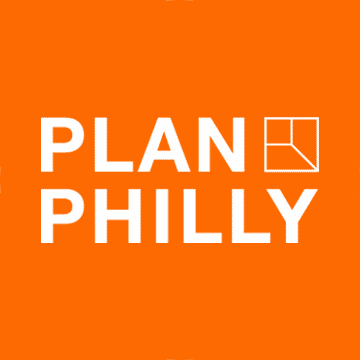 WHYY is your source for fact-based, in-depth journalism and information. As a nonprofit organization, we rely on financial support from readers like you. Please give today.