Philly cleans up from protest as National Guard arrives ahead of more demonstrations
The unrest hit cities across the country, including Philadelphia, following the death of George Floyd in Minneapolis.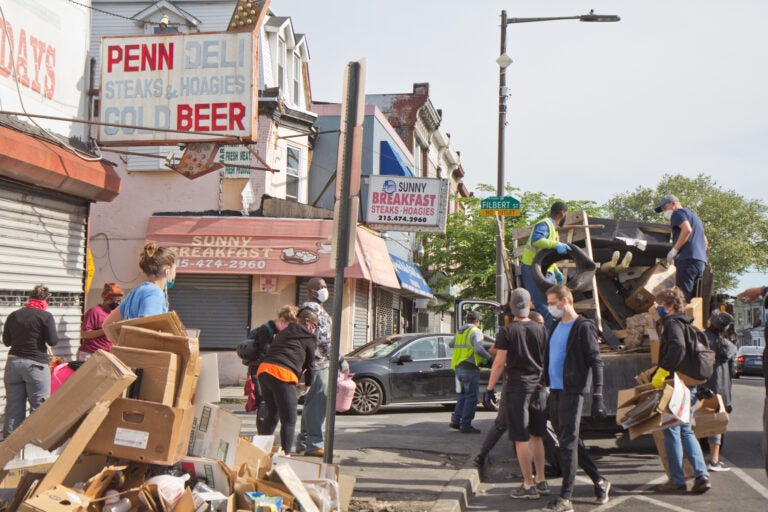 More protests expected Monday; SEPTA restrictions in place
After a tense weekend — filled with a mix of peaceful and violent protests — Philadelphia is bracing for more unrest following the killing of George Floyd.
City and state officials called in the National Guard, who arrived early Monday morning, and SEPTA has suspended all Center City service until further notice.
Saturday and Sunday both featured large, mostly peaceful protests during the day, followed by vandalism and property destruction in the afternoon and night.
Saturday's looting in Philadelphia largely took place in Center City. On Sunday, much of the damage was done in neighborhoods including Kensington and West Philadelphia. Police also reported looting at the King of Prussia Mall.
The unrest hit cities across the country after Floyd died when being arrested and restrained by Minneapolis police for allegedly using a counterfeit bill. Officer Derek Chauvin was seen on video with his knee on Floyd's neck for nine minutes. Chauvin, who had previously faced more than 15 conduct complaints, has been fired and charged with third-degree murder. Three other officers part of the altercation have also been fired.
Floyd's death comes as the latest of several other cases where African Americans have died at the hands of police in recent months and years.
Organizers are planning more protests this afternoon in Center City. A "socially distanced speakout" is set for 8th and Cherry streets.
There's also a rally set to take place at 2:30 p.m. right outside City Hall.
The Benjamin Franklin Bridge — connecting Center City to New Jersey — was closed Sunday by Gov. Tom Wolf, but has now reopened.
Most of the arrests made Sunday were for people breaking the city's 6 p.m. to 6 a.m. curfew. Close to 100 arrests were made for looting/burglary and three were made for assaulting police.
Curfew orders are again in place for Monday. If they return Tuesday, Pennsylvania's primary election plans could be disrupted, with polls scheduled to be open until 8 p.m.
Toomey calls on Trump to change his tone
Speaking at a press conference in Philadelphia Monday, U.S. Sen. Pat Toomey (R-PA) said some of President Donald Trump's recent tweets "have not been helpful. And it would be helpful if he would change the tone of his message."
Twitter recently put a warning label on one of Trump's tweets, in which he wrote that "when the looting starts, the shooting starts."
Toomey appeared alongside local leaders to call for an end to the looting that broke out across Philadelphia over the weekend.
William McSwain, U.S. Attorney for the U.S. District Court for the Eastern District of Pennsylvania, warned that prosecutors may seek federal charges for certain criminal acts.
"We're talking about arson, inciting a riot, engaging in civil disorder, destruction of motor vehicles, destruction of federal property, assaulting any federal officers or assaulting any federal employees, and various firearms charges," McSwain said. "Those are the types of things that my office was looking at right now.
McSwain said he believes most of the looters are local "opportunists," not outside agitators or people involved in organizing peaceful, political protests.
"We have to focus on what makes us good as Philadelphians and we can't let a small, fringe element think that they control the city," said McSwain. "Because they don't and they won't."
State Rep. Martina White (R-Philadelphia) accused local Democrats — namely Wolf, Mayor Jim Kenney and District Attorney Larry Krasner — of not providing enough support to police. Unlike McSwain, White pinned much of the destruction on "well-organized anarchists who are criminals that cause chaos and prey on fear."
Kenney had previously described the looters as "anarchists" and "right-wingers," and Police Commissioner Danielle Outlaw, an African American woman, said the perpetrators of this violence "frankly don't look like me."
Hundreds of arrests made by Philly police since Saturday
Philadelphia police have arrested 429 people since noon on Saturday, the department announced Monday.
Outlaw added that there have been 246 commercial burglaries and 378 fires in the city, 14 of which have been declared arsons.
Update: Arrest TOTALS from Saturday, 5/30 12PM until present:
(267) CVNs*
(7) Assault on police
(3) Firearm Violations
(4) Theft
(146) Looting/Burglary
(1) Rioting
(1) Propulsion of missile

*CVNs include curfew violations and failure to disburse

— Philadelphia Police (@PhillyPolice) June 1, 2020
Outlaw says police are still trying to catch up with what she called a "coordinated" attempt by criminals to create pockets of destruction around the city.
"Anyone who says we have control of an unknown situation is just flat out arrogant," she said at a Monday press briefing. "We don't know what we're going to be dealing with and it continues to unfold every day."
On Sunday, according to Kenney, first responders received about 18,000 emergency calls. On a typical day, he said, the city fields about 3,000.
The mayor also addressed two major upcoming events that have been further complicated by the unrest: Tuesday's election and Friday's scheduled plan to reopen some Philadelphia businesses closed by the coronavirus pandemic.
As for the election, Kenney said he asked Wolf earlier today to extend the deadline to send mail-in ballots.
Businesses brace for more destruction
Several area grocery stores closed early Monday, fearful of burglary and vandalism.
ShopRite locations in Cheltenham, Roxborough and South Philadelphia made plans to close this afternoon, as did Fresh Grocer stores in Wyncote and Wynnefield Heights
A WHYY reporter was on site at the Shoprite on Oregon Ave as customers began to be turned away after social media posts suggested that the area may be the site of additional looting.
State Representative Jordan Harris confirmed that the police had asked the supermarket to close out of an abundance of caution. At least a dozen shoppers were turned away upon their arrival, including three Instacart delivery drivers.
A nearby Save-a-Lot was at capacity and the ACME at 20th and Oregon had a long line outside its door. Across the street from the ACME is a CVS Pharmacy, which had also been closed early. Two Philadelphia police officers were standing guard.
Cleanup volunteers in West Philadelphia work to sweep up glass and collect trash after rioting moved to West Philadelphia Sunday night. (Kimberly Paynter/WHYY)

Hyunjian Choi was told by his insurance company not to cleanup before they could evaluate the damage. (Kimberly Paynter/WHYY)

Kevin Taylor lives a few blocks from 52nd Street's commercial corridor in West Philadelphia, and he said he was upset by the looting of local businesses. (Kimberly Paynter/WHYY)

Masum Siddiqee's electronics store was looted in the riots in West Philadelphia Sunday night. (Kimberly Paynter/WHYY)

Cleanup volunteers and Clip workers in West Philadelphia work to sweep up glass and collect trash after rioting moved to West Philadelphia Sunday night. (Kimberly Paynter/WHYY)

3rd District Councilmember Jamie Gauther talks to cleanup volunteers in West Philadelphia. (Kimberly Paynter/WHYY)

Melaka Antoine (left) owns the Variety store on 52nd Street in West Philadelphia. (Kimberly Paynter/WHYY)

Masum Siddiqee was waiting outside of his looted electronics store for police to arrive to file a report for two hours. (Kimberly Paynter/WHYY)

Trash was piled on the curb at 52nd Street the morning after rioting moved to West Philadelphia. (Kimberly Paynter/WHYY)

A street sweeper rolls down 52nd Street. (Kimberly Paynter/WHYY)

Citizens Bank at 52nd and Market streets smashed the morning after rioting moved to West Philadelphia. (Kimberly Paynter/WHYY)
Cleanup in West Philadelphia
After widespread looting along the 52nd Street business corridor in West Philadelphia Sunday night, cleanup began in the early morning hours Monday.
Local residents, elected officials, and people who had heeded a call on social media through a group called "Bring a Broom Philly" showed up as early as 5 a.m. to assess the damage and begin sifting through the rubble. By 8 a.m., much of the street was clear, and businesses shuttered.
On the streets, residents looked around at neighborhood businesses, shuttered or bashed in.
"I would have understood the criminal justice building. I understand Target. Those are big establishments," said Kevin Taylor, who lives on North Wilton Street. "This is different. You're hurting the community." But he said he hopes that the violence does spark lasting change.
Variety store owner Hyunjin Choi, 74, was one of several who turned away help with cleaning up, saying his insurance company wanted a report on conditions there as is.
Inside, the shelves were nearly bare and several cases had been knocked over.
"Take? Alright. By why break [things]?" he said. But he said he's not mad. After 40 years in the same location without incident, he thanks God. But he may take the ransacking as a sign it's time to close down.
Hyunjin Choi, 74, in his store variety store on 52nd Street. He's been here for 40 years but says this may be "a sign" from God that it's time to retire. pic.twitter.com/mn1G1QC13B

— Laura Benshoff (@LEBenshoff) June 1, 2020
Several business owners say looting peaked last night around 3 a.m. based on footage from their security cameras.
One common theme from today's interviews on 52nd street. The peak of the burglaries and looting happened around 3am per surveillance video, long after protesters and police left.

— Laura Benshoff (@LEBenshoff) June 1, 2020
Melaka Antoine runs Paradise Gallery LLC,  a variety store geared towards Muslim shoppers, with windows full of mannequins in head scarfs. He came at 5 a.m to assess the damage, when looters were still inside. He said he did not have insurance.
"They took 80 or 90 percent" of his inventory, said Antoine. That's now his loss.
Public officials were also on the scene in West Philadelphia Monday morning, including Outlaw and City Councilmember Jamie Gauthier.
"I think it's up to every public official in this city to channel the anger that we've seen … into real change," said Gauthier.
On Sunday evening Gauthier stood on 52nd street to broker a phone call between protesters and Kenney.
"They were peaceful protesters but they really wanted to have a conversation," she said. "They were interested in talking about their concerns around police violence and police brutality … and they were refusing to leave because they didn't think that they would be heard after that moment."
She said a follow-up meeting to continue the conversation is planned for next week.
At the shopping plaza at 52nd and Jefferson, Outlaw toured the damage to a ShopRite and other big box stores, and listened to the residents who had come to clean up.
"It's important to me, when things are going on, things look one way because we're actively engaged in trying to get things under control," she said. "But this is the aftermath and I think it's important for me to see if for myself after the fact."
Inside, members of the fraternity Phi Beta Sigma had arrived at 7 a.m. to help clean up, following a callout from Councilmember Katherine Gilmore Richardson. When they arrived, there were still people taking goods from the store.
"The real issue now has been put to the side because of this," said Rashon Howard, president of the fraternity's Philadelphia chapter, gesturing at the empty shelves around him. "We're not talking about the real issue, and that's the institutional racism and the injustice that's been going on in America against Black people and minority people forever."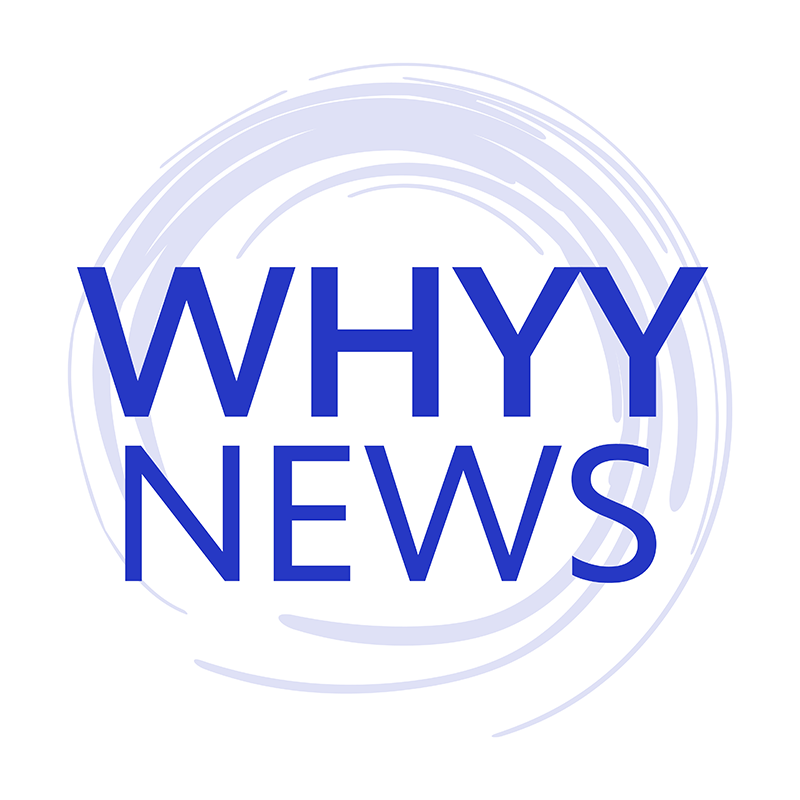 Get daily updates from WHYY News!
WHYY is your source for fact-based, in-depth journalism and information. As a nonprofit organization, we rely on financial support from readers like you. Please give today.