Tent encampment on the Parkway for affordable housing; City help for looted businesses
Updated: 8:15 p.m.
—
Tent encampment on the Parkway for affordable housing
Roughly 30 tents have been set up on Benjamin Franklin Parkway beneath a large sign that reads, "HOUSING NOW!"
About ~25 tents and growing set up at 22nd and the Parkway. It's a loose collective of several orgs — and a spin off from #OccupyPHA. This time they're calling on the city to do more to help people experiencing housing insecurity due to COVID-19 pic.twitter.com/P790jBO6rw

— Emily Scott (@emilyivyscott) June 11, 2020
The encampment was organized by the Workers Revolutionary Collective, a socialist group that has been working with people who are homeless for several months to demand that the city create more permanent affordable-housing options.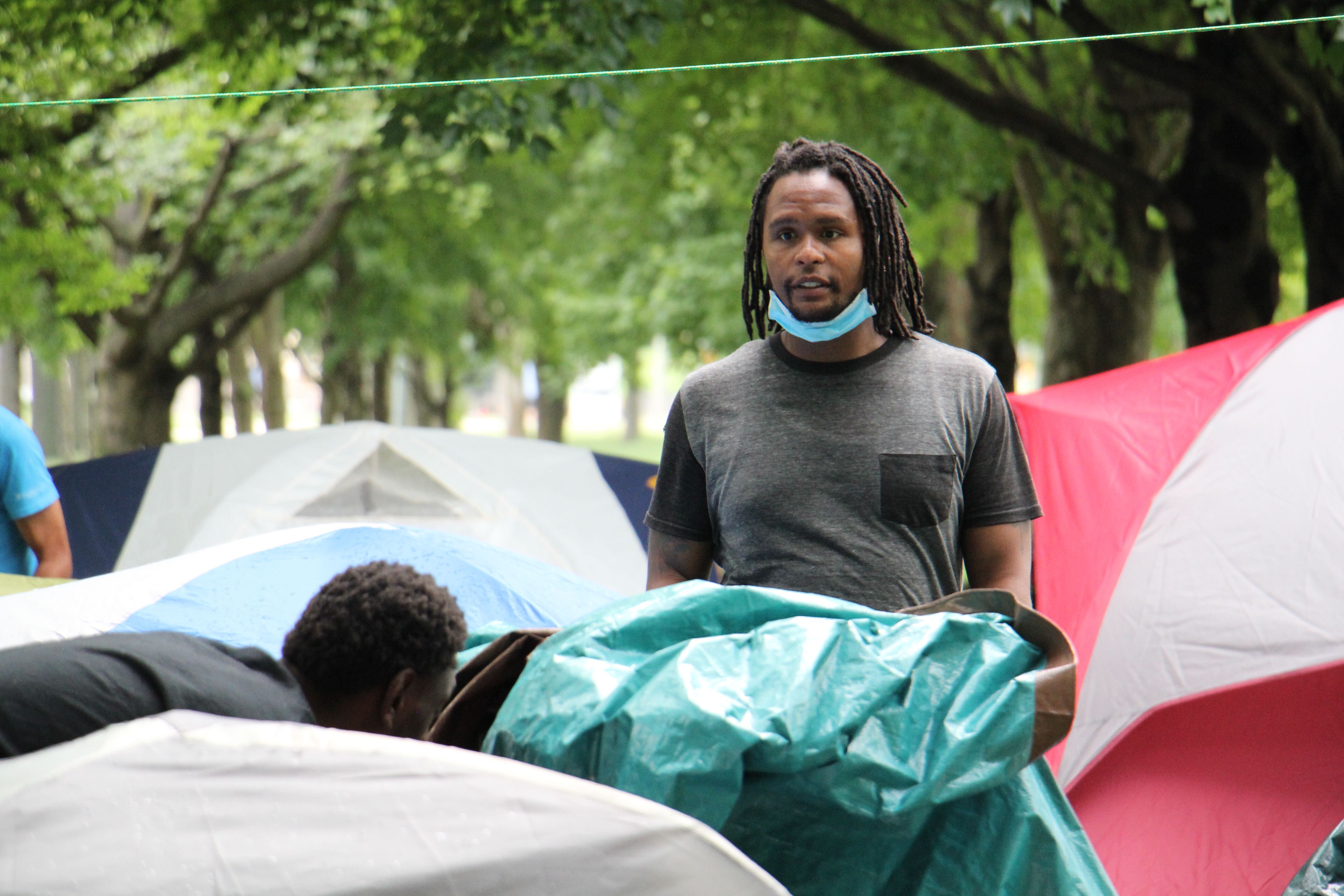 "We will not leave this area until their demands are met: Low-income housing, sanctioned encampments, tiny house initiatives, and just being heard by the city for the policies that impact unhoused people and people who are housing-insecure," organizer Alex Stewart said. "We can be here awhile."
The encampment is not directly tied to the protests of the past weeks, but Stewart said organizers set it up sooner than planned because the police takeover of Thomas Paine Plaza displaced some 75 homeless people.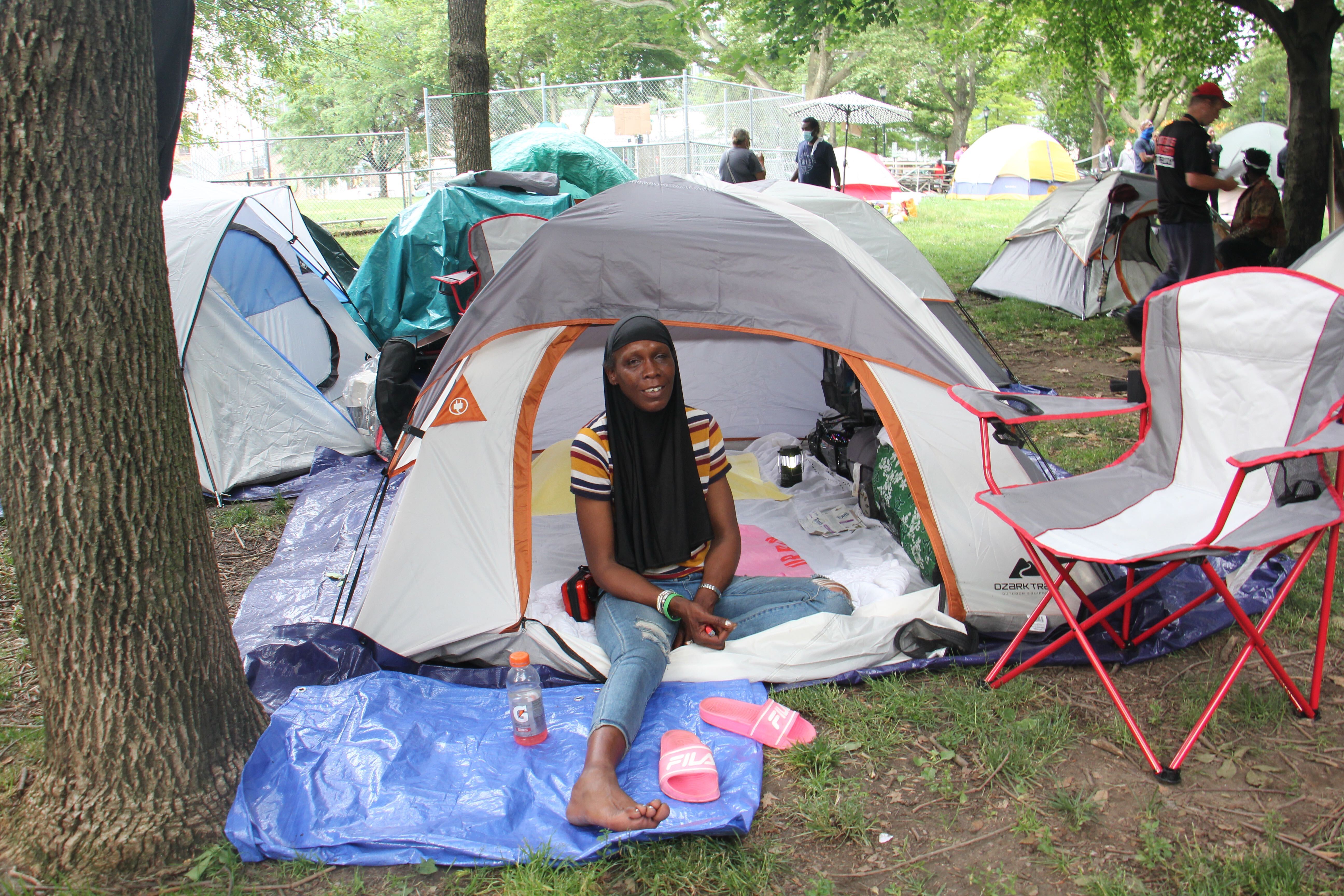 "We really had nowhere to go," said Tanya Lilly, who said she has been homeless since October, when she returned to her native Philadelphia from Virginia. "We were sleeping in LOVE Park. Thank god somebody told me about this today. I walked all the way with my luggage after the rainstorm, and now, maybe now I can get some rest."
Philly offering businesses help with rebuilding after civil unrest
The Kenney administration has launched an initiative aimed at helping businesses in Philadelphia that were damaged or burglarized during the civil unrest that flared after the police killing of George Floyd in Minneapolis.
The effort includes a $1.4 million grant program dedicated to helping businesses in historically disadvantaged communities. The program, run through a partnership between the city's Commerce Department and the Merchants Fund, is actively fundraising with hopes of helping as many people as possible.
PIDC, a nonprofit founded by the city and the Chamber of Commerce for Greater Philadelphia, will also run a loan program to provide "flexible low-cost capital" to small businesses. The program is geared toward helping minority-owned businesses on commercial corridors in low-income areas.
"These efforts are intended to provide equitable and immediate relief to ensure our small businesses can sustain themselves and return in a manner that allows them to thrive," Kenney said in a statement. "Philadelphia businesses, especially those that are minority-owned and on neighborhood commercial corridors, have experienced successive, devastating economic setbacks over the last three months. We thank the Merchants Fund for partnering with us on this effort and are especially appreciative of the continued work of Congressman Dwight Evans in advocating for additional relief."
In the days after Floyd's death, retail shops in parts of Center City, Kensington, and West Philadelphia were hit hard by looters, who smashed windows and broke security gates and back doors to steal merchandise.
City Council introduces police reform bills
Amid ongoing protests over police brutality and the police killing of George Floyd, Philadelphia City Council is considering a group of bills aimed at making changes to the city's police department.
One measure, introduced by Councilmember Kenyatta Johnson, would prohibit police from using restraints that run the risk of suffocating someone. That includes chokeholds, hogtying and the "placement of body weight on the head, face, neck, chest or back."
"What happened to George Floyd in Minneapolis should never have happened and we want to be on the forefront to make sure it doesn't happen here in the city of Philadelphia," Johnson said during Thursday's virtual City Council session.
Another bill would require police recruits to live in the city for at least one year before taking the job, and would be required to continue living in the city, so long as they work for the department. Since 2010, Philadelphia police officers have been allowed to live outside the city after at least five years on the job.
Other legislation would mandate that a public hearing be held before any police union negotiations begin, and would create a Citizens Police Oversight Commission to oversee the department.
The goal is to pass some measures by June 25, the final council session before the body breaks for summer.
The bills come three days after a veto-proof majority of City Council sent Kenney a letter calling for reforms to the police department. The letter also stated that Council could not accept spending more money on police, while other departments and services would see cuts.
The next day, Mayor Jim Kenney announced he was dropping his proposal to add $19 million to the Philadelphia Police Department's budget next fiscal year.
Majority of people arrested for looting were young Philadelphians
Well over one-third of all arrests in Philadelphia over the last 10 days are tied to people charged with commercial burglary. Those arrested were "overwhelmingly" 18-24 years old and Philadelphia residents, District Attorney Larry Krasner said during a virtual news conference on Thursday.
Krasner said a "majority" of those cases involve allegations of people breaking into a retail store and stealing merchandise.
"Some people would use the word 'looting,'" said Kranser.
During the first few days of demonstrations against police brutality and the police killing of George Floyd in Minneapolis, shops in parts of Center City, Kensington, and West Philadelphia were hit hard by looters, who smashed windows and damaged security gates to steal clothing, shoes, toilet paper and other items.
A police presence in those areas followed to prevent further destruction and burglaries.
"Overwhelmingly, what we are seeing with these cases is that people are not being held in custody," said Krasner.
Between 2 p.m. on May 30 and 4 a.m. on June 10, police arrested 557 people for burglary. At least 70% of those cases are commercial burglaries. The rest are residential or unclassified.
A total of 1,007 people were arrested on misdemeanor and felony charges during that time, said Krasner.
The total does not include the hundreds of citations handed to people caught breaking the city's mandatory curfew, which ended Sunday after more than a week.
Krasner said a "significant" portion of those arrested for criminal trespass and commercial burglary had no prior arrests and no prior convictions.
The District Attorney's Office is forming a task force to review those cases, as well as others tied to the protests and civil unrest that the city has witnessed over the past couple weeks.
"We want to make sure that what we do here is done in light of all the facts — that one size does not fit all. That we look for individual justice in each case. That we do this as efficiently and swiftly as we can given that we already have a backlogged and burdened court system," said Krasner.
Service workers march in Center City
Traffic came to a halt around City Hall this afternoon as union members from Philadelphia's hospitality, food service, and casino workers unions marched through the rain in a show of support for the Black Lives Matter movement.
"The majority of our membership is Black and brown, and we need to let them know we do stand with them," said Earlene Bly, a former hotel housekeeper for 27 years who serves on the executive board of Unite Here Local 274. "We all need to stand together. We need to stand as one, speak as one, and fight as one."
About 50 union members and supporters marched down Broad Street from Spring Garden Street to the offices of the Chamber of Commerce just south of City Hall, chanting demands for justice. They were followed by a car caravan of supporters who honked in support. The southbound lanes of Broad Street were closed to traffic and police vehicles escorted the march.
After kneeling in the middle of Broad Street, the group heard remarks from Rev. Gregory Holston of Janes United Methodist Church and union leaders. The spot in front of the building housing the Chamber of Commerce, whose membership includes many large Philadelphia employers, was chosen as a reminder that Black workers have equal rights in the workplace and need union support, Local 74 president Rosslyn Wuchinich said.
"Many of our employers do not value Black lives the way that they should, and we're committed to fight to make sure that they do," she said.
Delco sheriff bans chokeholds
The Delaware County Sheriff's Office has banned deputies from using chokeholds while on the job.
During physical interactions with the public or incarcerated people, the office has instructed its deputies to only use approved use-of-force tactics to "provide for their personal safety, while practically respecting the individual's physical well-being."
"I acknowledge that any interaction with a suspect or prisoner has inherent dangers, but I insist that all deputies react professionally and in a manner that reasonably safeguards both their own safety and health and that of the individual they are handling," Sheriff Jerry L. Sanders Jr. said in a statement.
The office says the directive was issued in light of the current "scrutiny" law enforcement agencies have faced since Floyd's death.
WHYY's Tom MacDonald contributed reporting.
WHYY is your source for fact-based, in-depth journalism and information. As a nonprofit organization, we rely on financial support from readers like you. Please give today.