Philly branch of group vilified by synagogue shooter pivots as U.S. cuts refugee program
Under President Trump, refugee resettlement in the U.S. has dwindled significantly. HIAS and other groups have taken the hit to their mission and their long-term stability.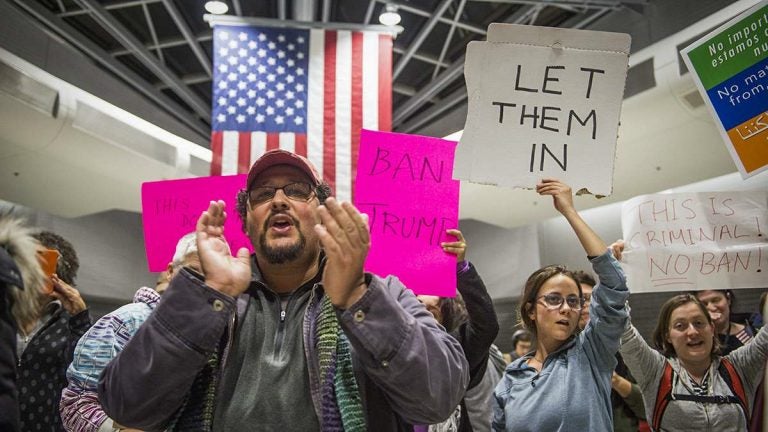 After Robert Bowers' arrest in the massacre of 11 people at a Pittsburgh synagogue Saturday, attention turned to hateful comments he'd made online about HIAS — a refugee resettlement group founded to help Jewish immigrants.
Online chat rooms are not known for a firm grounding in reality. Even so, Bowers' invective that HIAS helps bring "invaders in that kill our people" presented layers of misinformation. Not only do immigrants commit crime at lower rates than U.S.-born residents, but under President Donald Trump, refugee resettlement in the country has dwindled significantly. HIAS and other groups have taken the hit to their mission — and to their long-term stability.
"I'm very sad. I'm also very angry and frustrated about the lies. They just continue and continue and continue," said Cathryn Miller-Wilson, executive director of HIAS Pennsylvania, the Philadelphia-based branch.
In one of his first actions as president, Trump blocked refugee resettlement for 120 days "to determine what additional procedures should be taken to ensure that those approved for refugee admission do not pose a threat to the security and welfare of the United States." At the end of that period, the U.S. Departments of State and Homeland Security announced they were adding new vetting procedures to the already extensive evaluation process refugees go through.
Those actions, along with successively lower caps on the number of refugees to be resettled annually — called the "presidential determination" — have had an impact. Prior to 2016, HIAS Pennsylvania helped set up around 250 refugees annually with housing, health care, education, and jobs in the Philadelphia area. At the end of budget year 2018, which ended this summer, the group helped only 93. At the national level, HIAS and its local affiliates went from resettling 4,191 refugees in 2016 to 1,632 for the fiscal year that just ended.
To keep from cutting staff, Miller-Wilson said, employees who formerly worked with refugees to find a house, enroll their kids in school, and go to doctor appointments, have been reassigned to other duties. HIAS Pennsylvania also provides legal services to asylees, and it offers classes to green-card holders hoping to become U.S. citizens. As its federal funding drops, the group is relying more on philanthropy and individual donations to cover its costs.
At the same time the U.S. is restricting this stream of lawful immigrants, the number of anti-immigrant hate groups in the U.S. rose from 14 to 22, according to the Southern Poverty Law Center
Heidi Beirich, who directs the Southern Poverty Law Center's Intelligence Project, said HIAS comes up on white-supremacist message boards whenever posters become angry about refugees or immigrants. She noted that other resettlement agencies, such as those associated with Christian denominations, have not raised the same sort of ire.
HIAS also has been public in its opposition to recent immigration policies. It sued the Trump administration in 2017 over the executive order halting refugee resettlement. In August, HIAS and the Anti-Defamation League led a delegation of national Jewish organizations to the U.S.-Mexico border. 
Oren Segal, director of the Anti-Defamation League's Center on Extremism, said the high-profile visit this summer could have drawn the attention of right-wing extremists.
In his posts on the social network Gab, an account linked to Bowers falsely linked HIAS to a migrant caravan currently in Southern Mexico.
The two-dozen people HIAS helped resettle most recently also don't fit with Bowers' comments about "white genocide," equating immigrants and refugees with people of color. While HIAS began as the Hebrew Immigrant Aid Society in 1882 to support Jewish immigrants, it helps people of "any ethnic, cultural or religious background," according to HIAS Pennsylvania's website.
In October, that just happened to mean 21 white, Christian Ukrainians fleeing religious persecution, according to Rona Buchalter, director of Refugee Programming, and Planning.
The Associated Press contributed to this report.
WHYY is your source for fact-based, in-depth journalism and information. As a nonprofit organization, we rely on financial support from readers like you. Please give today.