Scientists say Gab, social network with Philly ties, is an incubator of hate
The suspected gunman in Saturday's shooting at a Pittsburgh synagogue frequently posted anti-Semitic comments on the social media site Gab, which is headquartered in Philly.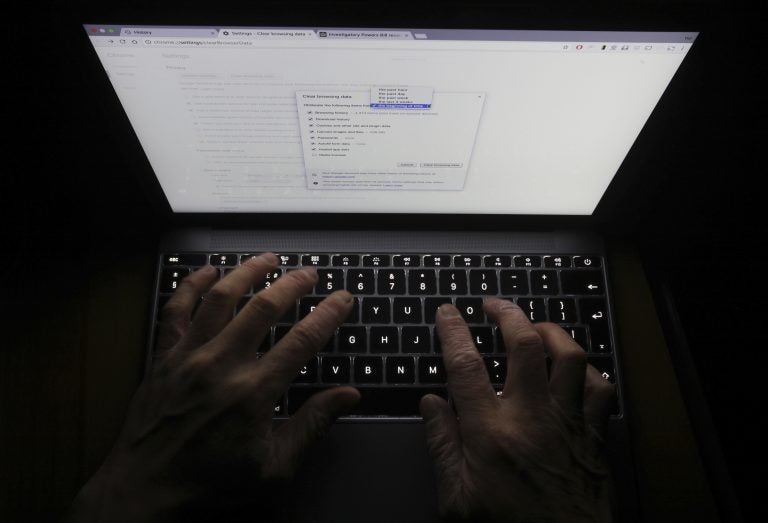 The suspected gunman in Saturday's shooting at a Pittsburgh synagogue had frequently posted anti-Semitic comments and memes on the social networking site Gab, which as recently as this spring had listed its headquarters as 1900 Market Street in Philadelphia. Gab told the Philadelphia Inquirer it's no longer based in Philly, but would not give its new location.
Robert Bowers posted about "the overwhelming Jew problem" and other anti-Semitic memes on his Gab profile. President Donald Trump, he wrote, "is a globalist, not a nationalist," he said. "There is no #MAGA as long as there is a k*ke infestation," Bowers said, referring to Trump's campaign slogan, "Make America Great Again."
In his final post on Saturday, not long before 11 people were killed and 6 people were injured at Tree of Life synagogue, Bowers posted, "I can't stand by and watch my people get slaughtered. Screw your optics. I'm going in."
Gab launched in 2016 and claims to have more than 800,000 users. The company describes itself as a defender of free speech, an alternative to platforms like Facebook or Twitter it says have become too politically correct. CEO Andrew Torba has argued that efforts to limit "fake news" and offensive content on social media have resulted in censorship.
The site's claim of being a marketplace for free speech is a facade, said Joel Finkelstein, a neuroscientist at Princeton University. Finkelstein directs the Network Contagion Research Institute, a nonprofit that studies how hate spreads online and includes collaborators in the U.S., the U.K., and Europe.
"It's very clear that free speech is a coded way of saying the alt-right can say what they want," Finkelstein said.
Finkelstein recently studied millions of comments and images on Gab, and found "Make America Great Again," "Trump," and "conservative" are some of the most commonly used words and phrases on the network.
His research team also found that anti-Semitic and white supremacist memes spiked, in some instances more than doubling, after events like the 2016 election and the 2017 Unite the Right Rally in Charlottesville, Virginia.
Finkelstein argues Gab is has become a place for extremists, including white nationalists and anti-Semites, who would not be allowed to post offensive screeds and memes on Facebook and Twitter.
Claiming "free speech," he said, is like drinking alcohol out of a paper bag: People know they're drinking in public, police officers know they're drinking in public, but the paper bag gives them both an excuse to shirk responsibility.
Finkelstein thinks of online hate as a virus, and Gab as an incubator where white supremacists and anti-Semites gather and experiment with memes to use them to spread radical, hateful ideas.
"People can get sucked into them and literally live in an alternative reality," he said.
'He is not some kind of giant outlier'
Barry Bradlyn, an assistant professor of physics at the University of Illinois Urbana-Champaign and a member of the research group, said Bowers, the suspected shooter, would not have been considered an extremist on Gab.
"What this guy did was a horrible thing and so it makes sense that we're focusing on his posts on this network right now, but … if you look at his posts within the context of the things that we're seeing on Gab in general, he is not some kind of giant outlier, and that's a thing that I think should be worrying for everybody."
Gab did not respond to a request for comment.
In a statement, Gab said the company has a zero tolerance policy on terrorism and violence, that it backed up and suspended the Pittsburgh suspect's account, and that it contacted the FBI as soon as it found out about him after the shooting.
"Gab unequivocally disavows and condemns all acts of terrorism and violence. This has always been our policy. We are saddened and disgusted by the news of violence in Pittsburgh and are keeping the families and friends of all victims in our thoughts and prayers." (The statement was initially posted on Medium, but Gab's various postings on that site appear to be suspended.)
The company also points out that criminal behavior also takes place on Facebook and Twitter, and that the suspect's activity on Gab gives law enforcement definite evidence for a motive.
PayPal banned Gab after the shooting. The payment processing site Stripe and the cloud-hosting platform Joyent also suspended Gab's services. Apple and Google rejected its app last year.
Bradlyn says it's always going to be hard to predict individual bad actors in networks this big, but scientists can track problematic subgroups by looking at how hateful ideas spread both within, and between networks. For example, in their most recent paper, he and his collaborators tracked how the "Politically Incorrect" board on the online bulletin board 4Chan, was the most influential platform for spreading the anti-Semitic "Happy Merchant" meme, a caricature of a male Jew rubbing his hands. The meme then jumped to other online communities like Gab and Reddit.
The researchers do this by analyzing every word and image posted on these platforms, and using an abstract math technique called Hawke's process, which has been used in the past to develop financial models.
"We end up learning a lot more than we could by having a room full of people go through and read every comment," Bradlyn said. "As scientists, we have a lot of tools that we can bring to help solving these social problems."
Jeremy Blackburn, an assistant professor of computer science at the University of Alabama in Birmingham, said their findings mean that while mainstream platforms like Reddit have tried to remove hateful content within their own users, that won't be enough.
"These bigger companies need to start looking outside their walls … The problem is not just within their user base, the problem is coming from other places that they may not even know exist in a lot of cases."
Finkelstein doesn't blame Gab for Saturday's violence at Tree of Life synagogue. It's a symptom of hate expressed by people like Bowers, perhaps a catalyst, he said, but not a cause.
"Gab is operating as a network that has a niche to operate in, that is obviously popular enough to attract who it attracts, and the real question is why is that."
Platforms like Gab exist because some conservatives and Trump supporters feel like mainstream culture and sites like Facebook and Twitter are pushing them out, Finkelstein said, and the real challenge is how to engage them without relegating them into silos.
"We have to find sane ways of bridging that divide. The answer obviously isn't Gab; Gab is something that's furthering that divide, and I think the answer isn't the kind of unilateral censorship policies that the social media companies are pursuing."
Finkelstein and his collaborators are studying how we can immunize ourselves against viral hate online, and how we can figure out how to have civil conversations over the internet without relying on large, privately-held corporations to edit our conversations for us.
Editor's Note: This story has been corrected to reflect that Gab says it is no longer headquartered in Philadelphia.
WHYY is your source for fact-based, in-depth journalism and information. As a nonprofit organization, we rely on financial support from readers like you. Please give today.