Philly artists join others in archiving their creative process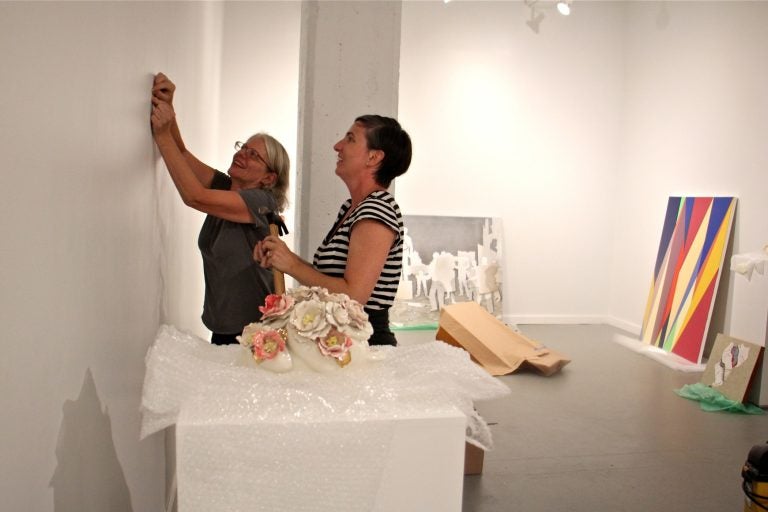 Making art can be like making sausage. It's not always pretty.
A couple years ago, Philadelphia artist Jane Irish became interested in an 1848 essay by Edgar Allan Poe, "Eureka," about the origin of the universe, a quasi-scientific piece of prose that relied more on philosophical intuition than cosmological research.
In response, Irish started doodling in gouache paint on a 12-by-16-inch paper to rough out some concepts.
"It's very small and expressionistic – it might not be clear completely to the viewer," she said. "But it led to a composition that was more detailed."
The final work, "Cosmos," measures 9 feet by 12 feet. It was shown in 2015 at the Locks Gallery in Philadelphia. Irish's gouache exploration also informed a massive installation, "Antipodes," she made earlier this year inside the Lemon Hill historic mansion in Philadelphia.
The sketches, studies, and prototypes artists make toward the realization of a final piece are called "process work." Those are rarely, if ever, seen by anyone except the artist. Often, they are thrown away.
The New York Public Library archive is actively collecting that stuff to add to its permanent collection.
Irish's little gouache sketch — along with work by 42 other artists — is part of a nationwide effort called Groundwork.
"We all have different processes to get us to our intuitive excitement," she said. "To show that among other artists is a really cool idea."
Sketches that led to the creation of Jane Irish's "Cosmos" are being preserved in the New York Library's public archive. (Jane Irish)

A preliminary work for "Cosmos." (Jane Irish)

A preliminary work for "Cosmos." (Jane Irish)
Groundwork is organized by Tiger Strikes Asteroid, an artist collective with member-run galleries in New York, Philadelphia, Chicago, and Los Angeles. Tiger Strikes Asteroid New York received a letter from the library archive – the same letter sent to many galleries in the New York area – requesting artist ephemera.
The letter dovetailed nicely into what the collective was trying to do to preserve evidence of the creative process, said Alex Paik, Tiger Strikes Asteroid director.
"I've seen some process work by Matisse and throw-aways by great masters," said Paik. "It's so amazing to see their thought process. You can see them working out problems. Especially for artists, it's important to have this archive."
Since the collective started in 2009, hundreds of artists have been involved with Tiger Strike Asteroid, either as members or guest artists. Each of the four branches of the organization dug into its network of regional artists, soliciting unfinished work.
Each artist was asked to donate two works — one to be archived and the other to be auctioned online to raise money for Tiger Strikes Asteroid.
This idea solved one of Paik's problems with fundraising auctions.
"Artists – for better or worse – are often asked to donate work for auctions and fundraisers. Often the work is sold for under market value, which cuts into our bottom line," he said. "We wanted to find a way to sell work to raise funds, but sell work that would not normally be exhibited."
The online auction closes Sunday. On Saturday, the Philadelphia gallery of Tiger Strikes Asteroid will host a reception with about 12 pieces from regional artists. Several are expected to attend.
"I'm really appreciative of the artists for taking a chance, for showing things that are maybe half-baked and letting the world get some insight into the way they think," said Mary Henderson, assistant director of Tiger Strikes Asteroid Philadelphia. "It is a little risky."