Phillies score walk-off win in wee hours of the morning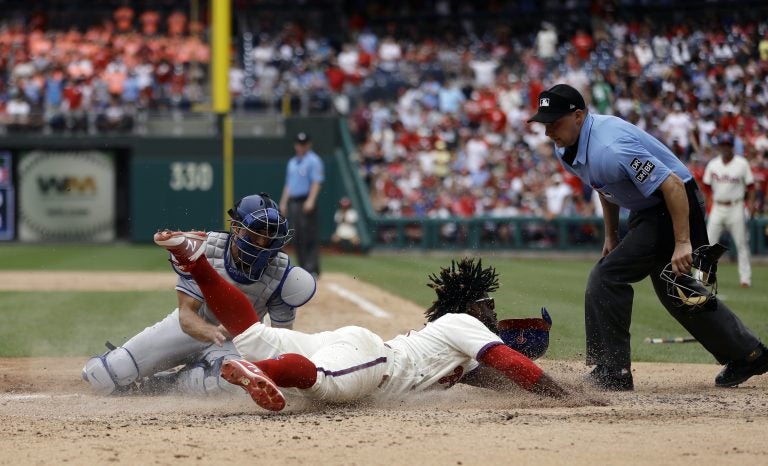 At 1:14 a.m. this morning, the Philadelphia Phillies beat out the Los Angeles Dodgers 7-4, finishing off a nearly six-hour, 16 inning game that saw 18 different pitchers and ten straight innings of no-run ball from the Phillies bullpen. The win put the Phillies back into first place in the NL East.
In the bottom of the 16th inning, the Dodgers finally ran out of pitchers and manager Dave Roberts sent outfielder and utility player Kiké Hernandez to the mound. At bat was Trevor Plouffe — a recent call-up from the Phillies' triple A team and a player whose career looked about over last year — who slammed a three-run home run into the stands for a walk-off victory.
Hernandez took the loss lightly, trolling himself on Twitter and Instagram after the game.

Vince Velasquez, a Phils starter who had pitched seven innings just two days ago, finished off the top of the 16th to grab the win. Manager Gabe Kapler used 22 of his 25 players, including one of his starting pitchers, Zack Eflin, as a pinch-hitter.
"It was the fight. It was the tenacity. It was the grind. It was the drive. It was the character," Kapler said after the game. "Everybody sort of running for their opportunity to participate in that game. And just about everybody did."
The Phillies were down 4-1 for the first few innings of the game until the Phils tied the game with three runs in the seventh. After that, no team scored a run until Plouffe's homer early the next day.
"We felt like that game was worth going all-in for," Kapler said. "Every game is, but certainly when you come back like we did, you reward your guys by fighting with them by saying, 'This game means everything to us.' So, that's how we approached it."
The Phillies got less than 12 hours of rest before their final game in the series, which began midday Friday.