Philebrity: no GPS required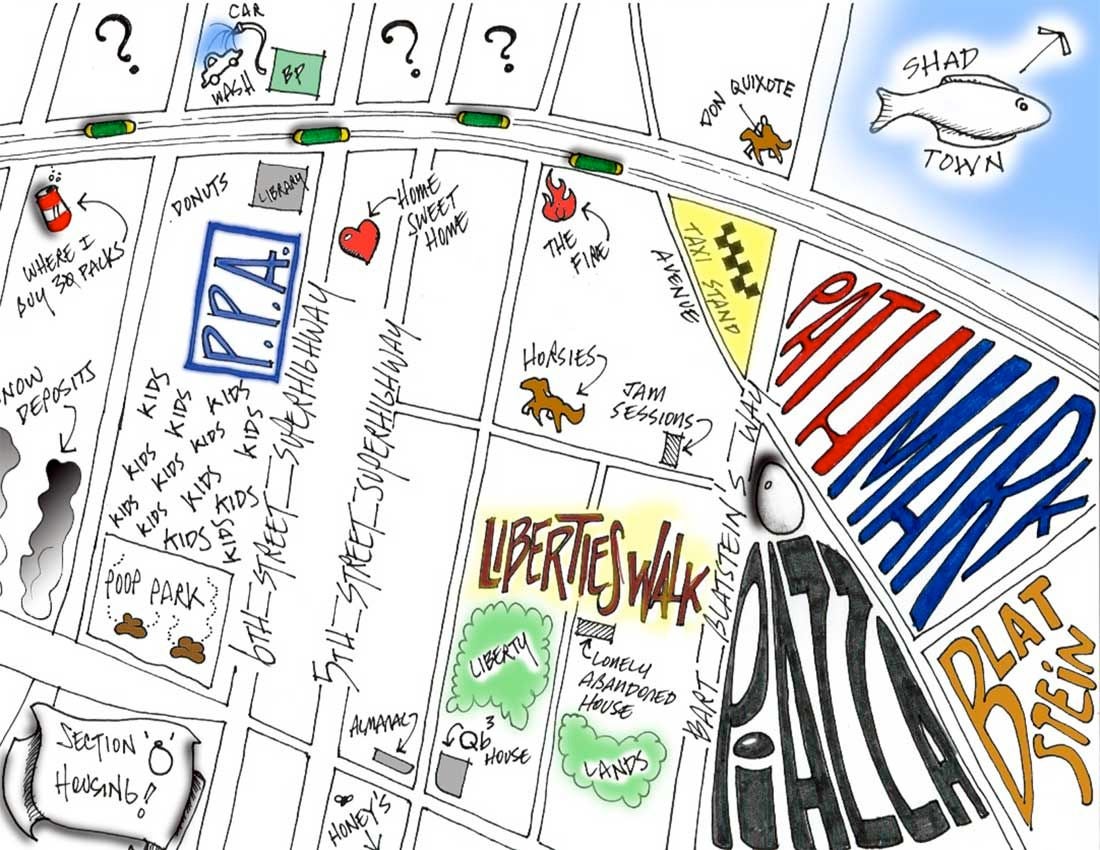 The city gossip blog Philebrity, if you're not familiar (and you really should be, to affect the site's meme), is by turns nostalgic, cynical, sarcastic, optimistic and civic booster/watchdog. It is a consistently fresh, snarky, intelligent, musically inclined, often hilarious space to crash for coffee breaks every weekday. And it has recently been delving into neighborhood cartography.
The site is no competition to Google Maps or MapQuest, certainly, and the technology of their detailed street-finders relies upon nothing but the means by which you receive the Internet and the quality of your computer screen.
But Philebrity's maps have personality, and to invoke Samuel L. Jackson's character Jules in "Pulp Fiction," personality goes a long way.
Their neighborhood maps are hand-drawn by readers, and range from the vaguely professional (Washington Square West) to the rather personal (Queen Village, with a key that includes "dogs that are friends with my dogs" and "stores I sometimes go to") and one that was likely drawn up while someone got drunk ("Getting drunk on Passyunk Avenue").
Joey Sweeney, Philebrity's editor and publisher, said the idea came from a reader last week who turned him on to a similar project in London, on the Londonist.com web site.
"The guy sent me the link and said, 'I would love to see people in Philly do this," Sweeney told PlanPhilly. "The whole line on Philly is that it's a city of neighborhoods. I just picked it up and put the call out there, and people just started sending us stuff. Once we posted a couple, then the floodgates really kind of broke."
So far, their fans' maps also include illustrations of: Norris Square / Olde Kensington ("Ever wonder what's on the other side of the Berks El Stop? It's THIS!"), Northern Liberties, Fishtown, Pennsport and Old City – and more are coming in by the minute today.
That's because Philebrity is in the midst of an all-out "hand-drawn neighborhood map blowout" (not to be confused with a pop-up).
Sweeney said the maps are another great way of getting people talking, in the comments that ensue each map's posting, about their neighborhoods and the way they are literally seen by others.
"Once it all finally stops, I'll package them up in some way, like a photo gallery or something like that," Sweeney said.
All maps to date can be viewed here.
Some sections of town have yet to represent.
"Want some homework?" the site solicited, on Thursday morning. "We're still looking for maps of: any West Philadelphia 'hoods and subsections, Mt. Airy, Germantown, Chestnut Hill and Gray's Ferry. Send us your hand-drawn neighborhood maps to tips@philebrity.com and we will totally run them."

– Posted by Thomas J. Walsh. Contact him at thomaswalsh1@gmail.com.