Philadelphia's first trans mural kicks of Mural Arts Month
Mural Arts Philadelphia's dedication of the mural highlighting trans and gender non-conforming people kicks off Mural Arts Month.
Philadelphia's poet laureate Trapeta Mayson came to the dedication of a new mural in the city's Fishtown neighborhood.
Of the more than 4,000 murals created by Mural Arts Philadelphia, this one – called "We Are Universal" – is the first celebrating trans and gender non-conforming people. Mayson read her poem, "We'll Make Something Out of This, Too."
We are all in our dojo of life and this world has become our sensei,
And we are stealth students studying this new language, this new thing,
Meditating and marveling
Moving and mourning
Meditating and marveling
Moving and mourning
Marinating and musing
Each day another chance to practice being human.
The mural was made by artist Kah Yangni in collaboration with residents of Morris Home, run by the city's Department of Health and Intellectual disAbility Services (DBHIDS) as the only residential recovery center in the country geared specifically toward trans and gender non-conforming people.
"It's really exciting that, in the city that has thousands of murals, we get our first one," said Yangni. "I think that's so cool."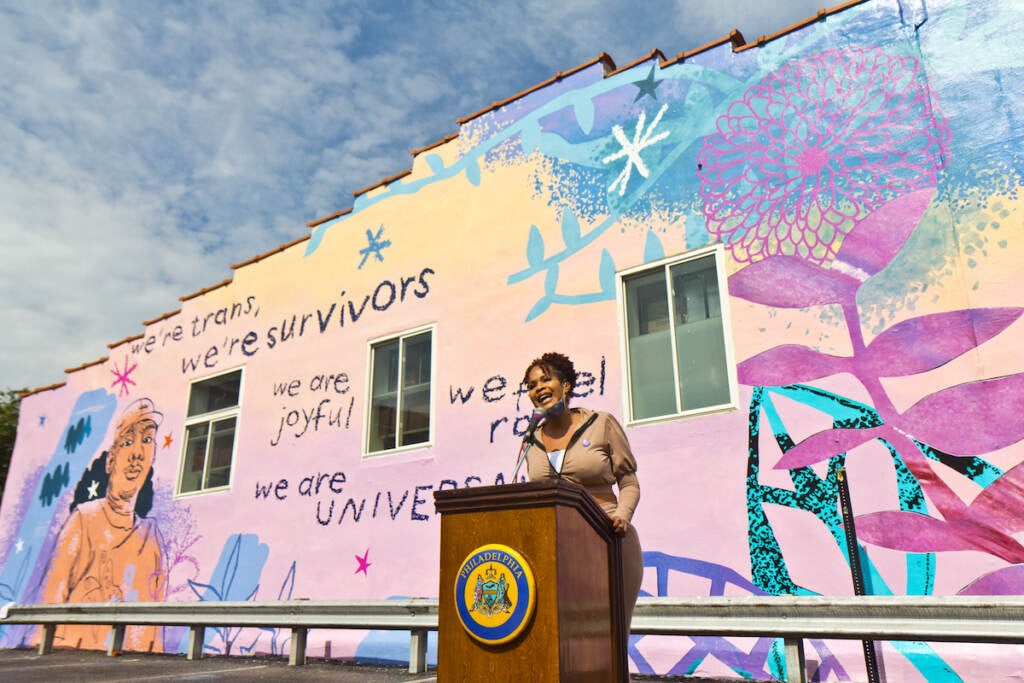 The mural is on a 100 foot long wall along Frankford Avenue at West Thompson Street, covering its 2,200 square feet with bright gradients of pinks, yellows, and purples. Its line drawings of residents at Morris Home, with simple flowers, vines, and butterfly shapes, resemble doodles in a sketchbook. The mural features text written in an uneven, crayon-like font:
We're trans, we're survivors.
We are joyful
We feel rage
We are Universal.
"I like making art that looks hand-drawn. It feels really warm and human," said Yangni. "When you're trying to get people to feel healed, I think there's something about being able to sense that, like, a human being actually made this that works better than really clean lines."
Mural Arts Philadelphia is using the dedication of "We Are Universal" to launch its Mural Arts Month, a series of dedications and events through October highlighting social justice issues at the heart of the public art program.
Mental health is one such issue Mural Arts has addressed many times through its longtime partnership with the DBHIDS.
"Fifteen years ago we partnered with Mural Arts to create the Porch Light project, that's a combination of behavioral health with art," said DBHIDS deputy commissioner Roland Lamb "If anybody understands behavioral health, you know that there's art in people's recovery. There's art in people struggling. There's art and overcoming. Art bridges the gap between us as individuals."
Mural Arts Month will feature new murals, such as artists Deborah Willis' and Michelle Jones' "Point of Triangulation" addressing formerly incarcerated people re-integrating in society; a projected mural at Cherry Street pier about BIPOC activists fighting for climate justice; and a mural by Reginald Dwayne Betts and Titus Kaphar featuring a redacted version of the Declaration of Independence.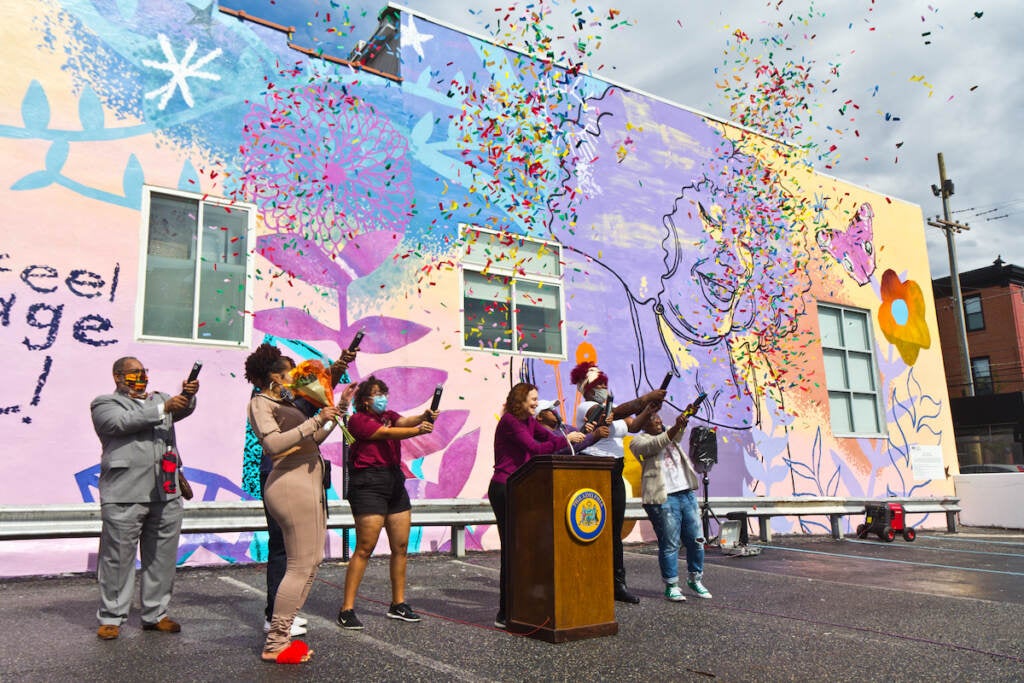 The 25 events in Mural Arts Month also include non-mural presentations, such as a gallery exhibition of work done by Fellows in Mural Arts' Black Artist Fellowship program; tours of a new installation in an underground SEPTA concourse painted by people, many experiencing homelessness, paid through Mural Arts' day labor program; and an outdoor screening in Mifflin Square Park — a largely Cambodian neighborhood — of films made by English language learners of all ages.
Mural Arts executive director Jane Golden said murals are meant to beautify their environments, while also addressing issues like mental health, criminal justice reform, and climate justice.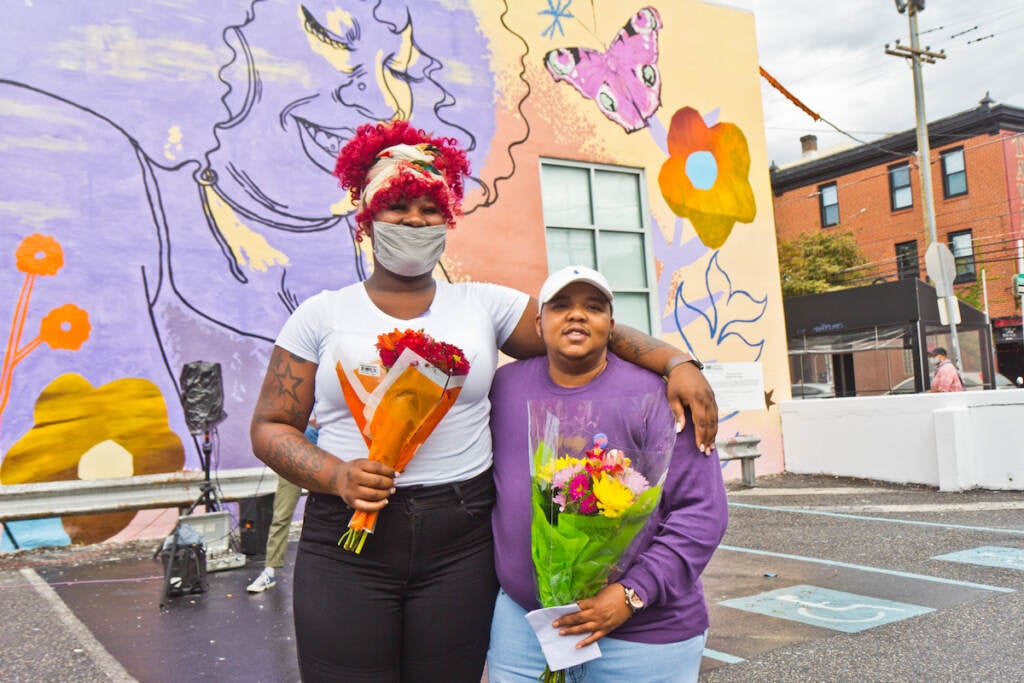 "I think that the mural obscures the power behind it," she said in Fishtown at the dedication of "We Are Universal." "For every project that people see, like the one we're standing in front of, that's two years of work with Morris [Home]. It is workshops, it's programs, it's very deep, meaningful, hard conversations that were really both sorrowful and incredibly triumphant."
A full list of Mural Arts Month activities can be found here.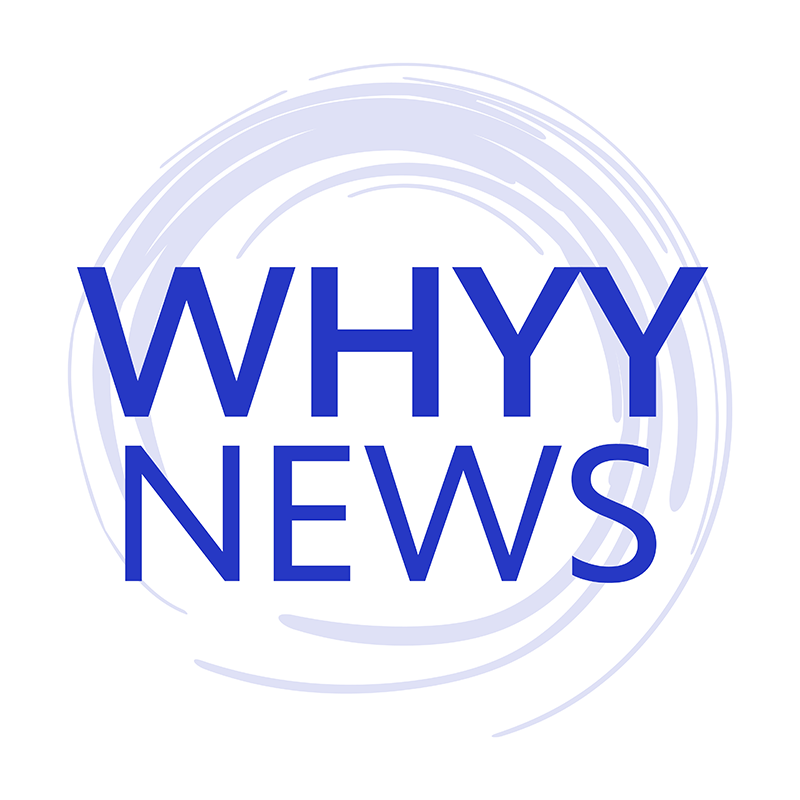 Get daily updates from WHYY News!
WHYY is your source for fact-based, in-depth journalism and information. As a nonprofit organization, we rely on financial support from readers like you. Please give today.