New Philly mural honors The Roots' Tariq 'Black Thought' Trotter
The Roots' vocalist's silhouette is the centerpiece of a mural four stories high on the south side of the Clay Studio.
Just six weeks after opening its doors, the newly constructed Clay Studio in Kensington may already have a name change.
"I'm gonna go ahead and call it the Black Thought building," said Tariq "Black Thought" Trotter, vocalist for the band The Roots whose silhouette is the centerpiece of a mural four stories high on the south side of the Clay Studio.
Artist Roberto Lugo designed "The Talented Mr. Trotter" mural to honor Trotter, whom he calls "the greatest living hip hop lyricist." Trotter's silhouette is painted on a gilded Sèvres vessel, a kind of vase once made for royalty in 18th century France, when fine porcelain was valued more than gold.
"My hope to put Tariq in a position of prominence, like royalty — it seemed like the perfect-fitting vessel to do that," said Lugo.
Lugo grew up in Kensington, not far from the Clay Studio and North American Street, which has recently developed into a corridor of artists and artisans.
It was much different when Lugo was growing up in the 1980s.
"American Street was a place where people used to dump their cars," he said. "When I was younger, my father and my uncle made a little movie here, pretending it was the end of the world, jumping in and out of the cars that were lined up in the street."
Lugo grew up writing graffiti and was determined to be the first in his family to go to college. It was there he fell into ceramics, creating a style wherein he puts faces of people who look like him — he has an Afro-Latino background — onto classical fine china, as a way to honor and immortalize them as heroes.
"I couldn't have the things that I have if it weren't for these people," said Lugo. "The contributions that they make in music, in fashion, in politics have made it possible for me to be an artist. For me, it's paying back what they've given me."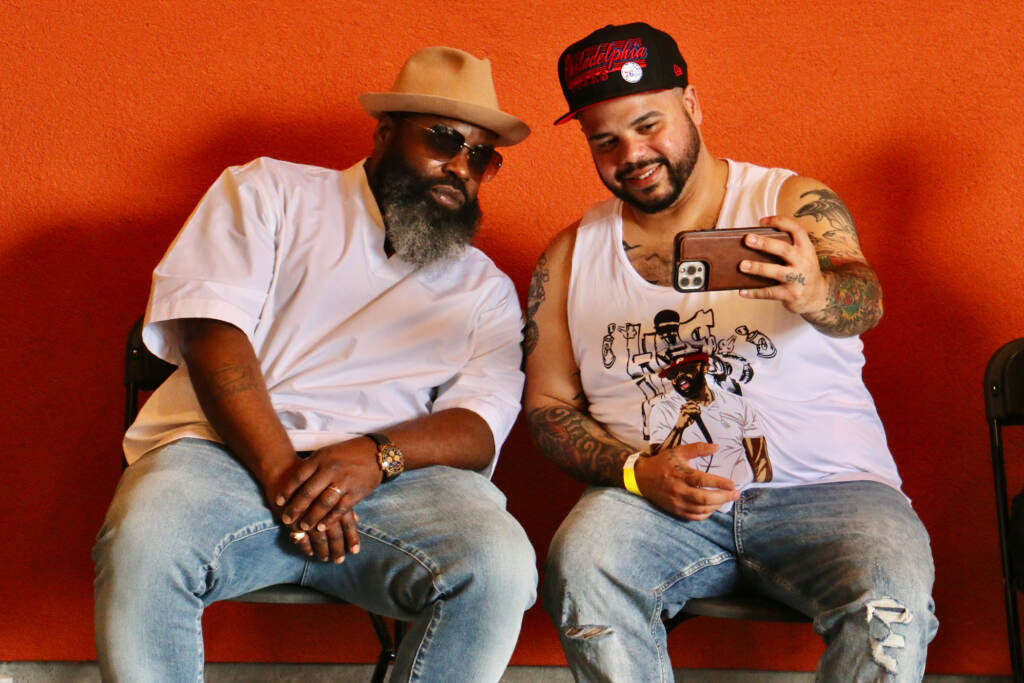 Trotter may be at the center of the mural named after him, but he is not the only person depicted. The mural represents the lineage of Black heroes past, present, and future: There are profiles of Black poets Sonia Sanchez and Amiri Baraka worked into the handles of the vase. The names of Trotter's six children are written onto the vessel, in Arabic lettering.
The mural was made in a partnership with Clay Studio and Mural Arts Philadelphia. This is not the first time Trotter has been the subject of a mural in Philadelphia. In 2013 Mural Arts put the entire Roots band on a wall along South Street.
Even before that, Trotter said his very first run-in with Mural Arts was back when it was the Anti-Graffiti Network and he was a young scofflaw.
"Mural Arts has always occupied a very special place in my heart because it's where I began as a miscreant, a deviant," said Trotter, explaining he was once sentenced to community hours cleaning graffiti with the Anti-Graffiti Network.
"I started as a graffiti writer around the age of 10. I wasn't super successful," he said. "By 12, I'd gotten arrested and I was sentenced to a couple hundred hours of scrub-time by a mean judge."
The mural has been years in the making. The decision to put "The Talented Mr. Trotter" in the Clay Studio building was made before the building existed.
The mural is a visualization of community-based education that is a core principle of the Clay Studio. The organization moved from its somewhat cramped location in Old City to a larger, purpose-built building in Kensington in order to be able to offer more classes and run its traveling ceramic program — the Claymobile — under the same roof.
"This mural, our partnership, the artist who created it, and the artist highlighted in it offer you all and others a chance to reflect, be inspired, and think about what it means to be a part of a larger community," said Clay Studio director Jennifer Martin to a crowd of a couple hundred people gathered at the mural dedication.
Trotter said being included in this mural, in this neighborhood, is one of the highest honors he has received in his much-lauded career.
"Mentorship is important, reaching back to your community and to the young people of your community is important," he said. "Encouraging arts education is important. That has been my saving grace and the saving grace for so many people."
"So, yeah, this is huge," said Trotter.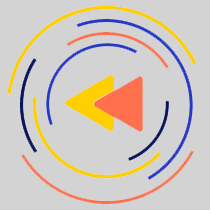 Saturdays just got more interesting.
WHYY is your source for fact-based, in-depth journalism and information. As a nonprofit organization, we rely on financial support from readers like you. Please give today.