SEPTA's historic Route 15 trolleys 'very close' to returning
The green and cream trolleys were supposed to hit the tracks back in September, but a set date for their return is "within a month or two."
Listen
1:10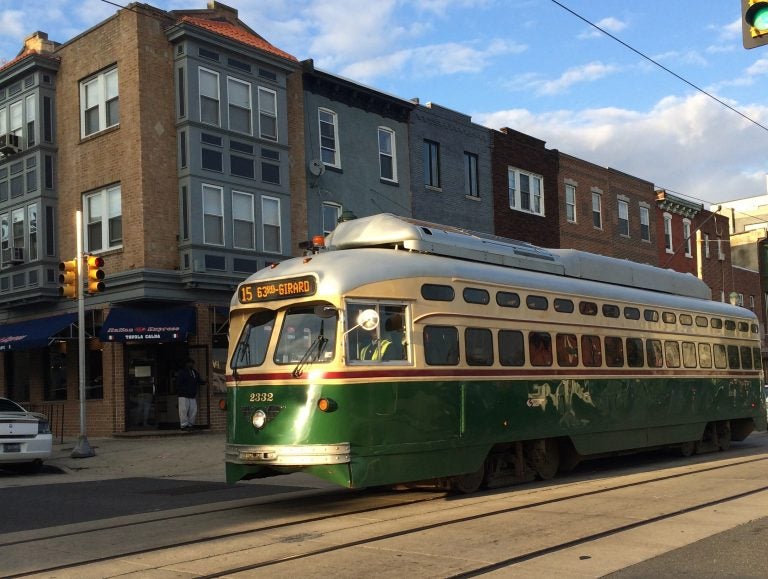 From Philly and the Pa. suburbs to South Jersey and Delaware, what would you like WHYY News to cover? Let us know!
SEPTA's historic green and cream trolleys on Route 15 should be returning to the tracks by the first quarter of 2024.
In an interview with WHYY News on Monday, SEPTA spokesperson Andrew Busch said the PCC trolleys are "very close" to returning and will have a set return date "within a month or two."
Originally, the PCC trolleys were supposed to return in September. Busch said the delay is mainly attributed to making sure there's enough operators trained to use them, noting the turnover of SEPTA employees since the trolleys were first taken off the tracks in 2020.
"They're coming," Busch said. "We know people are really looking forward to them. … Bear with us for a little bit here as we get some more things lined up. We want to make sure that when they do roll out … the service is reliable and people can count on it."
Busch also notes operators on the PCC trolleys must be trained to operate buses as well.
"Any day they go into work, they could operate a trolley or a bus," Busch said. "We would certainly have scheduled runs with the trolleys that are assigned to specific operators, but we want to make sure that we have some redundancies and some backups for that, so it's making sure that everybody's familiar with the equipment."
Since January 2020, buses have been occupying Route 15 due to 78% of the historic trolley fleet at the time failing inspections. SEPTA plans to use trolleys and buses while deploying restored trolleys to maintain route frequency.
With SEPTA's Trolley Modernization program, the PCC trolleys will ultimately be replaced down the line. SEPTA was awarded more than $700 million for the project.
Back in August, SEPTA confirmed to WHYY News at least six PCC trolleys were ready to go. They were originally built back in 1947, but with the upgrades, Busch said those trolleys could be in service for another decade.
"They could absolutely be put in a museum tomorrow and would probably be the main attraction, but these will be working trolleys," Busch said. "The way that we're approaching Trolley Modernization, we expect Route 15 is going to be the last part of that Trolley Modernization process."
Deliveries of the new vehicles will start in 2027.
WHYY is your source for fact-based, in-depth journalism and information. As a nonprofit organization, we rely on financial support from readers like you. Please give today.