America's definitive collection of antique Windsor chairs will be sold at auction
Philadelphia illustrator Charles Santore, known as a celebrated artist of children's books, was also America's foremost expert on Windsor chairs.
Listen
1:19
About 70 antique Windsor chairs from the collection of Philadelphia illustrator Charles Santore and his wife Olenka, meticulously acquired over half a century, will be auctioned by Sotheby's on Thursday.
Santore, who died in 2019 just months after Olenka passed, was a well-known illustrator of picture books, including Alice in Wonderland, the Wizard of Oz, and The Night Before Christmas, as well as a series of iconic cover illustrations for TV Guide which are now in the collection of the Woodmere Museum in Philadelphia.
But among collectors of American antiques, he was a revered connoisseur of the Windsor chair. Santore was sought out by collectors, dealers, and curators to assess antique furniture. He wrote and illustrated the definitive book on the subject, "The Windsor Style in America."
"He literally wrote the book on Windsor chairs, and used some of his own collection items as the illustrations," said William Valerio, director and CEO of the Woodmere Museum, which recently exhibited a retrospective of Santore's illustration work.
"They are the standards against which so many collectors judge opportunities in terms of collecting Windsor chairs," he said. "It's a very special collection, very beautiful collection."
In addition to the dozens of chairs, which stuffed the couple's townhouse in Fitler Square for decades, the Santore's also collected other objects of Americana, such as carved wood figures, signage, and stoneware. Aside from a few pieces retained by their three adult children, almost all of their collection will be on the auction block, estimated to bring about $2 million.
"He would try and draw us into their thinking and collecting, show us stuff as kids and try to get us involved and interested. But as little kids it didn't really sink in," said Nicholas Santore, the son of Charles and Olenka, who selected a chair and a few bird carvings for himself. "None of us kept anything major. We wanted everything to move on."
The Santore family lived with antiques as everyday furniture, taking their meals on an 18th century table, playing games on quintessential Colonial chairs, sleeping under 19th century jacquard-woven blankets.
Nicholas said he, his brother, and sister were taught to respect the furniture while using it.
"We were just normal kids. We'd play with G.I. Joe and Star Wars figures, and my sister with Barbies, around these things. We were brought up from an early age with an understanding of the limits of how nuts we could get around this stuff," he said. "The trick was once we started having friends in the house and trying to explain it to them."
While Charles was the recognized expert on Windsor chairs, Nicholas said the overall collection was a collaboration between both of his parents. He said his mother, who fled Ukraine as a girl during WWII and came to Philadelphia to be a fashion model before a career in real estate, had a keen eye for design and "impeccable taste."
"They just made amazing choices," Nicholas said. "They considered how these choices work together, bounce off each other, spoke to each other."
Some of the collection can be seen in Charles Santore's illustrations, particularly in the picture books "Paul Revere's Ride" and "The Night Before Christmas."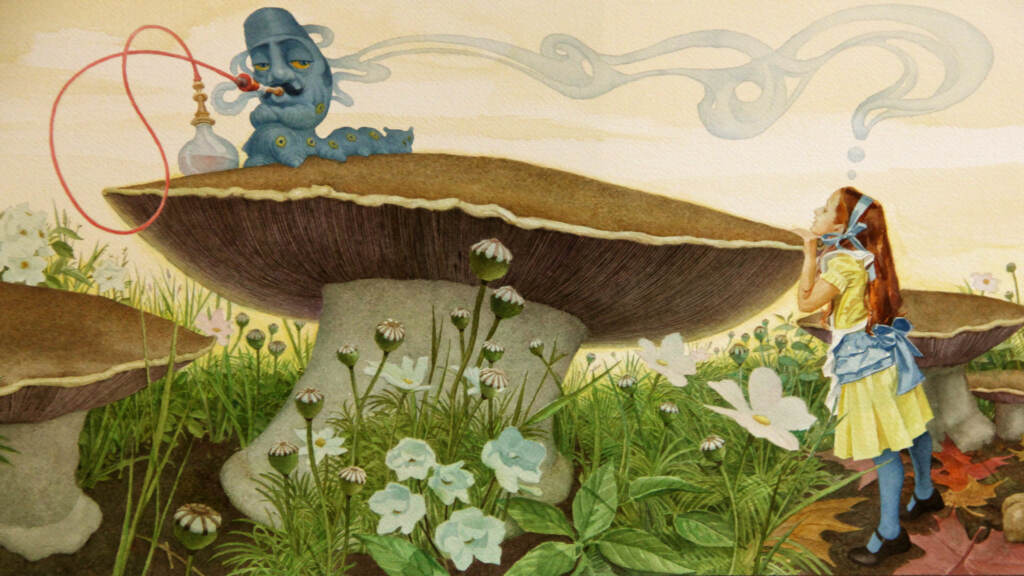 Valerio said Santore brought the same level of passion and attention to his collection as he did his artwork.
"There was no aspect of any object in Charlie's collection that he had not focused on, in that laser-sharp way," he said. "That's part of what made him a great collector and is part of what made him a great illustrator. There's no question that these two big aspects of his life were linked through that appreciation and attention to detail."
Live bidding for the 362 lots in the Santore auction begins at 10 a.m. on Thursday.
Various items of Americana collected by Charles and Olenka Santore. (Courtesy of Sotheby's)

Various items of Americana collected by Charles and Olenka Santore that will be up for auction. (Courtesy of Sotheby's)

Reddish Brown Grain-Painted Scroll-Carved Comb-Back Windsor Knuckled Armchair, Philadelphia, PA, C 1775. (Courtesy of Sotheby's)

Carved and Polychrome Paint Decorated Carousel Horse, Carved by Daniel Muller (1872-1952), Circa 1900.(Courtesy of Sotheby's)

Carved and Paint-Decorated Native American Tobacconist Trade Figure, Attributed to Samuel Robb, NY, C. 1890. (Courtesy of Sotheby's)

Charles Santore illustrated the 150th anniversary edition of ''Alice's Adventures Under Ground'' in 2015. His first illustration recalls Lewis Carroll's opening poem, 'All in the Golden Afternoon.' (Emma Lee/WHYY)

Charles Santore illustrated the anniversary edition of Alice's Adventures Under Ground with pencil sketches, which recall the author's original manuscript, presented to Alice Liddell. (Emma Lee/WHYY)
WHYY is your source for fact-based, in-depth journalism and information. As a nonprofit organization, we rely on financial support from readers like you. Please give today.