Pennsylvania casts 20 electoral college votes for Biden
Pennsylvania's 20 electors have cast their votes for Joe Biden. This was expected — though some Republicans still want to circumvent the result.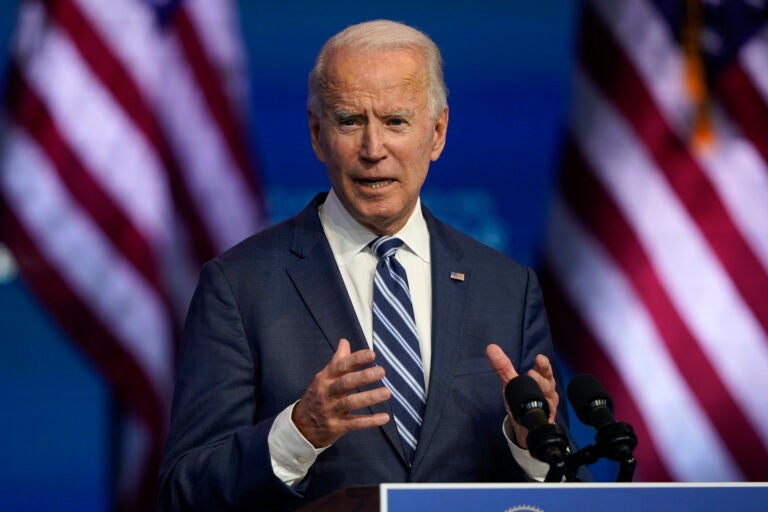 Updated: 3:15 p.m.
Pennsylvania's 20 Electoral College members cast their votes Monday for president-elect Joe Biden.
Similar votes are happening around the country. Despite President Donald Trump's many attempts to overturn the election results through the courts, the final electoral college vote will make official a result that has been clear since November: Biden won the electoral college, as well as the popular vote.
"I hope you can see me smiling behind this mask," said Democratic Party Chair Nancy Mills, after the vote was officially tallied. She noted she was the first woman to preside over an electoral college vote in Pa.
This year's meeting of the Electoral College looked a little different from usual.
The electors congregated in an auditorium in Harrisburg, not far from the state Capitol.
They typically meet on the state House floor, but the Capitol is restricting public access due to the pandemic. Several lawmakers who attended in-person sessions at the Capitol in recent weeks tested positive for coronavirus.
Pennsylvania's electoral college representatives were chosen by the commonwealth's Democratic Party. They include elected officials from all levels of government, such as Attorney General Josh Shapiro and House Democratic Whip Jordan Harris, along with labor leaders and local Democratic organizers.
As the date of the electors' vote drew nearer, Trump was still airing baseless theories about voter fraud on Twitter. Biden elector Malcolm Kenyatta, a Philadelphia state House representative and longtime supporter of the former vice president's campaign, said he doesn't pay attention to the president's missives.
"I don't think [Trump's] Twitter account is going to derail much," Kenyatta said. "He can cry, he can tweet, he can yell, but soon he won't be doing it in our house. He'll have to do it Mar-A-Lago or wherever else he chooses to go."
It is possible for electors to cast protest ballots against a winning presidential candidate, but it's extremely rare. Four years ago, protesters descended on the Capitol and urged electors for President Trump to vote against him, but all 20 of the votes went to him and Vice President Mike Pence.
As expected, all voted this year for Biden.
Taking the stage after the vote was certified and proceedings concluded, Department of State Secretary Kathy Boockvar, who oversaw this year's election process, thanked the electors for having "carried out the will of the voters of the Commonwealth of Pennsylvania."
Paraphrasing President George H.W. Bush, she said they had "effectuated the magic of our democracy."
Attorney General Shapiro was among the first to speak with reporters following the proceedings.
Asked about the numerous lawsuits brought forward by the Trump campaign and others seeking to overturn the popular vote or delay final certification, he said they had "absolutely no legitimacy."
"I can tell you, I'm even exploring sanctions against some of the lawyers who have brought some of these frivolous cases," he said.
Shapiro did not elaborate on what those sanctions would entail nor who they would target.
Some Republicans in Harrisburg are still pushing for long-shot hopes of undermining Biden's decisive victory outside of the courts, urging Congress to take its own action to circumvent the electoral college's vote, and give the presidency to Trump.
Earlier this month, many House Republicans — including the chamber's leaders — and a handful of state senators sent a letter urging Congress to "object, and vote to sustain such objection, to the Electoral College votes received from the Commonwealth of Pennsylvania."
They want federal lawmakers to employ a little-used election law, the 1887 Electoral Count Act, in one of the last steps of finalizing a presidential election: certification by congress, in a Jan. 6 special session.
Even as Democratic electors officially voted for Biden, the state Republican Party issued a statement saying it had held its own unofficial gathering for what it called a "conditional vote" at Trump's behest.
Bernadette Comfort, who chairs the state GOP, said the Trump electors had taken this vote "to preserve any legal claims that may be presented going forward … This was in no way an effort to usurp or contest the will of the Pennsylvania voters."
She said the party had modeled the vote on one of the only times the 1887 Electoral Count Act was put into practice: the 1960 presidential election, in which Hawaii — which was a new state at the time — had its electoral college votes disputed.
That year, Nixon was initially declared Hawaii's winner, but John F. Kennedy's campaign asked for a recount and, according to Comfort, his electors cast a conditional vote while it was happening.
Ultimately, Hawaii's votes in that election weren't a factor in Kennedy's victory — and indeed, the Electoral Count Act has never changed the results of an election.
Democrats have dismissed Republicans' effort to use it as desperate.
Erie County Executive Kathy Dahlkemper, who served as parliamentarian for Pennsylvania's Electoral College this year, noted that it's been a long, and at times tumultuous, road.
But after months of lawsuits and high-profile, unfounded accusations of fraud, she said the electoral college's final vote was "very calm and uneventful."
"A couple of times I felt myself having goosebumps as they made certain announcements, and certainly as we had the final vote count put forward," she said. "It's really historic, especially this year."
___
Correction: A previous version of this story misstated how electoral college voters are chosen.
Get more Pennsylvania stories that matter
WHYY is your source for fact-based, in-depth journalism and information. As a nonprofit organization, we rely on financial support from readers like you. Please give today.