Packer Park: Residents Brace For Possible Billboard Expansion Project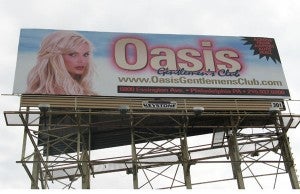 Packer Park: Residents Brace For Possible Billboard Expansion Project from Philadelphia Neighborhoods on Vimeo.
Residents of Packer Park in the Lower South district might see an addition to their backyard skyline in the near future.
Keystone Outdoor Advertising Co. recently began to seek a variance to expand and digitize one of its billboards, which is located in the parking lot of Galdo's Catering and Entertainment on 1933 W. Moyamensing Ave, according to the Society Created to Reduce Urban Blight (SCRUB).
SCRUB is a non-profit based in Center City that advocates for aesthetically pleasing public spaces and a healthy environment.
"I think we're seeing an industry that's really struggling with too much inventory here in the city of Philadelphia," said Mary C. Tracy, the executive director of SCRUB. "The demand for signage is down and this new digital signage seems to be a little sexier. I think for now the idea is that will make more money, so everyone needs to have some of these digital signs."
Many residents who live in houses surrounding the 14-by-48 billboard can see the 62-foot-tall sign from their doorsteps. If the expansion project is approved, the billboard would extend nearly 30-feet higher and would total 90-feet-tall with dimensions of 20-by-60 feet.
One side of the billboard would be expected to receive a digital display, which would allow its advertisements to change frequently for drivers to view along the Schuylkill Expressway.
Local resident, Marlene Ziccardi, of the 1600 block of Oregon Street, said she doesn't think the renovated billboard would be a distraction to drivers.
"Building a new billboard is not a hazard to the drivers," Ziccardi said. "It wouldn't hurt anybody if it were higher, I would imagine."
Dominick Cipollini, the owner of Keystone Outdoor Advertising Co., appeared at a public forum for local residents on Jan. 12 and represented the company at a meeting with the Zoning Board of Adjustment in Center City on Jan. 18. The advertising company did not return messages seeking comment and Galdo's Catering and Entertainment declined to comment about the billboard located on its property.
Currently the billboard displays an advertisement for the Oasis Gentlemen's Club located at 6800 Essington Ave. and on the other side of the sign, which faces residential houses, is a promotion for the movie "Star Wars Episode I: The Phantom Menace."
Barbara Capozzi, Esq., of Capozzi Real Estate and Insurance Ltd., said the billboard, which has been in the neighborhood for 44 years, may lower property values if the variance for its expansion is approved. Capozzi specializes in insurance, sales and property management in the Packer Park, South and Center City districts.
"Expanding the size (of the billboard) not only in height, but by doubling the face of signs itself plus making it digital will surely negatively affect property values," said Capozzi, who was recently named 87th president of the Greater Philadelphia Association of Realtors.
Michael Calvello, who lives on the 1800 block of West Moyamensing Avenue, said he can see the billboard from his residence's front door. Calvello said there is a negative consensus about the billboard's image in the neighborhood.
"Most of the residents want to get rid of the billboard," Calvello said. "Before it was there it was just a better looking community. The billboard just downgrades and desecrates the area."
SCRUB endorsed a study released in December 2011, which reports on the economic impacts of billboards on nearby real estate value. The study, "Beyond Aesthetics: How Billboards Affect Economic Prosperity," states that homes within 500 feet of a billboard are worth $30,826 less on average than those properties further away of the same billboard.
"(The billboard) will kill our efforts to improve and beautify that entire corridor of 20th street, which we all use daily and which is a gateway to our thriving residential communities and to the sports complex as well," Capozzi said.
Capozzi added she doesn't expect the new billboard will be built, if the community continues to express its opposition for the new changes.
"To me personally, billboards breed billboards and we have successfully fought others nearby, our position has been consistent," Capozzi said. "These billboards as they stand are grandfathered in, but when given the opportunity to fight changes to existing or to fight new ones, we have been consistent."
———
This year Connor Showalter will bring Eyes on the Street and PlanPhilly dispatches from the West Park and Lower South planning districts as part of his work for Philadelphia Neighborhoods, a publication of Temple's Multimedia Reporting Lab. PlanPhilly is a Philadelphia Neighborhoods partner.