Pa.'s Supreme Court justices are trying, begrudgingly, to pick a new congressional map
In a 6-hour hearing, the justices grilled a series of lawyers on the merits and drawbacks of 13 different maps submitted as possible choices.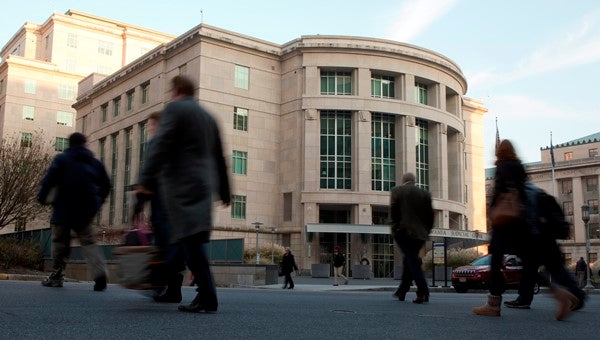 Pennsylvania's Supreme Court justices will soon choose a new congressional map, a task that fell to them after the Republican-controlled legislature and Democratic Gov. Tom Wolf deadlocked in their once-a-decade reapportionment responsibility.
In a six-hour hearing Friday, the seven justices — five Democrats and two Republicans — grilled a series of lawyers representing Republicans, Democrats, voters, and good-government groups on the merits and drawbacks of 13 different maps submitted as possible choices.
They appeared to do it begrudgingly.
"This ended up in their laps because of the failure of the other two branches," said David Thornburgh, who heads Draw the Lines PA, one of the good-government groups that submitted a map. He pointed to a comment from Democratic Justice Kevin Dougherty, who at one point said that justices hadn't asked for this job.
"As they know from previous experiences, this process has become so toxic and so partisan," Thornburgh said. "I think they'd be looking to make some statement that says, you know, let's listen to the unfiltered voice of the people."
The problem with that? It's difficult for justices to make a watertight case that any map truly represents the voice of the people.
There are some laws and legal precedents that create what justices are calling a "floor" for an acceptable congressional map, but they're broad.
The only official federal criteria are that districts must be of about equal size and can't dilute voters' voices on the basis of race. A 2018 decision from the Pennsylvania Supreme Court also held that congressional districts should be compact and contiguous, and shouldn't divide municipalities and wards unless absolutely necessary.
Most of the submitted maps comply with that floor. That, GOP Justice Kevin Brobson noted, makes this task tricky.
"At least nine or 10 of the 13 already comply with the floor," he said. "Where do we go beyond the floor to pick among the nine or 10 that comply with it?"
A lower court judge, Republican Patricia McCullough of Commonwealth Court, had tried to resolve that question by deferring to the map that had gotten farthest through the legislative process. After a series of hearings, state House Republicans had selected, then tweaked, a plan drawn by prominent citizen mapper Amanda Holt. They passed it through both GOP-controlled chambers, then Gov. Wolf vetoed it, calling it biased in Republicans' favor.
McCullough picked that map after being appointed by the Supreme Court as a special master. Her pick was supposed to be advisory for the judges, but it wasn't binding. In Friday's hearing, they seemed unmoved by her argument in favor of the GOP map, which favors Republicans and got no votes from Democrats.
"It's just a bill, it didn't become a law," Brobson said. "I struggle with Judge McCullough's articulation that somehow, some way, that represents the will and the voice of the people, and that Governor Wolf's veto also doesn't represent the will and the voice of the people."
Democratic Justice Christine Donohue added that Wolf's office collected a "robust" array of public comments before releasing its map. But she doesn't believe that qualifies it for special consideration either.
"We are all in agreement that neither of those two plans deserve any deference," she said, referring to the justices' position on the Wolf and House GOP maps. "For us to politicize this, or take partisan sides in this, is really a nonstarter."
The judges can also choose to draw their own map if they don't find any of the proposals acceptable.
The court hasn't released any timeline for a decision, but it's expected fairly quickly because the justices are under considerable time pressure.
They have put Pennsylvania's election calendar on hold while they deliberate on the map, indefinitely postponing the period for candidates to circulate petitions to get on the ballot.
So far, they have not delayed the May 17 primary election.
WHYY is your source for fact-based, in-depth journalism and information. As a nonprofit organization, we rely on financial support from readers like you. Please give today.