Dragon boats, cranberries, and creepy creatures signal fall has arrived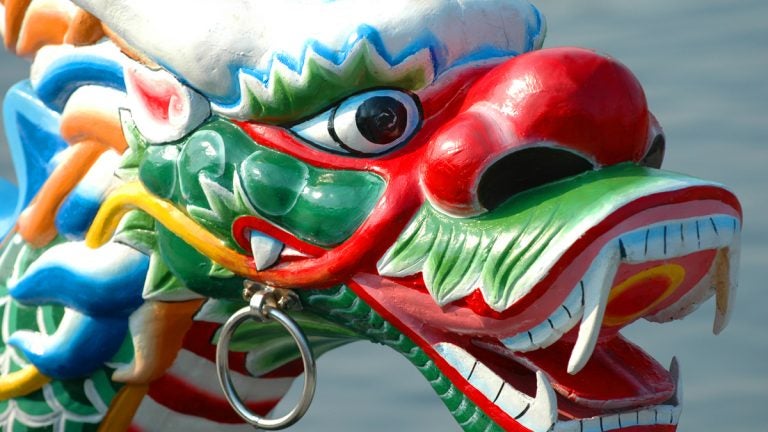 Now that October's here, fall festivals are as numerous as changing leaf colors. Here's what's on tap – figuratively and literally – over the weekend and beyond.
Narberth Oktoberfest
Oct. 6, 5-9 p.m.
Narberth Park, 80 Windsor Ave., Narberth, Pennsylvania
Tickets: $45
It's October, which means there must be an Oktoberfest. The beer festivals that originated in Germany have been adopted in various incarnations around the world. It's a chance to drink sample a variety of craft beers and, in this case, conveniently in your own neighborhood.
Not only does this festival promise the expected combination of folksy live music, food and drink, ticket proceeds benefit the Narberth Dickens Festival and the Friends of Sabine Park. And if your ability to go depends on who can watch the kids, there's good news. Free baby-sitting is available by Girl Scouts for potty-trained children 4 and older with an advance reservation.
King of Prussia Beerfest Royale
Oct. 4, 5:30-9 p.m.
Oct. 6, three sessions starting at noon
King of Prussia Mall (outside)
Tickets: $45-$75
If you're unfamiliar with King of Prussia, you may wonder about its namesake (King Frederick of Prussia) or think of it as a shopaholic mecca with some vague idea of a town surrounding it. This weekend, the area outside the mall will be filled with craft beer enthusiasts attending the King of Prussia Beerfest Royale, which organizers are billing as the suburb's biggest party.
Given the array of local craft beer providers with intriguing names – Round Guys Brewing Company, Evil Genius Beer Company and Stable 12 Brewing Company, to name a few – it sounds as though it may well live up to the billing. King of Prussia restaurants including Ruth's Chris, True Food Kitchen, Mistral and others will provide food to help absorb the beer you imbibe. For those who indulge, there's even a cigar lounge. Swift Technique and Nik Greeley and The Operators will be playing.
Night Market Point Breeze
Oct. 4, 6-10 p.m.
20th and Federal streets, Philadelphia
Free
This is the last of the neighborhood events that make up the roving quarterly street party that is Night Market. The South Philly version follows the tradition of providing a chance to sample some of the city's best food truck and restaurant offerings. Vendors include House of Cupcakes, Dos Hermanos Tacos, Barkley's BBQ, and Authentic Ethnic Cuisine.  Plan Philly and WHYY will be there, so feel free to chat with reporter Darryl Murphy about what's happening in your community. You can follow #PlanPhillyListens to provide feedback and for neighborhood updates and insights.
Paranormal Cirque
Through Oct. 7
Christiana Mall, Newark, Delaware
If you're already in the Halloween spirit, you might want to check out Paranormal Cirque, a show described as a "fusion of circus, theater, and cabaret" coming together to present a "dark world inhabited by creatures with incredible circus art abilities." While the show is designed mostly for adults, there are certain shows appropriate for kids 6-12; so be sure to check with the venue in advance if you want to bring your own little creatures.
Philadelphia Outfest 2018
Oct. 7,  noon-7 p.m.
Walnut Street to Spruce Street from 12th Street to 13th Street
October is LGBTQ History Month, it seems fitting – given Philly's rich history of LGBTQ activism – that we host one of the biggest celebrations of National Coming Out Day in the world: the 27th annual Outfest. Think of it as a gayborhood block party with food, drink, carnival attractions and a flea market with a huge group of vendors. Philadelphia was one of the first cities to conceive of an event around National Coming Out Day and Outfest has grown to attract more than 40,000 people each year.
Midtown Village Fall Festival
Oct. 8, noon-6 p.m.
13th and Sansom streets, Philadelphia

If festivals are your thing, you have been waiting for this weekend, when it's possible to go from festival to festival from Thursday through Sunday. If you live in or near Center City, or are a tourist staying in one of the downtown hotels, you're footsteps away from the Midtown Village Fall Festival. An array of Philadelphia restaurants will be serving up fall fare and all manner of drinks. Live music and a kids corner are part of the day as well.
DesignPhiladelphia Festival
Through Oct. 13
The Bok Building, 1901 S. Ninth St.; multiple other venues
The 14th annual festival's focus is sensory design. To that end, artists, makers, designers, craftsmen and women, architects and those who love them will converge on Philadelphia's Bok, the former vocational high school that is now a space for design-oriented small businesses. Bok's first floor will house multiple art installations as the former girl's gym becomes the Design Philadelphia Exhibit Gallery for the duration of the festival.
The American Association of Architects regional forum on architecture and design is converging with DesignPhiladelphia this year, so exhibits are set at the Center for Architecture and Design as well. Friday is Bok Night, a free open house from 4-7 p.m. Designer Wale Oyéjidé, founder of the label Ikiré Jones featured in "Black Panther," speaks from 5:30 to 6:30. Though a donation is suggested, admission is free, but registration is required. To keep track of the more than 120 events over nine days, you can download DesignPhiladelphia's app.
29th Annual Cranberry Festival
Oct. 6 and 7, 11 a.m-5 p.m.
Farnsworth Avenue
Bordentown City, New Jersey
You may be disappointed if you're expecting cranberries. Some may be for sale or featured by some of the artisans, but this is more of a craft festival. In addition to more than 150 crafters, makers and vendors, there will be a juried craft show and a craft beer garden. The festival is free and so is parking; you can park and ride to the festival from seven locations via shuttle buses.
Philadelphia International Dragon Boat Festival
Oct. 6, 8 a.m.-5:30 p.m.
Kelly Drive between Strawberry Mansion Hill and Fountain Green Drives
If you want to see the natural progression of fall foliage, you can always head to the park with a camera or iPhone, look around and take some pics. But if you want to enjoy fall's glory with a little more action, head to the annual Dragon Boat Festival. Gliding along the Schuylkill, the brightly colored and decorated boats – each with a drummer – should add all the necessary flavor to your fall-themed Instagram feed. Dragon boat races are one of the fastest-growing sports in the world, with people of all ages taking part. You might be inspired to train for next year.
Indigenous People's Celebration
Banks of the Lower Schuylkill
Oct. 6, noon-4 p.m.
Free
If Columbus Day is a problematic holiday for you, you might instead celebrate Indigenous Peoples Day. Bartram's Garden and Mural Arts Philadelphia, in conjunction with Indigenous America, collaborated on an event that acknowledges the contribution of the people already here when Columbus arrived in the Americas. The festival will feature presentations, arts, workshops, guided tours, food and drumming and that reflect those diverse cultures.
J. Cole with Young Thug, Earthgang, Kill Edward and Jaden Smith
Oct. 6, 7:30 p.m.
Wells Fargo Center, Philadelphia
Tickets: $29.50-$149.50
J. Cole is considered one of the top three rap superstars of his time. (The others are Kendrick Lamar and Drake.) All share lyrical prowess that goes beyond simplistic beats and monosyllabic rhymes. Cole is touring in support of his "KOD" release, and he's bringing some newcomers with him, including Jaden Smith, the younger son of all-around icon Will Smith. Smith's "Icon" off the "Syre" album is a sign that he's definitely heeded his father's playbook.
Oct. 7, 8 p.m.
Keswick Theater, Glenside, Pennsylvania
Tickets: $29.50-$59.50
Folk legend Guthrie celebrates the 50th anniversary of his legendary "Alice's Restaurant" movie, inspired by the song of the same name. He's still touring at age 71, but this is last call for the Re:Generation tour. He'll be joined by his daughter, Sara Lee Guthrie, who is his opening act, and his son, Abe, who's part of his band.
Oct. 7, 11 a.m.
Ardmore Music Hall, 23 E. Lancaster Ave., Ardmore, Pennsylvania
Tickets: $15
If you despair that your children will never appreciate the sounds of your youth, don't worry; the Rock and Roll Playhouse has already figured that out. It started the weekly family concert series to expose kids to the music of previous generations. Along with Johnny Showcase, they bring the royal version to the Ardmore Music Fall featuring the music of Prince. The all-ages event allows kids to enjoy movement and music – and to alleviate their parents' concerns that the music that sustained them won't be forgotten.