Northwest residents boo changes to 'steep slope' zoning code, RCO rules debated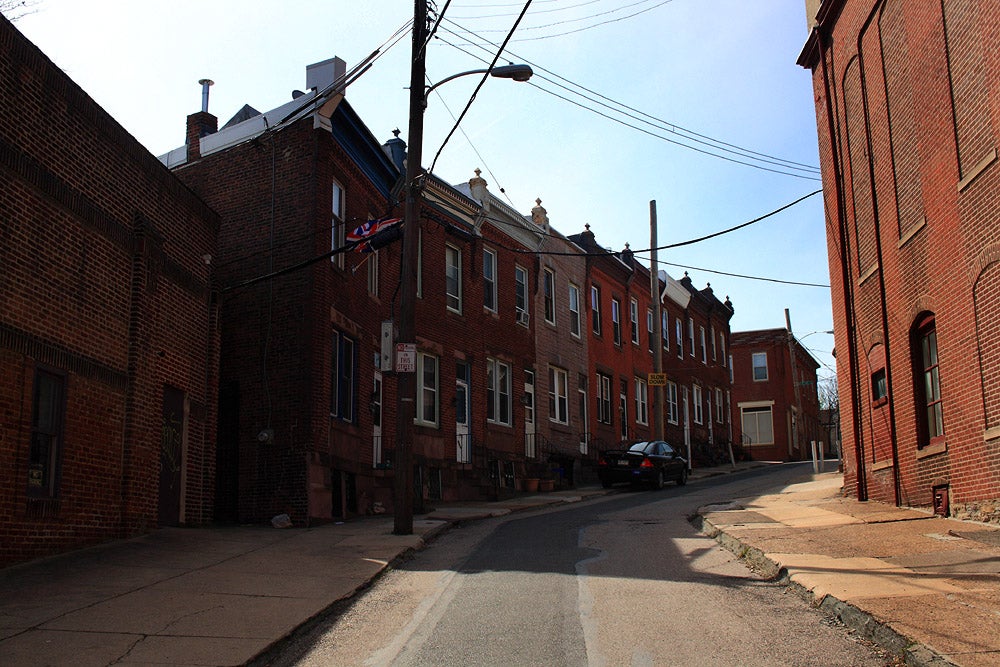 In a public hearing Monday, community organizers from neighborhoods in Northwest Philadelphia expressed unanimous disapproval of the City Planning Commission's proposed changes to the "steep slope" provisions in the zoning code, saying that new regulations are unnecessary and could potentially be abused by developers.
Written into the Philadelphia Code in 2012, steep slopes protection applies mostly to the city's hillier neighborhoods in the northwest, as well as some parts of Cobb's Creek and the Northeast. Within these areas, disturbing the earth on land with a 25 percent soil slope or greater is strictly prohibited. On land with a 15 to 25 degree slope, property owners must first get the Planning Commission's approval before making alterations.
This isn't limited to just large-scale development, however. Marty Gregorski, director of the Commission's development division, says that his department receives requests for steep slopes exemptions on a weekly basis. Generally, he said, people want to do things like pave slope-set driveways that happen to fall in the protection area. In one case, Gregorski said a resident sought to dig new pilings into the ground for deck on his property, but couldn't do so without the commission's go-ahead.
Gregorski said the proposed changes would make the steep slope regulations less restrictive by removing the zoning permit application process in certain cases, such as when property owners want to repair or rebuild structures damaged by the fire or other elements. The new regulations would spare the permit for construction of public road right-of-ways and utility repair in steep slope areas. There's also an exemption for projects of public benefit, like providing trail access to parks and creeks.
But community activists said the changes are too broad. Another change would waive zoning permits for structural changes so long as the project doesn't alter a steep slope area.
Rich Giordano of the Upper Roxborough Civic Association called it "a solution in search of a problem."
"The regulations that you want to make to deal with those [problems] should be much more focused, and point to the things that you're seeing, and should not have this broad sweep that could, quite frankly, entail almost anything that someone wants to interpret it to mean," Giordano said.
Marlene Schleifer of the Ridge Park Civic Association expressed her concern that the developers would take advantage of the regulations to build more market-rate housing in the desirable northwest neighborhoods.
Yet another proposed regulation would create a permit review process for development on slopes exceeding 25 percent, which is currently barred without exception. Gordon Cohen, a board member on the Central Roxborough Civic Association, called it "completely out of character" with the original zoning code's language.
"These changes seem much more in the nature of modifying the legislation than the administrative function of providing guidance and interpretation on existing legislation," he said. "These new regulations would allow planning commission staff to enable applicants to completely circumvent the zoning code and process, a process that provides public notice, public input, and recourse through the courts system."
In addition to nine Northwest community organizations, Councilwoman At-Large Helen Gym also submitted a letter of protest against the changes.
Planning Commission members generally do not respond to public testimony at hearings, but rather take them back to the drafting table for further consideration and revisions.
RCO reckoning plods forward
Monday's commission hearing also included another lengthy public hearing over the proposed changes to the rules for Registered Community Organizations (RCOs).
Impassioned testimonies covered wide ground, ranging from complaints about overlapping geographic boundaries of competing RCOs to the right of a political ward to register as an RCO.
But the overwhelming majority of the testimonies aired were loosely relevant to the regulations under discussion.
The commission opened the hearing with an overview of the differences between zoning legislation and regulation. The Planning Commission stressed that the RCO changes are a matter of regulation.
Back in March, following reports that Point Breeze residents made anti-Semitic comments to developers at a zoning meeting, Councilman Kenyatta Johnson introduced a bill authorizing the Planning Commission to make and enforce rules for RCO behavior. The bill will also allow the commission to decertify certain groups if they fail to follow the new ground rules.
But the proposed changes — such as writing clearer definitions of RCO membership and leadership — opened the floodgates for all RCO-related concerns, much of which fell outside the Planning Commission's purview.
Andrew Meloney, senior planner for implementation with the Planning Commission, noted that most residents' comments Monday pertained to the RCO apparatus writ-large, which is a legislative issue.
"We can not change that legislation," Meloney said. "All regulations can do is fill in how the Planning Commission interprets the gray areas of that legislation. So we're defining terms that are confusing — things like that. But we can't make changes to how RCOs work, how they're chosen, how the coordinating RCO system works, whether a ward can join, the size, overlapping nature — that's all laid out in the legislation, in the zoning code itself. That would take a bill of Council to change."
"People see that we're going to talk about RCOs, so they bring up every issue they possibly have about an RCO situation," he added. "Unfortunately, we can only handle what's in our regulations."
WHYY is your source for fact-based, in-depth journalism and information. As a nonprofit organization, we rely on financial support from readers like you. Please give today.