"Protect our character!" Lower Northwest District Plan taking shape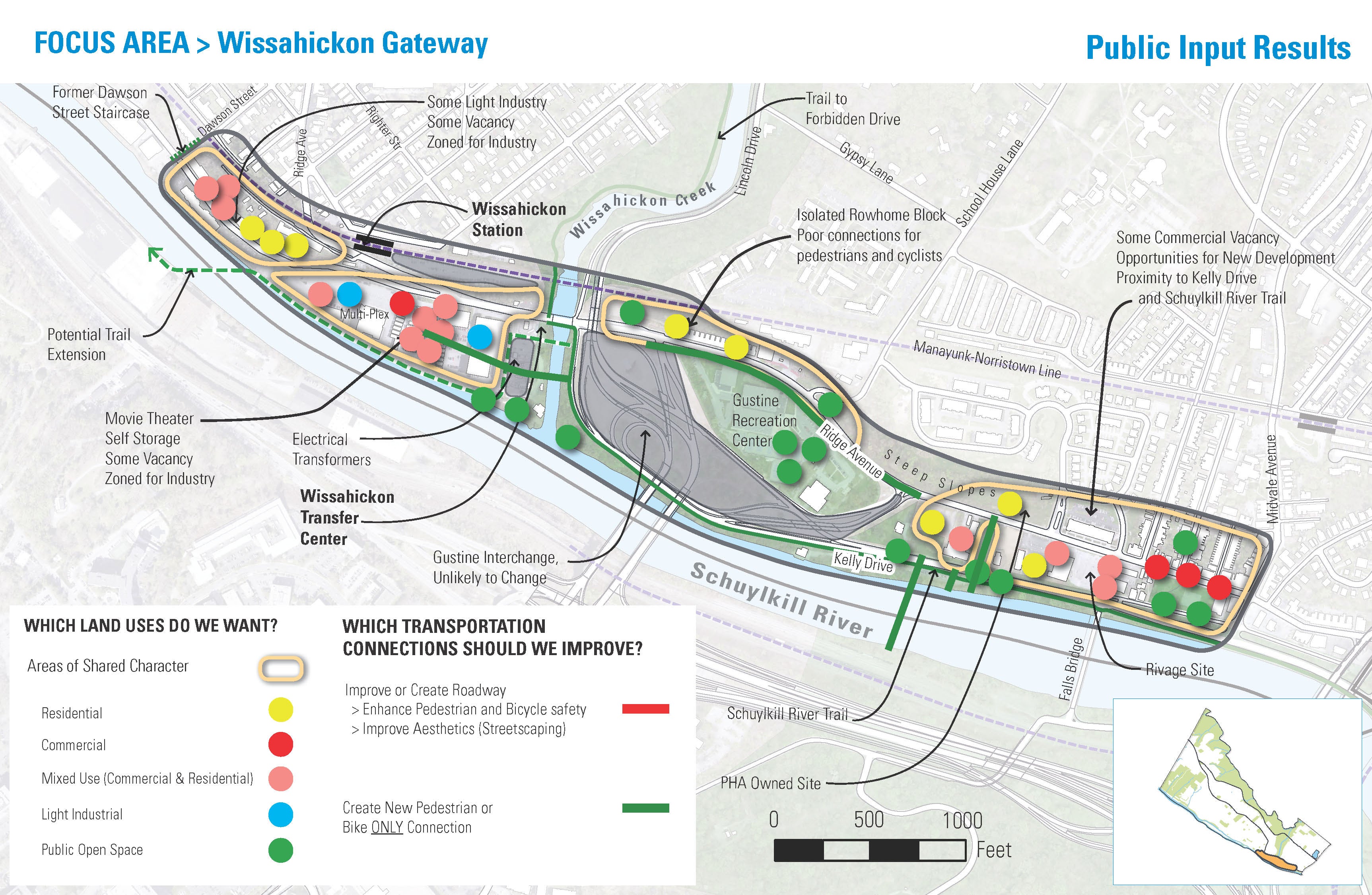 Community participants tell planners they want to sustain open space and housing styles and density, fill in the gap in the Schuylkill Trail, focus commercial development and move a transit center.
Residents of the city's Lower Northwest district want their neighborhoods' comprehensive plan to protect the character of existing residential neighborhoods, preserve open space and promote pedestrian-oriented commercial development.
These were the goals participants from East Falls, Wissahickon, Manayunk, Central Roxborough, Upper Roxborough, Andorra, and Shawmont Valley listed as the most important for their neighborhoods' district-level portion of Philadelphia2035, North/Northwest Planning Manager Matt Wysong told planning commissioners this week.
There's a desire to preserve currently unprotected open space in the ruralesque Shawmont Valley, for example. And to downgrade existing zoning so that large homes on even larger parcels in Central Roxborough aren't torn down to make way for multiple, smaller residences. Learn more from this previous story.
Residents also asked planners to shrink some designated commercial corridors to improve the density and vitality of development, encourage transit-oriented development at district transit centers and encourage the creation of master plans – that show development intentions over an extended period of time – for the district's large institutions.
"Philadelphia University, Fairmount Behavioral Health, and Drexel Queen Lane Campus don't have institutional (SP-INS) zoning and accompanying master plans," Wysong told PlanPhilly in an email. "Roxborough Hospital has SP-INS zoning and a master plan, but does not encompass the entirety of property under their ownership."
Through staff research and input from two public meetings and stakeholder groups, planners have also identified two key geographic focus areas for the Lower Northwest District plan: The area around Septa's Ivy Ridge Station, 4910 Umbria Street, and the Wissahickon Gateway, the area near the Wissahickon Creek and Ridge Avenue, which along with the trailway contains the ramps for I-76 and mass transit links.
The majority of participants – all but 8 percent – told planners the Ivy Ridge Station either definitely should have a parking garage or maybe should, depending on whether the garage could be hidden from view, how much it would cost to build and to park there, and other factors (see related graphic in the slideshow below). Forty-three percent of the participants did not want other development on the existing parking lots, however. Of the remainder, 36 percent said these lots should be developed with other uses, and 21 percent said they could be, if the new uses were a mix of commercial, and high-density residential, with some open space. (please note: The "maybe" voters were not unanimous in their sometimes contradictory conditions.)
Agreement was nearly universal that the Wissahickon Gateway's bus transfer station should be relocated. And the majority of participants also said there needed to be some sort of public art, signage and active public use to define the gateway. Among the suggestions: water, concessions, public restrooms and a trailhead.
The district plans largely come down to land use and related zoning recommendations, and on that score, community input yielded some "important themes," Wysong said. Among them: More continuity along Ridge Avenue to connect East Falls and Manayunk. In a desire to not stretch that commercial zone too thin, there are recommendations for residential use, likely multi-family residential, near Gustine Lake Recreation Center.
Further up river, near the Manayunk movie theater, there is interest in mixed use development to both "take some demand off of what is happening in existing single family neighborhoods and also provide commercial amenities that are very much needed," Wysong said.
Wysong showed commissioners a sketch of the area around the movie theater, with multi-story, mixed-use development. Planners are discussing the concept with residents now, but still must discuss it with property owners.
Deputy Mayor for Economic Development and commission chairman Alan Greenberger was intrigued by the idea. "There's a lot of potential in that area, and it is much better than what is there now," he said.
Commissioner Nilda Ruiz asked why residents wanted so much parking at Ivy Ridge.
The district is "very auto-centric," Wysong said. "Ninety percent own cars, and 70 percent drive to work. Giving up their cars is a big ask."
Wysong said more development in the area is inevitable, and pushing it around transit areas means some residents won't choose to drive as much. "This is our approach to making a dent in auto-dependency," he said. "It's a compromise."
Ruiz said people didn't have to give up their cars to walk to the train station.
Greenberger and Commissioner Nancy Rogo Trainer said the need for parking was understandable because of some unique district characteristics: The SEPTA station has a large catchment area that would require some people to walk more than 20 minutes, Trainer noted. And the area is so hilly that using the train involves "a serious little climb," Greenberger said.
This is also an area where people who work in King of Prussia or Plymouth Meeting chose to live, Wysong said, so for some, a car is the only way to work.
Like many plans for this area before it, this one will likely call for filling in the Wissahickon Gap in the Schuylkill River Trail.
Greenberger said filling in the missing piece of trail could encourage some who now drive to work in Center City to ride their bikes via Kelly Drive.
Commissioner Joe Syrnick thinks about waterfront trails and connections all the time at his job – he's president and CEO of the Schuylkill River Development Corporation.
He was displeased that Wysong's presentation showed the new section of trail that would close the gap would run around the PECO building, rather than going in back of it, along the river.
"Why is that? What keeps it from going in back?" he asked. "You can walk through there easily, and there is plenty of room. It might be owned, but it's unused."
Wysong said planners thought it best not to put the trail through the Philadelphia Canoe Club site, because the peak hours of the club coincide with the peak hours of the trail, and so "people would be crossing the trail with canoes at the peak activity hour."
That didn't make sense to Syrnick, and Greenberger said he was right. The canoe club is a great organization, but doesn't generate that much activity, he said. "I think they'd like some activity going past to keep an eye on the place," he said.
Greenberger asked Wysong to revisit the issue. He said putting the trail through that spot may be seen as difficult, but it's not that difficult.
"I think you're right," he told Syrnick. "I'm volunteering you to go talk to the Canoe Club about it."
The third public meeting on the Lower Northwest District Plan, with presentation of draft plan recommendations, is an open house-format session scheduled on Sept.18, from 5 to 8 p.m. at the River Club, Manayunk Brewing Co., 4120 Main Street.
Wysong intends to release the draft plan and open a 30-day public comment period on Oct. 17. Planning commissioner input will be taken on Oct. 21, with the goal of a PCPC vote to adopt on Dec. 9.
Courtesy Philadelphia City Planning Commisison

Courtesy Philadelphia City Planning Commisison

Courtesy Philadelphia City Planning Commisison

Courtesy Philadelphia City Planning Commission

Courtesy Philadelphia City Planning Commisison

Courtesy Philadelphia City Planning Commisison
WHYY is your source for fact-based, in-depth journalism and information. As a nonprofit organization, we rely on financial support from readers like you. Please give today.