Showtime is approaching at North Broad's old opera house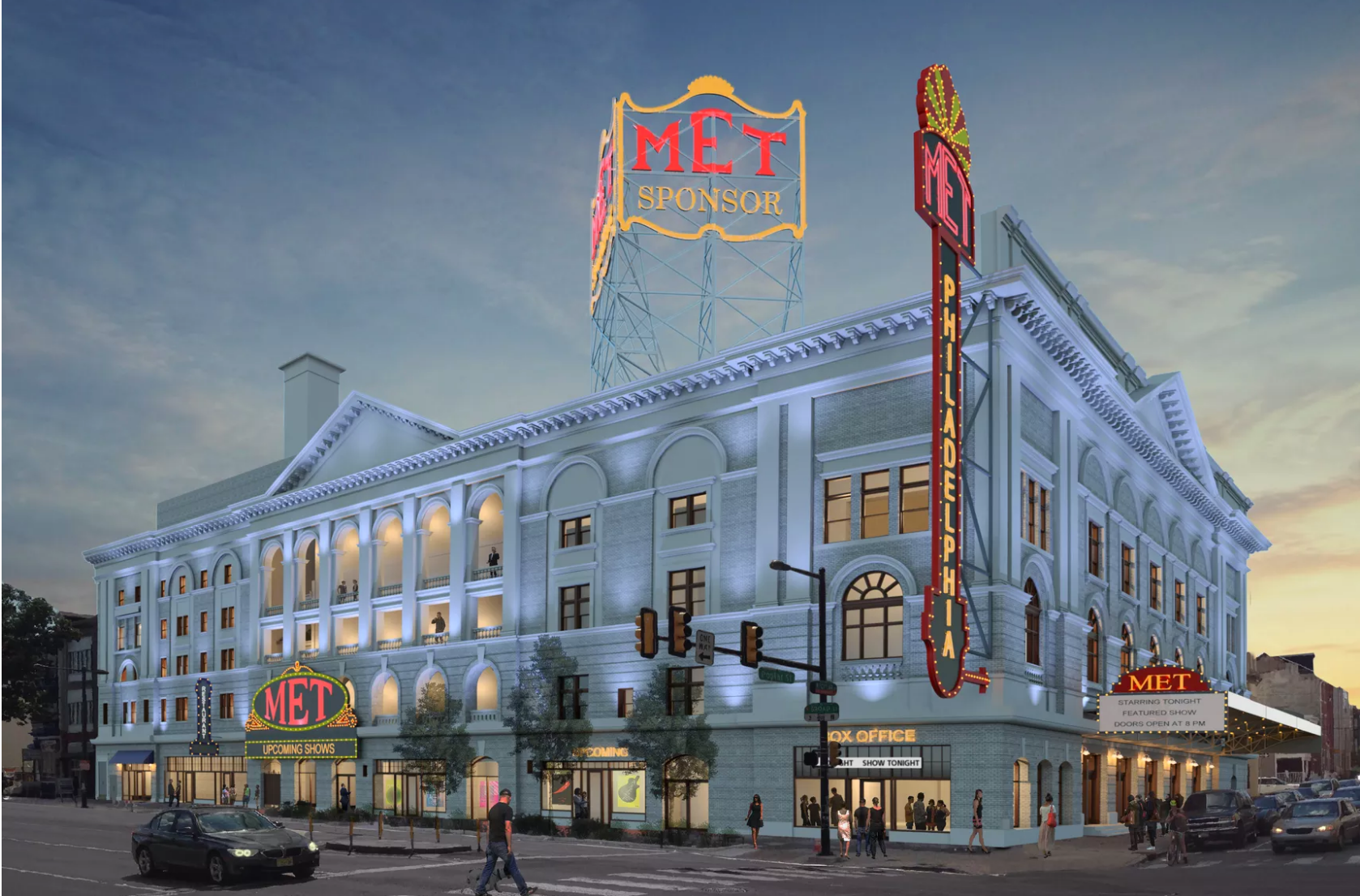 Developer Eric Blumenfeld is moving briskly on his much-anticipated redevelopment of North Broad Street's long-derelict Metropolitan Opera House. The remake of the 1908 concert hall is one-third complete and the developer closed last week on a $56 million financing package from public and private lenders including the Philadelphia Industrial Development Corp., Fulton Bank, New Jersey-based Billy Procida, and New Orleans-based Enhanced Capital, the Philadelphia Inquirer's Caitlin McCabe reports. Blumenfeld expects the Met to reopen as a concert venue in December, giving a boost to a corridor on the rise. In September, the developer reopened the nearby historic Divine Lorraine as high-end apartments. He told McCabe that about 75 percent of the iconic 11-story tower's 101 apartments have been leased and three commercial tenants brought in, with more on the way. "My prediction is that the North Broad Street Corridor will just get better on Dec. 13 of this year when we open … and continue to attract the best and the brightest from all sectors of the economy," Blumenfeld said in a statement. "It is a great place to live and work, and as time goes on, it will become a major destination."
Why is Pittsburgh considered one of the three cities "best equipped to absorb the housing demand generated by Amazon HQ2" and Philly is not? The answer is a little surprising: our housing market is already too hot, according to two recent studies covered by Philly Mag's Sandy Smith. "While both markets remain relatively affordable and have yet to reach the same level of inventory shortages as the rest of the country, Pittsburgh is currently the smaller, less dense and more inexpensive market, with more room for sharper and broader home price gains," Javier Vivas, director of economic research for Realtor.com told Smith. In Pittsburgh, "a household earning the city's median income would need to spend only 20.6 percent of its income to buy the median-priced home there, while in Philly, the figure is 25.2 percent," Vivas explained.
Mayor Jim Kenney has joined a new bipartisan coalition of mayors and business leader that "aims to boost investment in affordable housing and emergency services for the homeless while giving the federal government a kick in the pants to remind it of its commitments," CityLab reports. Kenney will work alongside 13 other mayors including D.C. Mayor Muriel Bowser and Los Angeles's Eric Garcetti, along with companies such as Airbnb and Sutter Health and the nonprofit National League of Cities. Their goal: to address homelessness, advance efforts to drive more affordable housing, and put pressure on HUD and Congress "to resist budget cuts for existing programs that are essential to building and maintaining affordable housing." The new coalition, known as Mayors & CEOs for U.S. Housing Investment, is pushing public-private partnerships as one way to build new and more deeply affordable housing in urban, suburban, and rural communities.
Amtrak engineers and conductors working on the train that derailed near DuPont, Washington, killing three, warned their supervisors that they felt rushed and inadequately trained on the new route, according to a CNN investigation. In response to the allegations of inadequate training, Amtrak referred CNN to the National Transportation Safety Board (NTSB), which said: "NTSB investigators are aware of the issues that have been raised." The crash in Washington state, along with the deadly 2016 Train 89 crash near Chester, Pennsylvania, is "again raising larger concerns about what many call a failing safety culture at Amtrak."

PSA: Greensgrow Farms is offering community-based groups in Kensington, the Riverwards, and West Philadelphia, beautification mini-grants up to $1,000, West Philly Local reports. Eligible projects include public space improvements and projects that nurture neighborhood identity and community pride. Churches, schools, non-profits, block captains, and other community-based groups are eligible to apply. The grants are provided by Mary's Community Fund, a legacy project that continues the work of Greensgrow founder Mary Seton Corboy, who died in 2016. Applications are due March 1st.
WHYY is your source for fact-based, in-depth journalism and information. As a nonprofit organization, we rely on financial support from readers like you. Please give today.