Camden's toxic dirt pile to be cleaned up by February 2024
Crews started removing debris from an illegal dump site in the city's Bergen Square neighborhood beginning last March after officials took over the property.
From Camden and Cherry Hill to Trenton and the Jersey Shore, what about life in New Jersey do you want WHYY News to cover? Let us know.
Officials are calling it "the beginning of the end" to an illegal dump site that grew to be several stories high and loomed over the city's Bergen Square Neighborhood.
"I'm extremely proud to say we made a promise to our Camden residents to clear this debris, and we kept that promise together," said Mayor Vic Carstarphen.
The illegal dump site contains debris and dirt that a Camden County health official said is contaminated with lead and mercury, along with other toxins. A jumbled metal fence surrounds the property that was once owned by Weyhill Realty Holdings, LLC.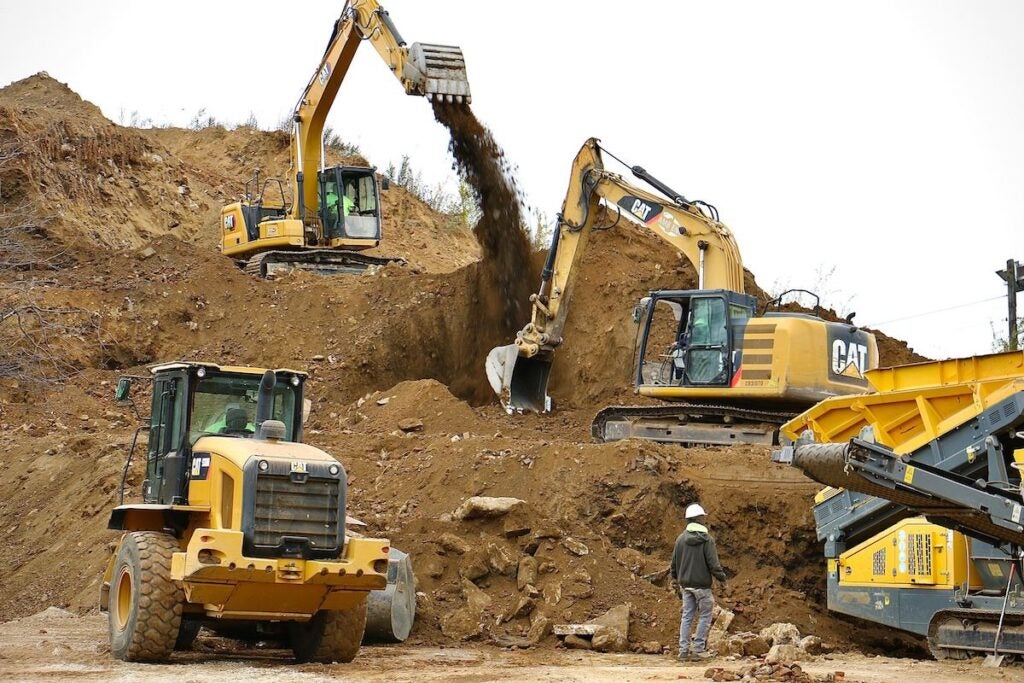 Camden officials went to court in 2021 to force Weyhill to address the hazards that have existed for years. Eventually, the city took over the property. Carstarphen and U.S. Rep. Donald Norcross cut the chain that locked the 7th and Chestnut street site a year ago so clean up crews could access it.
On Tuesday, the mayor along with other local, state, and federal officials announced the last phase of removing the pile.
The toxic debris and soil continues to be blocked off by jumbled metal fencing. Residents and officials point to it as an example of environmental racism.
Work to remove the debris began last March and is expected to wrap up in February 2024. The trucks are following a specific route; from Chestnut Street, down South 7th Street, on to I-676 where the dirt and debris will make its way to Kinsley Landfill in Blackwood.
Carstarphen said 50 truck loads a day are moving the toxic waste along the route. In addition to the daily street cleaning and daily monitoring that has taken place, he adds the findings of an additional investigation will help with the process of turning the property into a publicly accessible space, potentially a park.
Removing the pile was personal for Carstarphen, who grew up in the neighborhood. He said it topped his to-do list since he served as interim mayor in 2021.
"There was an opportunity to turn a negative into a positive, an opportunity to turn a blighted situation to a brighter situation," he said.
While officials like Congressman Norcross called the last phase of the clean up "the beginning of the end," some still remain concerned about the residual effects of the contaminated dirt pile on the surrounding neighborhood.
"This ain't the end of it," said Wilson Young, a resident. "We gonna still feel the paralysis for years to come."
Young, a retired dock worker, has lived around Bergen Square all of his life and recalled when the site used to be a junkyard, before it turned into the illegal hazard it is known for now.
"[The] junkyard wasn't no better, but then they bring this afterwards," he said, blaming the dirt pile and the contamination for health ailments that he claims he and some of his kids have developed while living near the site.
"They developed asthma from this," he added. "I got bronchial asthma and several other ailments, who gonna take care of that?"
Camden City officials acknowledged the environmental threat to the health and safety of residents due to "potential exposure from substances migrating from the location, including airborne dust negatively impacting air quality and erosion of the soil waste impacting the streets, sidewalks, and sewers in the area."
Shawn LaTourette, New Jersey environmental protection commissioner, said environmental injustice will not be tolerated under the Murphy Administration.
"We search it, we seek it out, we run it down, and we stomp it out where we find it," he said. "What looks like a pile of dirt often just ain't a pile of dirt. There's some nasty stuff lurking in there that belongs in no community, anywhere, ever."
WHYY is your source for fact-based, in-depth journalism and information. As a nonprofit organization, we rely on financial support from readers like you. Please give today.