New Jersey to require masking for students and staff this fall
N.J. Gov. Phil Murphy announced that students, faculty, staff, and visitors will be required to mask up when schools reopen in September.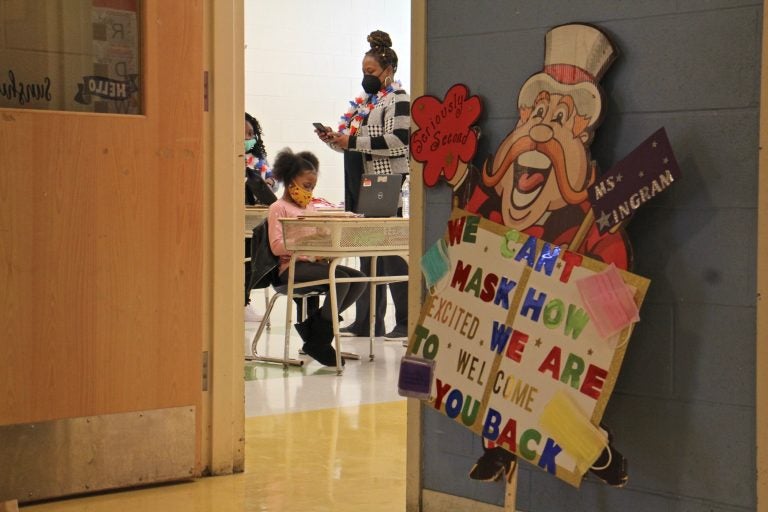 Updated: 6:10 p.m.
New Jersey Gov. Phil Murphy announced Friday that all students, educators, staff, and visitors will be required to wear a mask when schools reopen in a few weeks.
The governor made the decision "due to the recent and rampant spread of the delta variant, the fact that no child under the age of 12 is yet eligible to be vaccinated, and the reality that too many older students and their parents remain unvaccinated."
Murphy added that the mandate will not be permanent. If conditions change, then the mask requirement will be lifted. He added that no school district will be able to opt out.
The announcement was made at Memorial Elementary School in East Brunswick, Middlesex County, where dozens of people, some with their children, stood outside of the school to protest the governor's decision.
Dozens have arrived to East Brunswick to protest Gov. Murphy's instituting a mask mandate for school children this fall. @WHYYNews #NewJersey pic.twitter.com/T079c3BKuo

— P. Kenneth Burns (@PKBNews) August 6, 2021
"My body, my choice," said Caitlyn Cunningham of Somerset County. "It should be universal whether its for abortion, whether its for masks, whether its for vaccine, whether its for any other concern that individual may have."
Cunningham said parents have the right to choose and that the government is overreaching their authority.
Karen Alexander and her husband Scott drove up from Audubon, Camden County, to voice her opposition to the mask mandate after she heard about the announcement.
"I said I had to be there to let him know that this is against New Jersey's best interest to mandate this," she said. "Mandating these things when it is truly not necessary is something that is against every principle of an American citizen."
Karen Alexander has two kids in school, one in junior high and another in high school.
She adds that there are already many people who are naturally immune and that people have a right to choose their medical treatment.
"There is a choice, we do not need to be coerced," she said
But for other parents and their kids, especially with kids under 12, the governor's decision is a relief.
Cheryl Brass, of East Brunswick, said she is fully supportive of Murphy's decision.
"It's a wonderful way to get everyone included and back into the classroom where they belong," she said.
Her son, 11-year-old Zachary, was also happy about the governor's decision.
"Before I was very scared going in thinking I'd get COVID when I get out," Zachary said. "But now that we have the mask mandate, I feel a lot safer and I can't wait to go back to school and see my friends."
The announcement is an about-face from more than a couple of weeks ago, when the governor said he was "comfortable" in sticking to his original decision to not issue a statewide mask mandate. This was despite a recommendation from the American Academy of Pediatrics that was released at the time.
Murphy insists his decision "is not an about-face" and that his earlier comments were predicated on certain conditions.
"We said two things: we're basing it as of this moment in time, we reserve the right to tweak this over the course of the summer, as we did in the summer of 2020. Indeed, we're doing it," he said. "Secondly, the delta variant: I don't know what the prevalence in late June was, in terms of sequencing, but it was a fraction of where it is today."
After a recommendation from the Centers for Disease Control and Prevention for universal masking, regardless of vaccination, a spokeswoman for Murphy said he and the state Health Department would review it. The governor has said previously that the state looks to the CDC for guidance.
Science and health experts have long stated that masking reduces the risk of transmitting COVID-19. But masking school children has become a political hotbed as of late. A federal lawsuit was filed in July seeking to block any possible mask mandate at state public schools this fall.
Murphy, a Democrat running for reelection this fall, said at his weekly coronavirus briefing Monday that politics have not been involved in his decisions concerning the pandemic.
Jack Ciattarelli, Murphy's Republican gubernatorial opponent, released a statement ahead of the announcement denouncing Murphy's reversal.
"His decision to require masks for K-12 students is a bewildering reversal of his position of just a few weeks ago," he said. "Let me be clear, I oppose Governor Murphy's mask mandate for students."
Ciattarelli also accuses the governor of implementing the first step towards "another Murphy lockdown."
"Bottom line, whether a child wears a mask should be decided by parents, not government," he added "If someone wants to have their child wear a mask, they should feel free to do so, but it's not something that should be forced on children, nor should their learning be inhibited in any way.
Many of the protestors outside of Memorial Elementary School echoed Ciattarelli's sentiments.
They also heckled officials as they arrived at the governor's announcement. One school nurse said she was not able to have a dialogue with protesters when she tried to engage them.
"We all should be on the same page here, and I'm sad to see the parents on the other side of the fence, so to speak, and not listening to science," said Mary Liotta, a certified school nurse in Middlesex County. She added that they want to keep faculty and staff safe as well, and avoid returning to virtual learning. "If we can all go along with the masks, hopefully we can get on the other side of this pandemic."
As Liotta was talking, Cunningham said through a bullhorn pointed in Liotta's direction that she was being bought by the teachers' union.
"You should be ashamed of yourself," Cunningham said loudly. "You got some REAL scruples, lady!"
Liotta, who came to applaud Murphy's efforts, said she doesn't take the heckling personally.
"I think they don't like seeing masks on their children," she said adding she doesn't like masks either because it's hard to speak and it's hard to understand what they're saying. But Liotta also said that children are OK with wearing masks.
"They're fine," she said. "They're in school, it doesn't seem to bother them."
Case in point, 10-year-old Charley Meyer and her eight-year-old sister Penny. Both of them are too young for the Pfizer vaccine, the only one approved for use for 12–15-year-olds. They said they are OK with wearing masks, as long as they keep them safe.
"If people weren't wearing masks, I would definitely feel unsafe, especially when we're inside," Charley said. "We don't go outside a lot, but when we're inside, this new delta variant can be transmitted easily and that's not good."
"I feel safe with a mask on, definitely," Penny chimed in. "If people weren't wearing masks, I would feel freaked out… the mask makes me feel safer."
Their mom, Elizabeth Meyer, was relieved by the governor's decision. She said her first job as a parent is to keep her children safe.
"I've been sitting at home wondering these last few weeks thinking about the start of school," she said, "wondering how am I going to do that."
The decision on a mask mandate in schools comes as the state has seen a rise in cases, driven by the more contagious delta variant of COVID-19. The state announced Friday an additional 1,729 positive COVID-19 cases, based on the results of PCR and antigen tests. The seven-day rolling average of new cases climbed over the past two weeks from 512 on July 20 to 1,104 on Tuesday, according to Johns Hopkins University.
Though younger children are less likely to develop severe illness or be hospitalized, there has been "a dramatic" increase in cases and hospitalizations among children under 18, according to Dr. Stephanie Silvera, epidemiologist and public health professor at Montclair State University.
"Pediatric COVID cases are up 84% and, particularly in states with lower vaccination rates overall — including Louisiana, Missouri, Florida, South Carolina, and Texas — hospitalizations are on the rise," she said.
Silvera noted that Florida is averaging 32 pediatric hospitalizations per day.
"While 32 does not seem like a big number, if you think about the impact on those families and those children, I'm not sure we can brush that aside," she added.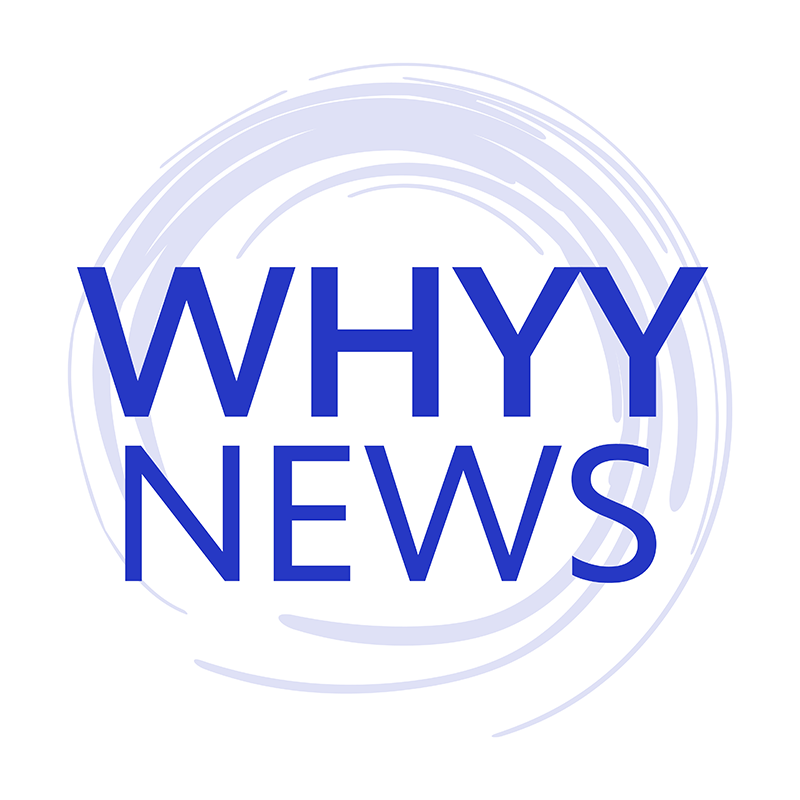 Get daily updates from WHYY News!
WHYY is your source for fact-based, in-depth journalism and information. As a nonprofit organization, we rely on financial support from readers like you. Please give today.